"I Have Carried You for 40 Weeks": Woman Who is Heavily Pregnant Questions Her Unborn Baby in TikTok Video
A pregnant woman recorded a video in which she told her unborn baby to come out that she could no longer wait
The TikTok mum, identified as Alphaa Ndeunyema, revealed that she has carried the baby for 40 weeks
Alphaa questioned the baby and asked when it would come out so that she could hold it in her arms
A pregnant mother eager to carry her unborn child has wondered when the baby will come out.
Alphaa Ndeunyema posted a video on TikTok, and in it, she questioned her unborn baby wanting to know when it would be born.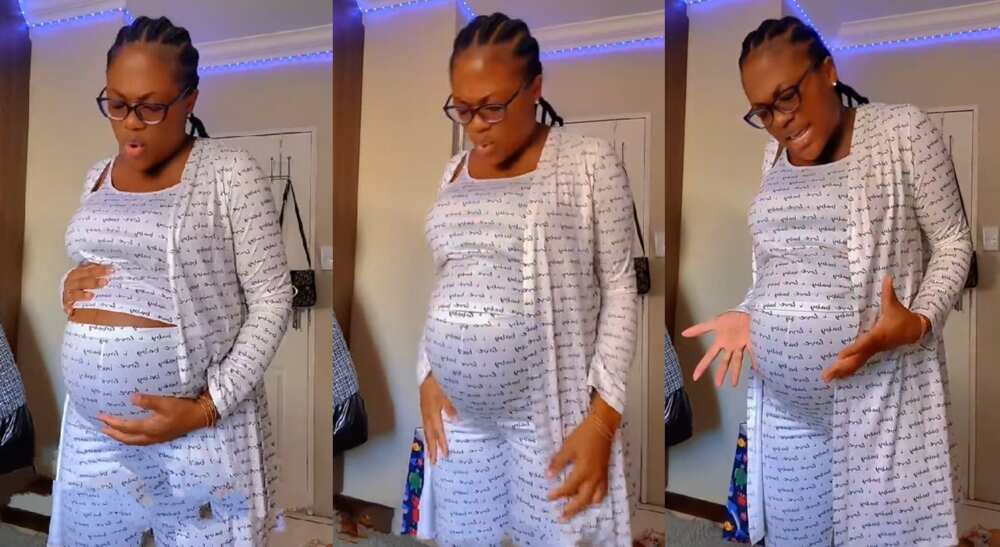 In the video, Alphaa said she has carried the baby for 40 weeks and can't wait to hold it in her arms.
Woman who is 40 weeks pregnant speaks to her unborn baby
She clutched her baby bump and pointed at it as if the child in her womb could hear what she was saying.
Her words:
"When are you coming, my angel? I have carried you for 40 weeks now. Is it not enough? 10 weeks, 20 weeks, 30 weeks and 40 weeks now? No sign of labour. Mummy is waiting. I can't wait to hold you in my arms."
Watch the video below:
Reactions to video of a pregnant woman talking to her unborn baby
Many TikTok users who commented on Alphaa Ndeunyema's video narrated a similar experience.
@Rose Iiyambo said:
"Mama you nailed it. Wishing you a very safe delivery."
@Nolwazi Radebe Mbusi0 said:
"I was this fed up last week. 40 weeks and 2 days. I gave birth on 24th May, my boy landed. Safe delivery mommy."
@choiceebudon reacted:
"You will surely deliver like Hebrew women. No worries, yor baby will come out soon."
@Tochi Chukwuma said:
"It's definitely a girl. They always take their time. Soonest you'll meet your bundle of joy."
Pregnant woman stuns people with her energetic dance
Meanwhile, Legit.ng reported that a pregnant woman danced with stunning energy in her living room.
She was nearing her delivery date because her belly looked so big, but that did not stop her from dancing.
The woman named Asa Odogwu went viral on TikTok because her video garnered over 1.5 million views.
Source: Legit.ng