"Please Leave My Marriage": Nigerian Lady Begs Husband's Side Chick on Facebook to Let Them Be, Post Trends
A Nigerian woman has called out another lady on Facebook, accusing her of snatching her husband
She released the lady's pictures on the social media platform and begged her to leave her marriage alone
The distraught woman accused her husband's side chick of taking him to an alfa, where it was revealed to him that his wife was the bad egg
A Nigerian woman identified as Oluwakemisola Ajoke has dragged another lady named Lynn Omoshalewa Olaegbe on Facebook for taking her hubby.
In a now-deleted post, Ajoke begged anyone who knows Omoshalewa to please tell her to leave her marriage alone.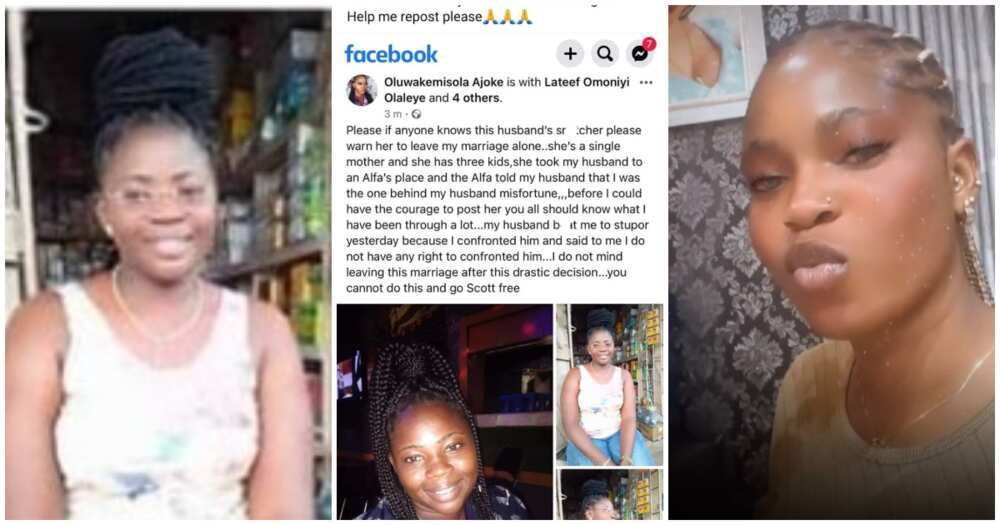 She said Omoshalewa is a single mother of three kids and cried out that she has been through a lot in her marriage.
She accused the single mum of taking her husband to Alfa, who told him his wife was behind his misfortune. She added that when she confronted her husband about his side chick, he beat her.
Ajoke said she was ready to leave her marriage but warned the side chick that she would not go scot-free.
Reactions on social media
Gracious Law said:
"Why will the woman carry another person husband to a spiritual place nobody is talking about everyone is business finding fault on the innocent woman."
Helen Mike-Esohwode said:
"Social media life is not for me. I can't praise a man or call him sweet names that he doesn't deserve just make people believe I'm fine. Never not my type. He's been cheating and beating you since and you have the mind to be praise him on his birthday, madam go sleep first, when you wake up tell me wetin you see."
Mma Ifeadi said:
"If U dont mind leaving d marriage why ds post? Of what use is ds call out going to be to U? U jus asked us to warn her to leave Ur marriage meaning U have d will to stay & fight. If she has decided 2stay & Ur hubby is solidly behind her, there's nothing ds post of urs will achieve to b honest.. this one he has started beating U already pls start looking for house b4 he graduates his punching skills to include weapons ooh.."
Sweetpear Isieturugo said:
"Women no dey hype your man too much on social media because if him wan disgrace you na for that same social media him go disgard,disrespected and disgrace you put that time shameful go come be your next name......but una no go hear."
Cleopatra Oluchi said:
"Don't let any man drive you crazy like this. When they say fight for your marriage, it's not this way pls.
"Your husband can not be cheating on you and beating you and you're calling the woman out for us to do what? If you don't have peace in your home, go where you'll find peace."
Nigerian lady exposes her husband's side chick
Meanwhile, Legit.ng reported that a Nigerian lady had exposed her husband's side chick on social media.
The lady, identified on TikTok as Reehannah, shared pictures and a clip of the father of her three kids enjoying himself with a woman named Mary Adesegun.
The mother of three accused Mary of snatching her husband and added that the side chick also threatened to deal with her while laying curses on her.
Lamenting in Yoruba, she said her husband is all she has and has nowhere else to go. She said her man doesn't return home anymore.
Source: Legit.ng