"She Swallowed My Voice": Little Nigerian Girl Tearfully Reports Her Sister to Mum, Funny Video Goes Viral
A woman has shared a funny video of a funny incident that transpired between her two daughters
One of them accused the other of swallowing her voice and burst into tears as she tabled the matter before their mum
Humorously playing along, the woman ordered the little accused girl to return her sibling's voice to her
A little Nigerian girl burst into tears and accused her sister of swallowing and chewing her voice.
The kids' mother shared a clip of the funny incident on TikTok with the caption, "Wetin we mothers dey see for this kids eeh....Wahala be like wetin?"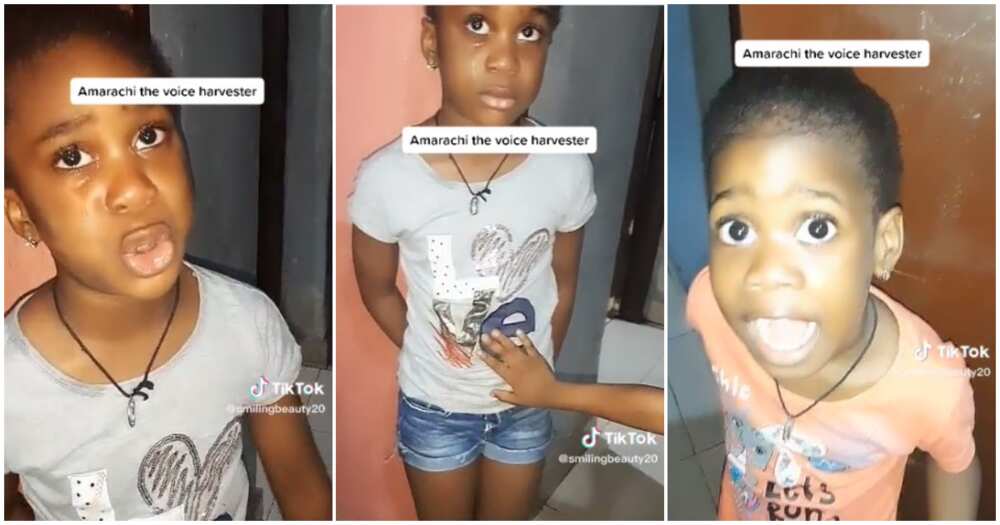 The woman, jocularly playing along, asked the accused about the whereabouts of her sibling's voice. The accuser quickly interrupted, saying her sibling chewed her voice.
Their mum then ordered the accused to return her sibling's voice. The little girl put her hand lightly on her sibling's stomach thrice, signalling the 'return of the missing voice.'
After this move, their mum asked the crying one if her voice had been returned to her, to which she responded in the affirmative.
Watch the video below:
Social media reactions
eotoobongakpan said:
"Soo inocent,,,,,,,,at this point those poor and helpless religious xtremist would have tag the inocent Amarachi a witch."
Ada said:
"They might have watched one nollywood movie o... Then innocent Amarachi probably decided to play."
paulaukerun said:
"The fact that she was talking when her voice was stolen but talking when the voice was returned is d funniest.
"Lovely eyes Amarachi."
Keemah_Africa said:
"This is so spiritual deliverance is needed here honestly, chewing voice."
LADY GAGA said:
"She might be right because what those children sees spiritually, adults don't see same."
Nuella said:
"My daughter once came to report her brother for perceiving her fart."
Bill_D_Josh said:
"Sometimes we don't deserve these creatures...
"Best Gift To Humanity."
Nahzix said:
"The person wey swallow voice no dey talk nah person wey Dem swallow her voice they talk nawa o."
Kid jubilates as brother returns from school
Meanwhile, Legit.ng previously reported that a kid had jubilated as his brother returned from school.
After he had timed his arrival, the kid stood at their doorstep, rejoicing at the expectation of his brother coming home.
When his school bus came into sight, his jubilation increased as he pointed toward the vehicle. As soon as his brother came down, they both hugged.
Source: Legit.ng