"He Eats Very Well": Confident Man With Pot Belly Uses Big Stomach to Dance in Public, Video Goes Viral
A man danced in public without wearing clothes on the upper parts of his body during a traditional event
The man who is from the Urhobo ethnic group performed the beautiful Urhobo Royal Ema Dance in public
His dance and the size of his protruding pot belly fascinated people who saw how he performed the Urhobo Royal Ema dance
A man used his big stomach to dance the beautiful Urhobo Royal Ema dance in public.
The man wore no clothes on the upper parts of his body as his big stomach was completely exposed.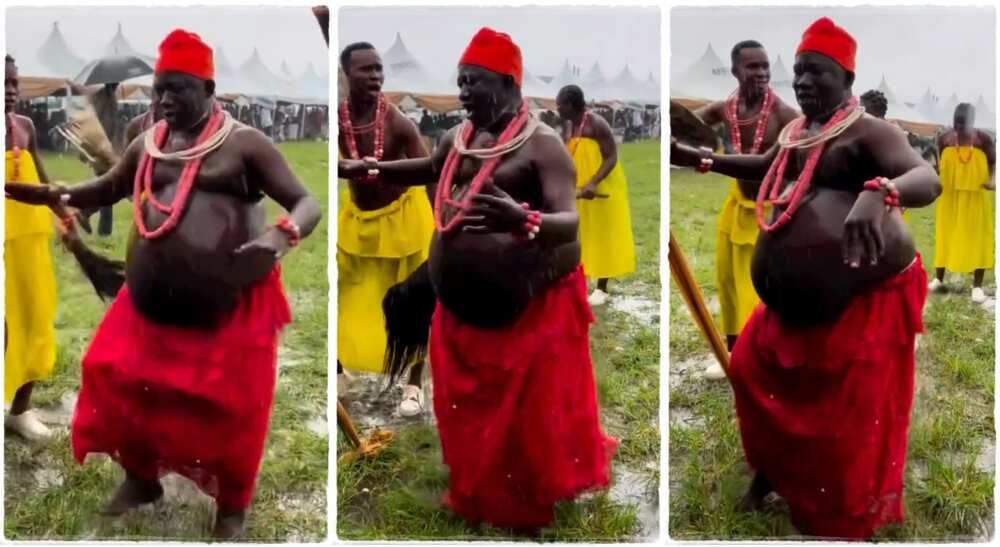 The Urhobo Royal Ema Dance is associated with the Urhobo traditional ethnic group who occupy many parts of Delta state, such as Ovie and Okpe.
The man performed the Urhobo Royal Ema Dance during a traditional event attended by many other dancers dressed in a similar way.
He used his entire body to respond to the sound of traditional Urhobo music that came from the drums.
Urhobo man performs Royal Ema Dance
The most visible part of his body is the stomach, as it shimmered and shook heavily.
Prince Ejenavi E. Isodje described the Emma dance in a short post by the Mouth Piece Of Urhobo.
He said:
"Ema dance is an Urhobo royal dance with very peculiar features which can never be underestimated.
"The unique features of the dance has made it become so sacred. Especially the singing aspects. Ema songs are like chanted war-songs so regal and soul electrifying. Its steps are intriguing. And with the steps and songs meticulously knitted together, one could see the art of craftmanship with culture sitting at the driver's seat."
The video was first posted by @kapturephotogenic and was reposted by @NWE.
Watch the video below:
Reactions as man dances Urhobo royal dance
@flyfrican said:
"Stomach like that back home means you have money."
@omiteee commented:
"This is the a royal dance from the Urhobo people located in the South South region of Delta state Nigeria."
@collectivemindsnow said:
"Well fed my friend! Well fed!"
Mango seller goes viral because of her dance
In a related story, Legit.ng reported that a lady who sells mangoes danced in her shop.
In a video that trended on TikTok, the lady was seen gently shaking her waist.
A lot of people on TikTok fell in love with her pattern of dance, and some even said they wanted to meet her.
Source: Legit.ng