12 Years After, Man Walks Again Using His Brain and Thoughts Through Support of Implants
An Oyibo man who was paralysed in a cycling accident can now walk again with the aid of electronic implants in his brain
The device called a brain-spine interface, is the first of its kind and consists of two wireless implants that communicate through a processing unit worn as a backpack
Still in the experimental stages and not available to the public, researchers hope to make the device more accessible to people with spinal cord injuries
PAY ATTENTION: Сheck out news that is picked exactly for YOU ➡️ click on "Recommended for you" and enjoy!
A Dutch man who was paralysed in a cycling accident 12 years ago has regained the ability to walk with the help of electronic implants in his brain and spine.
This is the first time such a system has enabled a person with paralysis to walk naturally using only their thoughts.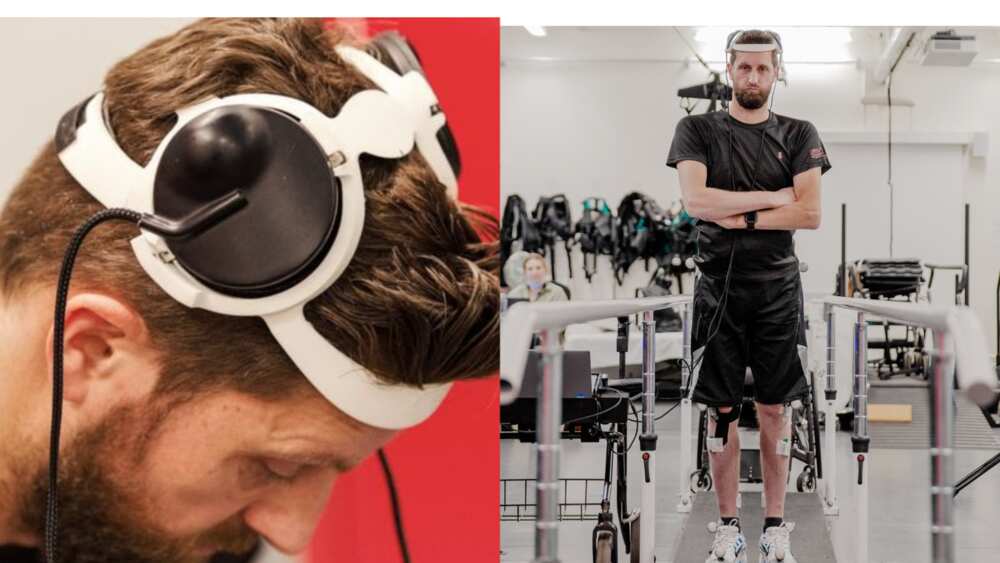 Gert-Jan Oskam, 40, was told he would never walk again after he suffered severe damage to his spinal cord that impaired his legs and arms.
But thanks to the experimental device developed by Swiss researchers, he can now stand, walk and climb stairs with the assistance of a walker.
PAY ATTENTION: Follow us on Instagram - get the most important news directly in your favourite app!
How it works
Called a brain-spine interface, the device creates a direct link between the brain and the spinal cord.
It consists of two implants: one in the brain that tracks intentions for movement and one in the spine.
The implants communicate wirelessly through a processing unit that Oskam wears like a backpack.
The brain implant detects signals from the regions of the brain that control movement and sends them to the processing unit.
There, an algorithm translates them into commands that are sent back to the spinal implant. The spinal implant then delivers electrical pulses to the nerve endings related to walking.
Happy, but feels like a toddler again
Oskam said he felt like a toddler learning to walk again but was happy to have more control over his movements.
He told BBC News:
"Now, I can just do what I want, and when I decide to make a step, the stimulation will kick in."
He also said that the device had improved his daily life and allowed him to enjoy simple pleasures.
"It has been a long journey, but now I can stand up and have a beer with my friend. It's a pleasure that many people don't realise," he said.
Still testing the waters
The device is still in the primary research stage and unavailable to the general public.
The operation to insert the implants was carried out in July 2021 by Prof Jocelyne Bloch, a neurosurgeon at Lausanne University.
She said that her team aimed to get the device out of the lab and into the clinic as soon as possible.
"The important thing for us is not just to have a scientific trial, but eventually to give more access to more people with spinal cord injuries who are used to hearing from doctors that they have to get used to the fact that they will never move again," she said.
Jubilation as disabled man can walk again after technological implant in his spine
Meanwhile, Legit.ng reported that some five years ago, a man named Michel Roccati had a motorbike accident.
It seriously affected his spinal cord, disabling him and rendering him immobile.
Since then, there has been no solution to his predicament.
Source: Legit.ng