"My Heart Is Really Broken Seeing This": 72-Year-Old Retired Soldier Cried After Stranger Gave Him 3000 Naira
The story of a former soldier and police officer who retired in 2002 but was unable to receive his full pension has brought tears to the eyes of many people
The 72-year-old told his story to an interviewer that eventually gave him N3000 for transportation but surprisingly the old man began to shed tears of joy
When the man collected the money, he broke into tears of joy which touched the hearts of even the people that surrounded him
The suffering of many old men and women who had diligently served this country had been well documented but even at that, there are still many more of those undocumented stories that would move the coldest of hearts.
The story of a man shared by @edithlipson whose pension has not been fully paid after serving in the Nigerian army and in the police force has trended on Tiktok.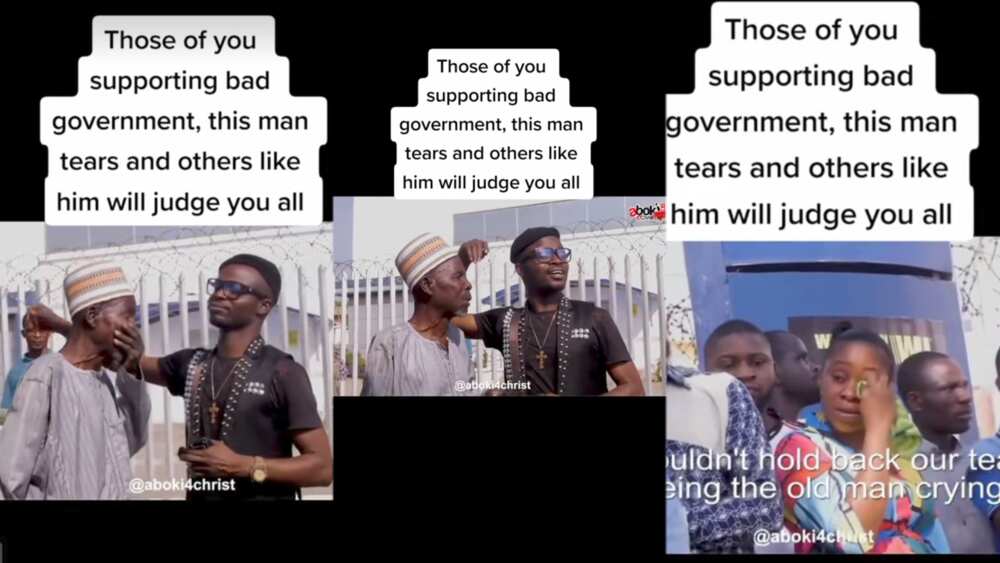 In the video, the man told the interviewer that he came to the bank regarding the remains of his pension that has not been paid since 2002.
Nigerian soldier in the civil war
The 72-year-old explained that he served briefly during the civil war as a soldier but thereafter joined the police force until 2002 when he retired.
PAY ATTENTION: Follow us on Instagram - get the most important news directly in your favourite app!
He said he has been paid his entire pension for his time as a soldier but his police pension has not been paid. It is understandable that he spent more years as a policeman.
Amidst the biting effect of cash scarcity, the man who came to the First Bank branch to withdraw was given number 141. Even at that, the bank had not opened as of 11:00 am.
Many people who reacted to the video were touched by the man's story which has now gone viral.
Legit.ng compiled some of the reactions below:
@Gifty6263 reacted:
"72 years and Tinubu still wants to be president instead of resting. Nigerians make una stop this tribalism and allow good governance."
@NANCY wrote:
"l am an igbo but it's not about tribalism I am brokenAn Army? Please can I get his account, I don't have much but I can give 20k from my heart."
@Finest Edith commented:
"I'm Edo but I grew up in the north, I can bet you they're one lovely pple you can ever imagine though every family has bad eggs but let's be One."
@ndidiamakamouneme also reacted:
"My heart is really broken seeing this Man cry 0H God."
@favourfaith2363 also commented:
"not me crying .thank you dear for reaching out to papa, may God reward you."
@OLASUNKANMI wrote:
"Did anyone notice the girl crying behind him???? Our yeye leaders have caused us all this we are going through."
@jennifernnenna1 also said:
"Chaii see my crying like a baby."
Watch the video below:
Trader, artisan can now earn pension
Meanwhile, Legit.ng previously reported that financial inclusion, mostly for those in the informal sector, has been the main goal for Fintechs in Nigeria.
With about 133 million Nigerians living below the poverty level, according to the latest report by the National Bureau of Statistics, it has never been more imperative to financially include those in the informal sector with some of the perks that are available to workers in the formal sector.
Despite covering over 80% of employment in the country via Micro, Small and Medium Enterprises (MSMEs), the informal sector deserves the necessary infrastructure to scale up their standard of living. With respect to these gaps, innovations like Awabah Nigeria have come up with solutions.
Source: Legit.ng