"A True Legend": Little Boy in Uniform Screams as His Head Gets Stuck in Burglary Proof, Video Trends
A heartbreaking video of a little boy struggling with a burglary proof in school has gone viral on TikTok
In the video, the little boy's head got stuck in the burglary proof after he tried to stick his head out of the window
Social media users have reacted massively to the video, with many people sharing their experiences as children
A little Nigerian boy has caused a frenzy online after his head got stuck in a burglary proof.
The little boy tried to stick his head out of the burglary proof, but sadly, his head got stuck.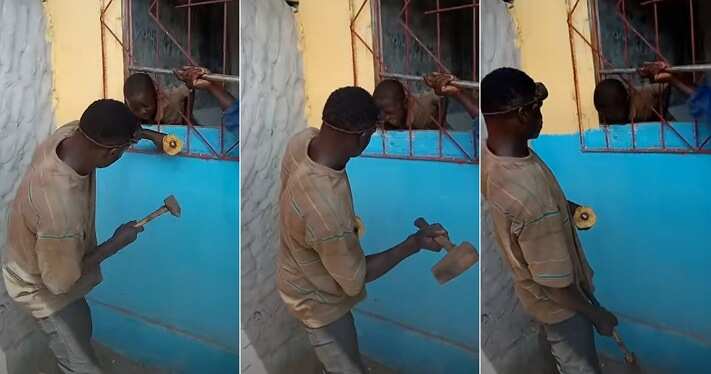 In the video, some men came around with a hammer and some other equipment to help the child and rescue him from harm.
After a while, they were able to bring out the child's head from the burglary proof.
Social media reactions
@chrismorgan707 said:
"The way he shouted ajaaaaaaaaaaaaaaaa means he is a legend."
@hajia_zee stated:
"From here nooorrr , he will find himself in another trouble again."
@stanliviafavourda said:
"Lol. This same thing has happened to my baby bro."
@esnart78 commented:
"I have been to this situation before when I was in grade two mmm kkkk life is a journey."
@selfpaidjnr0 stated:
"I swear this thing don happen to me before e go be like say no be your head enter ham before if you wan commit ham."
@fillespartan said:
"How he's shouting ajaaaaaaaaayi from there he's ears are going to eat hot slaps from that photocopy daad of his."
Watch the video below:
Little boy wakes up in another country after hide-and-seek game
Meanwhile, Legit.ng previously reported that a 15-year-old boy who entered a shipping container during a game with friends has been found in another country six days later. Daily Mail reported that Fahim was on January 11 playing hide and seek in Chittagong, Bangladesh and got stuck in the container.
He fell asleep only to wake up 2,000 miles away from home and in Malaysia. It turned out that he sailed with Integra container ship across the Indian Ocean after he was mistakenly locked up. On the 17th of January, Malaysian port staff and police officers found him after one of the staff heard knocking on one of the containers.
In a video seen on Reddit, the lad was crying for food, dehydrated and confused and was placed on a stretcher and covered in a blanket. The lad who was reported to be feverish was taken to Tengku Ampuan Rahimah Hospital where he is said to be in stable condition.
Source: Legit.ng