"If No Be Peter Obi, Wetin I for Dey Do Here?" Man Cries Out After He Was Sent by Family to Grind Beans
A hilarious video that depicts the lives of lastborns in most Nigerian families has caused a frenzy on social media
The funny video showed a young Nigerian man complaining about being sent on errands shortly after arriving home
The young man lamented that he visited home to take part in the just concluded election, only to be sent on errands
A Nigerian man has shared his experience on TikTok after arriving home to vote in the just concluded presidential election.
The young man surely understood how lastborns are left with little or no choice but to do as they are told, especially regarding errands.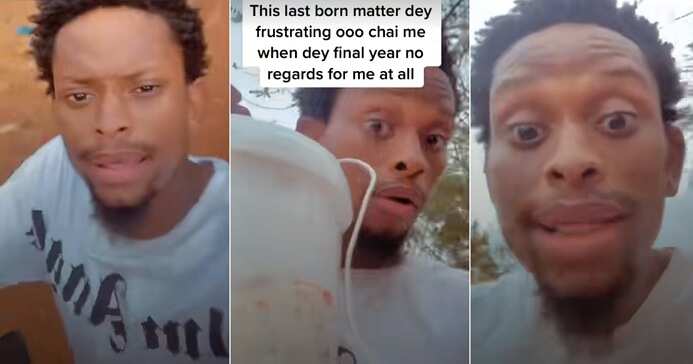 For most lastborns, no matter your age or level of education, once you come home, you are made to remember that you are still the youngest.
He came home from the university to vote for Peter Obi in the Presidential election. During his visit, he was sent on an errand to grind beans.
The sad part of the video was when he explained that he had forgotten the money for the grinding and had to go back home to get it. This made him make the journey twice.
He felt his handsomeness, designer clothes, and academic status as a final-year student should be a cover for him not to be sent to do chores.
The "odogwu", as he referred to himself, shared the video with this caption:
"This last born matter dey frustrating ooo chai me when dey final year no regards for me at all."
Social media reactions
@julixjuicy commented:
"All the last born gathered here, crying right now."
@abenaa commented:
"If pikin no know message wey dem send am, he go waka two times."
@kemez48 commented:
"Dem go curse u normally nah."
@ufuomajane wrote:
I wash bitter leaf yesterday,e pain me o,me when ne final year brethren,highly respected for school."
@invextor_e5 wrote:
"This matter Dey tire me all the time oo."
@khrazy_xtar wrote:
"Justice for we last born."
@annieberry054 wrote:
"Sweet boy like you."
@meerah112 wrote:
"My mood atm."
@diviranky1 wrote:
"Na me be this oo I don pack my load I dy go back sch tomorrow I nor fit again."
@rj6225457gmail.com said:
"Just day play.
@staarr13 commented:
"Odogwu in the mud."
@brownmag6 wrote:
"She go still find extra errands send you,u go dey hear,as you don forget d money,oya quick fetch 2 buckets of water."
@somaphanie35 wrote:
"I swear we dey suffer."
@swiiii__ commented:
"A whole comrade."
@willijrse45 wrote:
"Pablo Richie why you go forget money?"
@bigbella024 wrote:
"If you like wear angels palm."
@julietoffical commented:
"Me right now."
@djfreshhclifford said:
"Nah so them send me go ground melon yesterday, a whole me SUG D.O.S."
Watch the video below:
Lady shares WhatsApp conversation with lastborn
Meanwhile, Legit.ng previously reported that a Nigerian lady, Tbillion, has shared her WhatsApp conversation with her younger sister.
Sharing the screenshot on Twitter, she revealed that her younger sister is the last born of their family and she lamented over her attitude.
In the messages, the girl first showered praises on her elder sister before proceeding to ask her for money so she can feel her presence.
In her words: "I miss you. I'm so emotional. In my next life if there is, I will still pick you as my sister again and again. I miss you so much. Send me money so I can feel your presence. Hope you're good. I'm missing you too much these days."
Source: Legit.ng