29-Year-Old Lady Moves Into a One-Room Apartment With No Property, Says She's Starting Afresh, Photo Emerges
A young lady has inspired social media users with her positive outlook on life despite starting afresh
The 29-year-old lady shared a picture of the one-room apartment she recently got and revealed she moved in with no property
While noting that her biggest fear is failing again, the lady said she moved in with only her books and one other interesting item
A 29-year-old has showcased her empty one-room apartment on social media without shame.
While revealing that she will be turning 30 this year, the lady, @Kgothatso___, wrote on Twitter that she moved into the apartment with just rent money.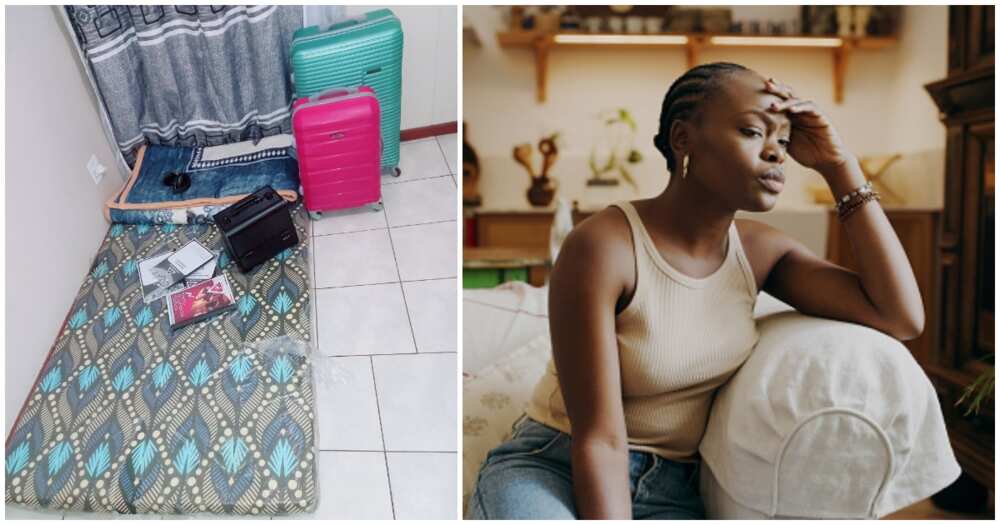 The lady who stated that she was starting afresh for the fourth time said she moved in with only her books and make-up kit.
She added that she has no savings, no bed or groceries and expressed her fear of failing again.
Her tweet reads:
"Lol so this year I'm turning 30, this is my 4th time starting from scratch. Just me, my books & my make-up kit.
"No savings, no bed, no groceries. Just rent money.
"My biggest fear is failing again, my anxiety is on 100 rn."
Her tweet blew up, with many people encouraging her humble beginning.
See her tweet below:
Social media reactions
@nhella said:
"Well done to you sisi for not giving up. The best is yet to come. Just keep on keeping on!"
@World_Pluto said:
"I'd love to hear your story, cause wow , the struggle to keep it together is tough, not to mention starting over and over again."
@mogausebeka said:
"The beauty about life is that it keeps giving us chances. It's draining I know. But hang in the because it's doable. During this celebrate all your wins,small or big. Ska ba le pressure. You got this. I walked out of a certain situation with my handbag and went home."
@bansimalincony1 said:
"The same here. Turning 30 this year and I'm equally starting from scratch."
@INeedRealLuv45 said:
"You can do this!!! There's nothing wrong with starting over, as long as you keep trying!"
Lady moves into her one-room apartment with no property
In a related piece of news, Legit.ng previously reported that a lady moved into her one-room apartment with no property.
The lady, @beautynain, said she only had money to pay for the rent but lacked the funds to buy property.
After moving into the house, she is now looking for ways to furnish it and make it look posh. In the video she posted, she was seen in the room as she sat on her small mattress in a sad mood.
Also, she went to the toilet and showed how neat it was. She also displayed the kitchen and the cupboard in it.
Source: Legit.ng