Funny Kid Opens Kitchen Cabinet, Hides Inside Like It's Her Bed in Trending Video
A mother filmed her toddler going into one of her kitchen cabinets and shared the video online
The kid quietly crammed herself into the tiny space and stayed comfortably in it as if it was her bed
Mothers who reacted to the video narrated similar experiences with their kids hiding in unusual places
A mother @mbalenhlenkosi_ has shared a very interesting video showing her toddler walking into one of the spaces in their kitchen cabinet.
In the video, the kid took her time to climb into the space before her mother assisted her and shut the door behind her.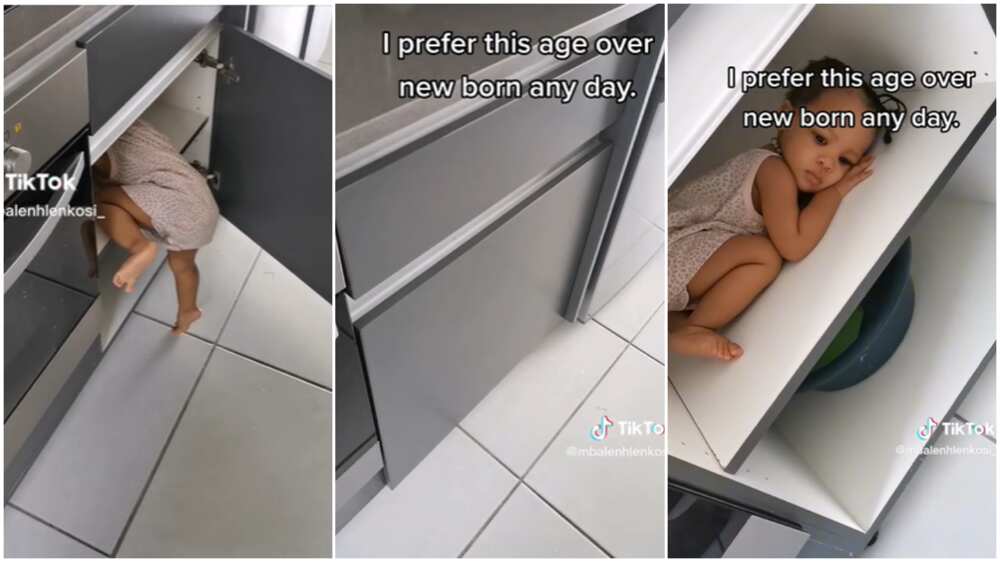 Kid enters kitchen cabinet
Seconds later, the woman opened the door to reveal the kid's face as she laid her head as if she was on a comfortable bed. She also had a cute smile on her face.
Many people said the video is a good reason why it is important to keep one's eyes on little children in the house.
Watch the video below:
As of the time of writing this report, the video has gathered over 900 comments with more than 55,000 likes.
Mpho Tladi said:
"Me too. My newborn is showing me flames."
bonakelemavuso said:
"I just want to be able to have one that's all."
enhlegumede327 said:
"Lol neh gimme a newborn. My son is 3 and some days I worry I'm gonna get arrested soon, he drives me crazy."
TebzaNgwana said:
"We once looked for my nephew until we report him missing at police station only for him to be found dead asleep inside kitchen cupboard."
user941326004119 said:
"I remember looking for my daughter she was 5 years then yooh kanti she slept behind our couch kids yooh."
Brownskinbella said:
"Toddler stage is hectic but give me that any day. Newborn stage is exhausting as hell."
Mother finds her child under the car
Meanwhile, Legit.ng earlier reported that a mother, @nathashankosazana, shared a video that captured the moment she looked for her child and found him in an unexpected place. The woman stated that she had been looking for him for one hour.
As she approached the house park, she suddenly saw the baby crawling out from under their car. The mother was so surprised.
The kid gently came out without saying a word. After getting to a place he could sit down, he let out a funny laugh.
Source: Legit.ng