"I Didn't Do It": Bold Little Girl Lies to Mum in Hilarious Video, Shrugs Her Shoulders
A hilarious video shows a baby girl shrugging her shoulders after her mother asked if she ate frosties
In the video, the toddler sat on the bed and when confronted by her mother about the missing frosties, she quickly denied
While sharing the video on TikTok, her mother said she never knew that her little girl could shrug her shoulders
A little girl has gone viral on TikTok after her mother shared a video of her shrugging her shoulders.
The little girl's mother had asked if she ate the missing frosties at home, and she denied it.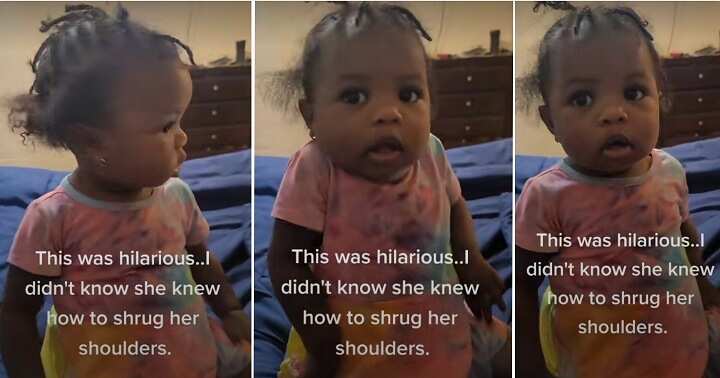 In the video, the mother insisted that the little girl ate the frosties and repeatedly asked her to say the truth.
However, the little girl shrugged her shoulders and denied eating it. Her surprised mother then asked if she knew who ate it but the little girl shrugged her shoulders again in denial.
Sharing the video via TikTok, the girl's mother said she didn't know her daughter could shrug her shoulders at such a very young age.
Social media reactions
The hilarious act by the little girl has attracted lots of reactions.
@teresacody95 wrote;
"She like, hell I don't know."
@hughsomerville363 said;
"Kids these days come out doing everything don't be surprised if they tell you the cow just jumped over the moon."
@anita holdcroft;
"The shrug of her shoulders is hilarious she is adorable."
@Mary Duffie commented;
"It wasn't her! For real she's beautiful."
@HerMum93 reacted;
"OMG how cute is she."
@zaysaucy3 added;
"She tried so hard to say idk the second time."
@Lale wrote;
"I had no idea babies actually understood words omg."
@madalenalom reacted;
"She said no so i believe her."
Watch the video below:
15 lies Nigerian children tell their parents
Meanwhile, Legit.ng previously reported that it is inevitable that children would hide the truth from parents, sometimes for reasons best known to them.
Sometimes, it's to avoid punishment, knowing that if you tell the truth, you will be in big trouble.
Lying is wrong but it's normal for children to tell lies. In fact, we all tell lies or have told lies to minimize what we've done wrong or cover up our mistakes. Below are 15 of the most common lies Nigerian children tell their parents.
Blame it on someone else as an easy way out. The unsuspecting person is usually someone that can't defend him or herself. Hides money in pocket and pray they forget about it.
Source: Legit.ng