Nigerian Female Student Converts 'Pure Water' Sachets to Kerosene, Diesel, Shares How She Did It
A final year student of Federal University Dutse (FUD), Zaynab Bilyamin, has made kerosene and diesel from sachet water waste
The 'pure water' waste conversion is the final result of a research project the young lady embarked on
Zaynab was motivated to carry out the research after learning about the possibility of converting polymeric waste to fuel
Zaynab Bilyamin, a final year student in the chemistry department of Federal University Dutse (FUD) has converted 'pure water' waste to kerosene and fuel.
The Jigawa indigene looking to pursue a career in academia did a research project centred on the conversion of low-density polyethylene.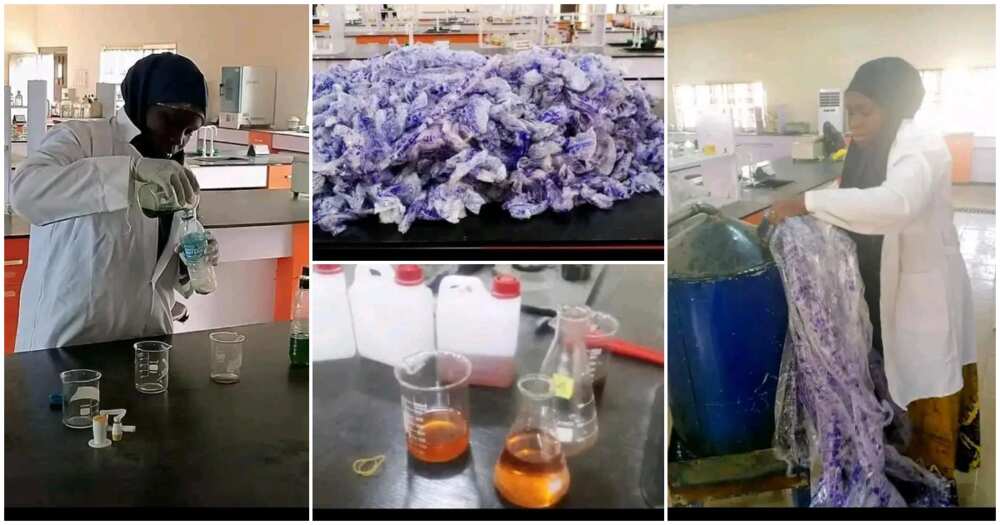 The final result of the research titled "Conversion of low-density polyethylene and mixed low-density polyethylene with polyethylene terephthalate into fuel" is the hybrid fuel.
According to Daily Nigerian, it cost Zaynab N100, 000 to execute the project.
How Zaynab did it
Zaynab's research supervisor, Aminu Dauda, said the normal process of thermal cracking was used in the research.
The thermal cracking method involves subjecting waste to a high temperature of about 450-500 °C which leads to breakage of the molecular bonds and breaking down long chained higher boiling hydrocarbons, into shorter chained as well as lower boiling hydrocarbons in the absence of oxygen.
Zaynab stated that she was inspired to do the research after learning about the possibility of converting polymeric waste into fuel, especially as the country has unrecycled polymeric waste lying about.
Pictures of Zaynab ware shared on Twitter by Ovie Ali and got people talking.
See Ovie's tweet below:
Social media reactions
@abbas_s_zubair said:
"This is a good thesis and in a way reduces the landfill of municipal solid wastes. KUDOS!
"However, PYROLYSIS of wastes to fuel has a great effect in the pursuit of a greener environment and carbon reduction.
"I would have suggested GASIFICATION process instead."
@IamKennyBabs said:
"Something is wrong with us in this country. One will expect government to do serious business in this area given the huge availability of waste in the country."
@jhopes_2217 said:
"A senior lecturer in my department has actually worked on something similar, converting waste LDPE to crude and then extracting Fuel from it. The fuel was used to power a generator for hours.
"The process of conversion is called "PYROLISIS."
@I_am_Blazzer said:
"I see a lot of persons here trying to tell us that plastics are products of crude oil.
"If you all knew the process.. una for d do am since.
"Zaynab did what most Nigerian engineers are overlooking and should be encouraged and supported not showing ITK here."
Man invents stove that uses water to cook
Meanwhile, Legit.ng previously reported that a 67-year-old Nigerian man invented a stove that uses only water to cook food.
PR Nigeria reported that the electronics technician's innovation was borne out of his desire to subsidize the cost of using gas and kerosene.
A YouTube video shared by the aforementioned medium showed the man named Hadi demonstrating how the water-cooking stove generates fire.
Hadi, who had in the past assembled a radio transmitter and operated a community radio station, wants relevant institutions to help him get his innovation patented.
Source: Legit.ng