Dangote Group Reacts to Report Its Refinery Is Set To Begin Operation on January 2023
Dangote refinery has reacted to reports in the media that it is set to begin operation
The refinery has been in construction for over two years and the estimated over $19 billion
The Dangote oil refinery located in Lagos can refine over 650,000 barrels of crude oil daily
Dangote Group, a leading business conglomerate on the African continent, has reacted to reports that the commission date for its refinery has been set.
Several media outlets, Legit.ng not included had reported that the Dangote refinery would commence operations on January 24, 2023.
However, a source at Dangote Group confirmed to Legit.ng that the reports of commissioning which was first shared by BusinessDay is false.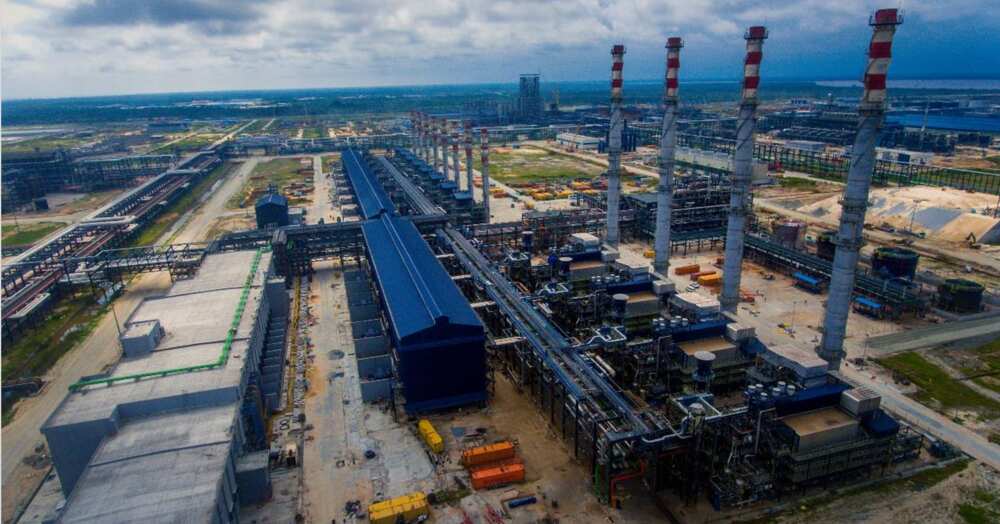 The source noted that the reports is fake and the date of the commissioning has not been set.
The source said:
"Reports on President Buhari commissioning the Dangote refinery in January 24, 2023 is false details will be communicated in due time
"No date has been picked for the commissioning of the project."
Some of the media outlets that reported the supposed event have already deleted the post.
Dangote Refinery 97% completed
Meanwhile, the Nigerian Midstream and Downstream Petroleum Regulatory Authority (NMDPRA), otherwise referred to as 'The Authority' had ealier revealed that the refinery is 97 percent completed.
Farouk Ahmed, Chief Executive of NMDPRA, disclosed this development when representatives of the Dangote Refinery visited him in his office recently in Abuja, FCT, to present the work plan of the facility for 2022/2023.
Ahmed as well reiterated the importance of the Dangote Refinery to the country, as he assured that 'The Authority' would give all necessary support to ensure timely completion and kick-start operations.
Benefits of the Dangote refinery
Dangote Integrated Refinery and Petrochemicals Complex is located at Ibeju-Lekki, in the Lekki Free Zone, in Lagos State of Nigeria.
The total cost of building the refinery is put at over $19 billion and the facility is regarded as one of the biggest in Africa.
The Dangote refinery is positioned to produce Euro-V quality gasoline and diesel, as well as jet fuel and polypropylene, and will likely generate 4,000 direct and 145,000 indirect jobs, a report said.
In terms of immediate benefits of the refining facility to the Nigerian energy consumers, the new refinery is expected to double the West African country's refining capacity, and help in meeting the increasing demand for fuels, while providing cost and foreign exchange savings.
It is estimated to have an annual refining capacity of 10.4 million tonnes of petrol.
Buhari legacy: FG announces Port Harcourt refinery repair works completed, set date for first production
Legit.ng reported that the federal government has announced that the Port Harcourt refinery is fully completed and will begin production in March 2022.
Minister of State for Petroleum Resources, Timipre Sylva disclosed this on Monday, January 9, 2022, at the President Muhammadu Buhari Administration Scorecard (2015 – 2023) in Abuja.
According to Sylva, all is now set for the refinery to start working after many years of being idle.
Source: Legit.ng