"I Thought He Was Dead": Lady Leaks Chats With Father after 31 Years, Shares Sad Story
A beautiful white lady has shared screenshots of her conversation with her father whom she met on Instagram
While sharing the chats online, the lady revealed that she had not known her father since her 31 years of existence
However, she sent a message to the man on Instagram who confirmed to her that he was her father
A lady has revealed how she was able to find her biological father after 31 long years.
According to the lady identified as @sharnee.xo on TikTok, she grew up believing that her father was not alive.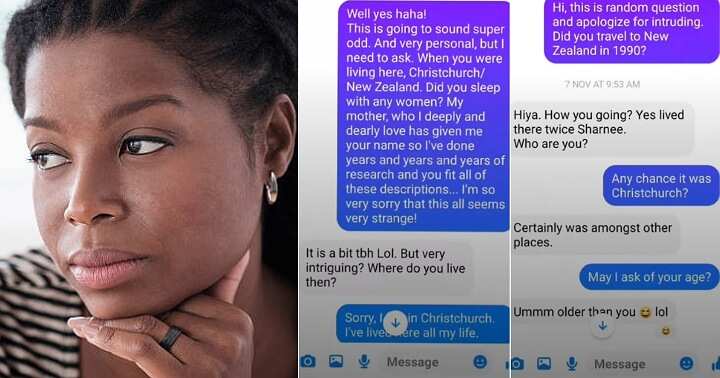 However, deep down she truly wanted to find her father as she had a strong belief that he was just somewhere in the world.
With the aid of her mother's description of her father, Sharnee launched a search on Instagram for him.
She came across the profile of a man who matched the descriptions and she sent a message.
Sharnee finds her dad
The young lady went straight to the point. She told him about herself and asked if he was her father by any chance.
After a few deliberations and exchange of information about each other, they both confirmed that they were indeed father and daughter.
Sharnee excitedly shared the chats on TikTok with the caption:
"This is exactly how I found my dad. After being told he was unalive for all of my 31 years."
Social media reactions
@christyspray said:
"1st off I'm so happy for you. I'm so glad u found him. 2nd woman where the rest of that Convo lol."
@bananaconsuela reacted:
"Nah the way he could have escaped all this if he wanted to but actually tried to communicate with u is just amazing."
@shaggyo96 stated:
"The way he genuinely wanted to find out more and he's already accepting things is amazing."
@zombie_koala said:
"Congrats in finding your father. I found mine in poor health and he passed before I could ever talk to him."
@happywifedisneylife added:
"Im so happy he didnt shut you down and was so open to your question! It sounds like your mum meant alot to him. This is special."
@luvinit65 added:
"As someone who is estranged from the daughter I know about for 31 years, this made me cry buckets but also fills me with joy."
Watch the video below:
Lady meets dad who left when she was 4
Meanwhile, Legit.ng previously reported that mixed reactions have trailed a video of a Nigerian lady reuniting with her father after more than 24 years. According to the lady identified as @just_gela on TikTok, her father left when she was only four years old. She revealed that he got separated from her mother and left.
Since then, she never set her eyes on him for over 24 years. Although the young lady didn't disclose how she finally got to know his whereabouts, Gela however mentioned that she travelled to Abia state to see him.
In her words: "The last time I saw my father was when I was four years old because my parents got separated. Haven't seen him for 24 years of my life. Follow me let's go see him again. Abia state has the worst road. "My stomach was so hungry so I got some chicken from the airport but I had no appetite. I just couldn't wait."
Source: Legit.ng