Young Lady Who Beat Cancer at the Age of 23 Shares Her Inspiring Story, Says She Feels Unstoppable
A young woman who has overcome cancer disease has taken to social media to share an inspiring story of how she beat the deadly monster
Monica Sithole says she was diagnosed with the disease in the year 2020 and that she was able to recover after a series of treatment
She said she feels unstoppable after overcoming the disease and that she is going ahead to achieve other feats in life
A young woman named Monica Sithole has shared an inspiring story of how she overcame cancer after going through strenuous treatment. Many people have also praised her for her determination to live.
In an interesting story shared on Linked by Women Power Africa, Monica said she was diagnosed with haematological (blood) cancer in July 2020.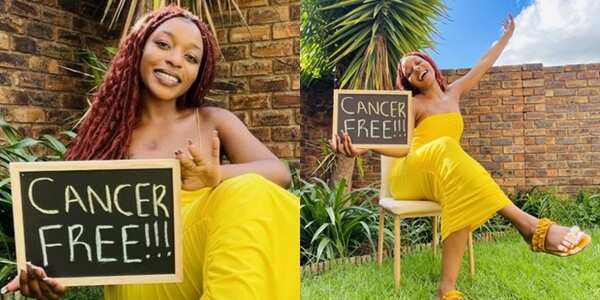 The treatment was tough, but she overcame
According to her, she immediately commenced treatment with a determination to fully recover. She said after 9 months, 12 chemotherapy sessions, 5 scans and 4 surgeries, she was finally declared cancer-free.
Her words:
"At the height of the Covid-19 pandemic in July 2020, at age 22, I was diagnosed with a life-threatening illness and immediately started the treatment. My faith in God and my family's unwavering support kept me going, as well as the fact that there is just so much I would like to do for my family, so I still need to be alive to do all of that."
I feel unstoppable after beating cancer
At the end of it all, Monica says she felt unstoppable. She said she will go after every other dream she has. She said:
"The nurses and the doctor treating me also did a great job of encouraging me. Meeting other patients at the chemo clinic who had been diagnosed with the same type of cancer that I had and who had been receiving treatment for it, also kept me going.
"After I conquered this disease, I felt unstoppable, and I still feel that way now. I had promised myself that if I conquered that period in my life, then I would have no excuse to go after every dream that I've always had for myself."
Social media users react, congratulate the lady for overcoming cancer
Social media users quickly rushed to the comment section of the post to congratulate the lady. A few of the comments are sampled below:
Sonia Emeni:
"You are amazing. For going through all that and maintaining your glow. Really inspiring."
Sibusiso Maseko:
"There's is beauty out of these ashes."
Nkechi I.:
"Glory to God for permanent healing."
Perpetua Ose Igberaese:
"Thank God for your life."
Another young lady beats cancer at the age of 14
Meanwhile, Legit.ng has previously reported how another young lady beat cancer at the age of 14.
The Zimbabwean girl simply identified as Queen shared how she defeated lymphoma on Tweeter. Social media users praise God on her behalf and also congratulated her for the feat.
She said it took a period of 8 months during which she went through chemotherapy and recovered from the dreaded disease.
Source: Legit.ng