Nigerian Students Build Flying Drone with Local Materials; It can Tackle Bandits
Five Nigerian students have constructed a drone at the Federal University of Technology, Akure in Ondo State
The Unmanned Ariel Vehicle, UAV has successfully undergone a test flight and was found to be in great shape and capable of being deployed for various purposes
The 5 Nigerian students said it took them 9 months to complete work on the drone and that they made use of locally sourced materials to build the machine
A group of five Nigerian students at the Federal University of Technology Akure (FUTA) has successfully constructed a drone mostly with locally sourced materials.
The students who participated in the project are Ibidapo Samuel, Oderinde Timilehin, Benedict Udeh, Hamzat Oluwatobi, and Olaleye Bode. Four of the students are of the Department of Mechanical Engineering, FUTA, while Benedict Udeh is of the Department of Project Management.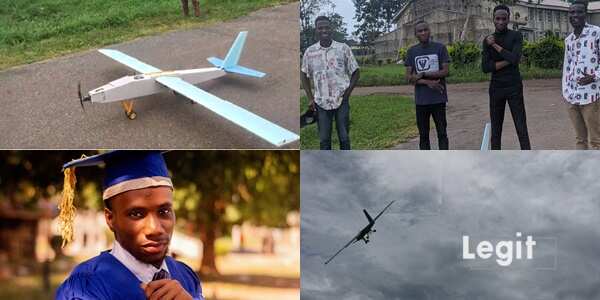 How It all started
In an exclusive interview with Legit.ng, one of the students Ibidapo Samuel narrated how it all started:
"We were a team of 5, supervised by 3 lecturers. The project involved the development of a fixed-wing UAV for oil and gas pipeline surveillance. The UAV has a wingspan of 2.6m and weighs approximately 4kg. It can be retrofitted for autonomous flight and made to carry a maximum payload of 1.5Kg"
Asked how long it took them to complete work on the drone, Samuel said it took them 8 months of intensive work, planning, and research before they could get the machine to fly. He said:
"We commenced the build around mid-August and completed it around the ending of September. But prior to this, my team members and I had been working on the design on paper for at least 8 months, of course, while combining school activities. Test flight was on the 1st of October."
Legit.ng asked Samuel if the drone flew, and his answer was "definitely".
We faced a lot of challenges during the project but we overcame
Projects like the one carried out by the students are usually confronted with many challenges.
The students said they faced and overcame a lot of challenges before the project became a reality. Samuel said theirs was not different but that they overcame through resilience.
His words:
"Funding was the main issue to be honest. We had to contribute money by ourselves to build it. If there was sufficient funding, it would definitely have been bigger and more sophisticated.
The knowledge gap was another issue. We had to spend sleepless nights trying to get all the calculations right and error-free. There was so much back and forth because of several modifications we had to do. But nevertheless, that's the beauty of engineering. Another issue was lack of components and instruments in this part of the country.
We had to use locally sourced materials that were not all that durable. The parts we could not improvise with had to be gotten from overseas. We spent weeks waiting for those components to arrive."
He solicited support from the government so as to enable them to modify the machine since it could help in tracking bandits and tackling insecurity.
His words:
"For example in tackling banditry, a UAV can be fitted with ground-penetrating radars that can peer through thick cloud covers to identify bandits hideout.
"If steps must be taken, I believe it must be now. We must not always rely on foreign nations to enable technological development. We can by ourselves do these things provided we get sufficient supports."
Nigerian student builds power bank for laptops, emergency wall lamp and power station
Nigerian students are becoming more innovative and tech-savvy. This publication has earlier reported how another Nigerian student successfully constructed a power bank for laptops, emergency wall lamps, and a power station at the same Federal University of Technology, Akure.
The innovative student was identified as Ade Iyanu and is of the Department of Electrical Electronics Engineering, FUTA.
One of his innovations was a laptop power bank that could power a laptop from 0-100% twice.
Source: Legit.ng