Man Finds Abandoned Satanic 666 Ritual Church Built with a Cemetery on it, Says He Saw a Demon, Shares Video
An explorer identified as Steve Ronin has stunned the internet with a shocking church building he found
Steve and his friends found an abandoned satanic 666 ritual church that was built with a cemetery on it
In the scary video shared, the explorer claimed to have spotted a demon and suffered a red big unexplainable scar while in the abandoned church
In a surprising exploration discovery, a man, Steve Ronin, has discovered an abandoned church that has a cemetery built right on it.
The church is said to be a satanic 666 ritual one where voodoo practices were carried out.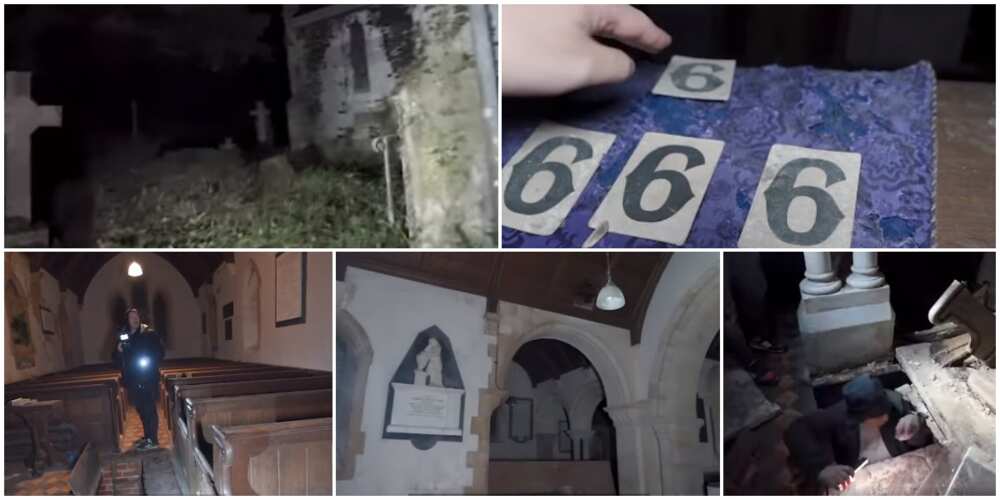 The popular explorer shared a short video of the building on his Facebook page.
A burnt bible was seen in the church
Making his way into the building, Steve and his friends found a burnt Bible as well as a piece of clothing with the 666 numbers boldly written on it.
Steve claimed to have seen a demon and would later show two big red unexplainable marks on his back.
Quite surprisingly, the explorer and his friends were able to locate the power switch and were amazed to find out that it still produced light.
Mixed reactions trail the video
Amanda Hollins said:
"You guys better stop playing because what I went through I don't wish it on nobody only thing I wish it could have been documented so when I tell people my story they don't think I'm crazy or lying but you keep knocking on the devil's door he will answer."
Grace Esau wrote:
"You are brave. The devils like trespassing to our families even to our church. We have the blessing to possess where our feet have trodden, stand up, possess loose the souls that were captured there. Pull down Evi alters set them on fire.
"They abandoned the place, if it's left like that, they may still want to come back.do something."
Christine Ford stated:
"Hey guys.. this is exactly why the Bible states to never open the doors to demons. They are absolutely real. In order to steer clear, you need the Holy Spirit in you."
Lorrie Earle commented:
"Dude I don't know how much is true and how much is for show on video. But the last place you want to go and screw with the demonic and Satan is the church. No offense intended.
"The demonic exists and if you ever come face to face with it or Satan himself you'll never forget it. My heart is about to fly out of my chest just watching this."
Man finds old abandoned mansion with 100s of cars in it
Meanwhile, Legit.ng previously reported that a man had discovered an old abandoned mansion with 100s of cars.
From the video shared on Facebook, luxury household furniture and fittings, as well as beautiful paintings, were spotted.
The explorer named Steve who said that the mansion could possibly have been abandoned in the 1900s also found scattered bank statements that showed the fleeing owner of the mansion was in huge debt.
Source: Legit.ng