Well Travelled Fashionista Ifa Priest with Earrings Reveals True Nature of Esu, Says He is not Satan
A young Ifa priest in Osogbo, the Osun state capital, has said Esu is not Satan, but one of the messengers of the Almighty God
The traditionalist identified as Oyeniyi Sangoniyi said his religion doesn't support evil and he urged people to learn about Ifa
According to the young traditionalist, people make sacrifices to Esu who then takes it to the Almighty God, who is his principal
A young Ifa priest identified as Oyeniyi Sangoniyi has said Esu is not Satan, adding that there is a misconception about it.
Speaking with Legit TV, the traditionalist said he has travelled around the world preaching the gospel of Ifa.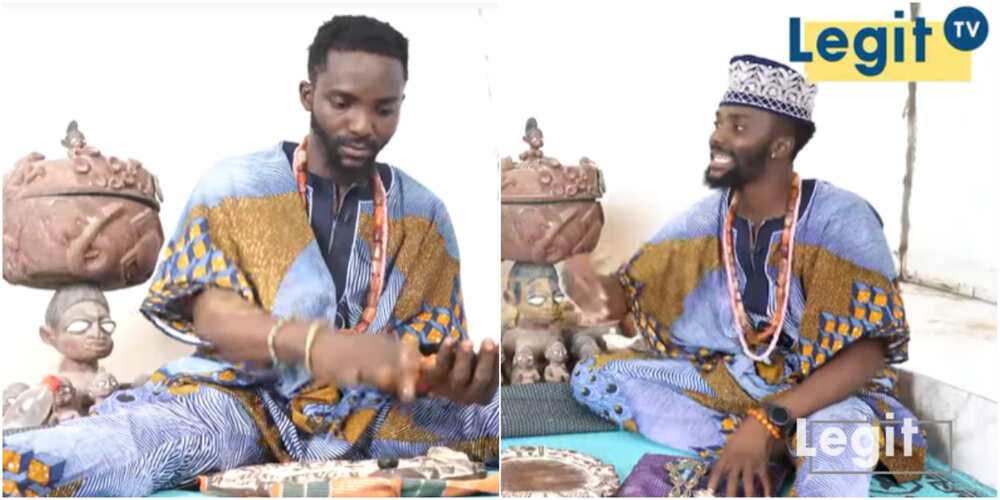 Who is Esu?
Oyeniyi said Esu is one of God's messengers and that he holds the key to wealth. He said people make sacrifices to Esu who then takes it to his principal, the Almighty God.
PAY ATTENTION: Install our latest app for Android, read best news on Nigeria's #1 news app
He said the traditional religion is not a dirty or evil religion, saying people should get to learn about Ifa and stop looking at traditionalists as bad people.
Ifa is a way of life
Oyeniyi, who resides in Osogbo, the Osun state capital, said Ifa is a way of life, adding that a Babalawo doesn't destroy people.
"Ifa is the way of life. Ifa shows us the way and puts light in every darkness."
The traditionalist also disclosed that they have a place they worship every Saturday, and everyone attends to listen to preaching.
Young traditionalist speaks about his religion
In other news, a 30-year-old Nigerian Ifa adherent, Oluwo Jogbo Orunmila, spoke about his religion and what it covers.
In an interview with Legit TV, the man said that out of curiosity, he has been to churches to know the bible, revealing that he understands everything in the holy book.
The man said Ifa practice is a lifelong thing, noting that a module of it could have up to 16,000 verses.
Oluwo Jogbodo added that he took several lessons on Quran. When asked how true it is that people's fortunes change when they bathe with a 'spiritual soap', the man answered in the affirmative.
Source: Legit.ng