She Swims Better than Me: Cute Video Captures 10-Month-Old Baby Swimming Effortlessly, Her Skills Wow Many
A video of a super-cute baby girl has people in awe of her advanced swimming abilities after it was shared on social media
The video shows baby Trinity enjoying the day swimming with her teacher by her side but she doesn't seem to need any help as she powers through the water
Trinity is less than a year old but she has taken to swimming so naturally and social media users from around the world can't believe her level of skill
A 10-month-old adorable baby girl is receiving huge attention on social media after an Instagram page, @babypowergram, shared a video of her swimming like a pro.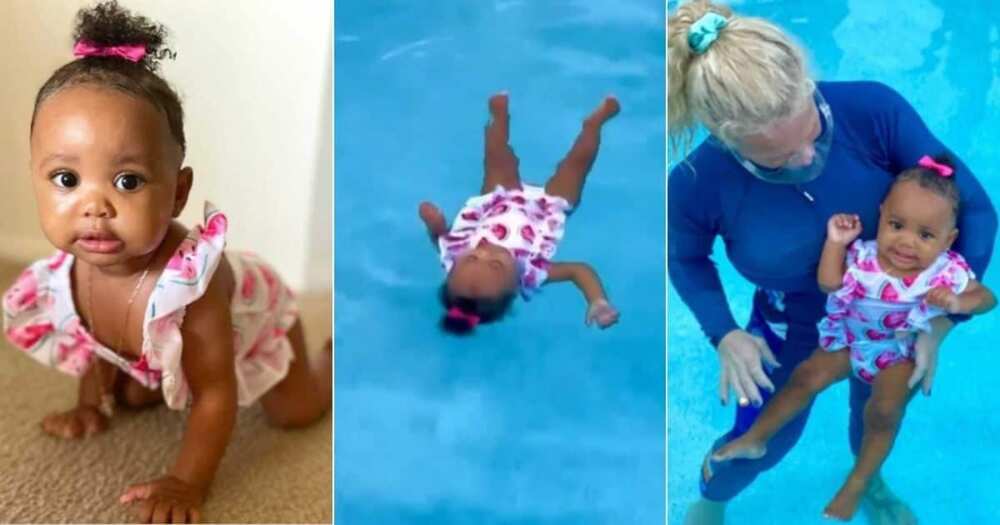 According to the post, baby Trinity learned to swim before she could walk and the little one is also a vegan. It's captioned:
"Trinity is a 10-month-old vegan baby. She is swimming before walking. Follow her to watch her grow and for yummy vegan baby recipes!"
PAY ATTENTION: Install our latest app for Android, read best news on Nigeria's #1 news app
The Instagram page is a popular account and it has over 200k followers. After the page shared the video of Trinity, it received massive reactions from people all over the world who can't believe how well the little girl swims and many are commenting on how cute she is.
A lot of people in the comment section are amazed by Trinity's ease in the water as she splashes around and even floats on her back.
The comments of adoration:
@shirleycolecrowder:
"Beautiful baby!"
@sfarraday:
"That is so adorable."
@potterantionette:
"Those cheeks. She is precious and adorable."
@kishakisha44:
"Such a cutie."
@gaynelmcclinton4528:
"She is beautiful. She got in that water balanced herself and kept her balance. Smart baby."
@joannah7566:
"She swims better than me."
16-month-old girl swims in pool effortlessly
In similar news, young Elizabeth has become an internet hot topic over her stunning display of swimming ability.
The young girl who is only 16 months old, in a video shared on Facebook by ESPN UK, made great water movements like a Michael Phelps in a pool.
Elizabeth, in the video clip, got into the pool herself and did front and back strokes without showing any form of fear or being supported with a pool balloon or protective jacket.
Source: Legit.ng