President Tinubu Suspends CBN Governor, Godwin Emefiele, Orders Probe
Godwin Emefiele has been suspended as the governor of the Central Bank of Nigeria (CBN)
The office of the Secretary to the Government of the Federation (SGF) on Friday, June 9 announced his suspension
As contained in the suspension notice, Emefiele was ordered to evacuate his office immediately
FCT, Abuja - President Bola Tinubu has suspended Godwin Emefiele as the governor of the Central Bank of Nigeria (CBN).
The office of the secretary to the government of the federation announced his suspension.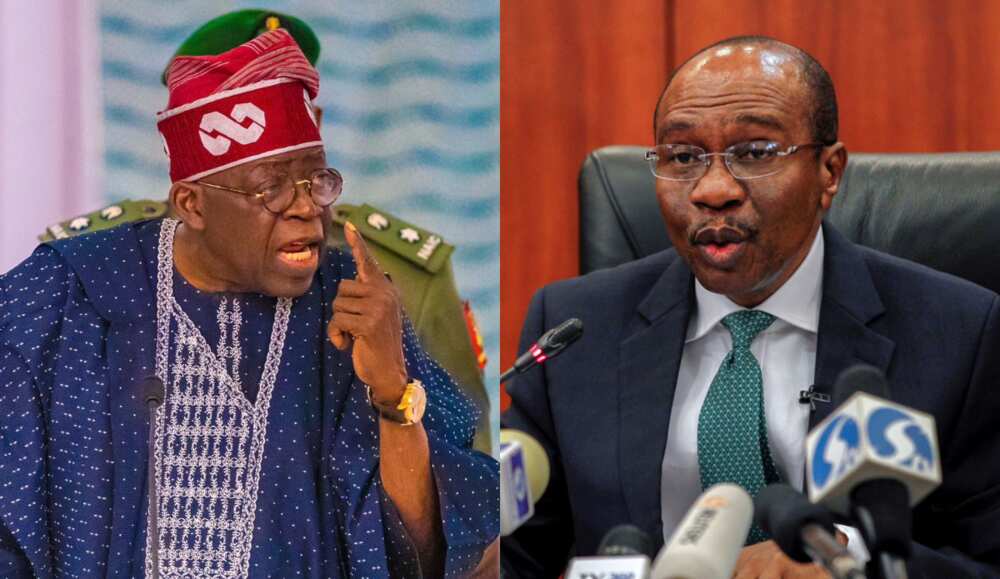 Willie Bassey, director of information, SGF office, in a statement issued on Friday, June 9 noted that the suspension is with immediate effect.
The statement reads:
"President Bola Ahmed Tinubu has suspended the Central Bank Governor, Mr Godwin Emefiele, CFR, from office with immediate effect.
"This is sequel to the ongoing investigation of his office and the planned reforms in the financial sector of the economy.
"Mr Emefiele has been directed to immediately hand over the affairs of his office to the Deputy Governor (Operations Directorate), who will act as the Central Bank Governor pending the conclusion of the investigation and the reforms."
Godwin Emefiele: President Tinubu's feud with suspended CBN
In the 2023 general election build-up, Tinibu and Emefiele clashed over implementing the new naira redesign policy that led to currency scarcity.
Emefiele was greeted with criticism for implementing the policy from Tinubu, the ruling party, businessmen, economic analysts and many other top stakeholders in the financial sector.
Reacting to the development, Tinubu said:
"The currency swap was too harshly applied by the CBN given the number of unbanked Nigerians.
"The policy shall be reviewed. In the meantime, my administration will treat both currencies as legal tender."
Godwin Emefiele: FG Explains Why President Tinubu Suspended CBN Governor
Meanwhile, the federal government clarified why Godwin Emefiele was suspended as the governor of the Central Bank of Nigeria.
A statement by the Ministry of Information revealed an ongoing investigation into Emefiele's activities.
In the statement, Emefiele was instructed to immediately vacate his seat and hand over the helm of affairs to the deputy CBN governor (Operations Directorate).
Source: Legit.ng