2023 Elections: Atiku Closes Campaign, Makes Final Promises
Atiku Abubakar has insisted that he will make impact if Nigerians elect him as president of the country
The Peoples Democratic Party (PDP) candidate made this promise as he closes his campaign in Yola
Going further, Atiku charged Adamawa voters not to disappoint Nigerians who have accepted his candidature
Alhaji Atiku Abubakar has insisted that if elected, his administration will ensure good governance, quality education, a buoyant economy, and a peaceful country.
The presidential candidate of the Peoples Democratic Party (PDP) made this known at the grand finale of the PDP Presidential Campaign, held in Yola, Adamawa state, New Telegraph reports.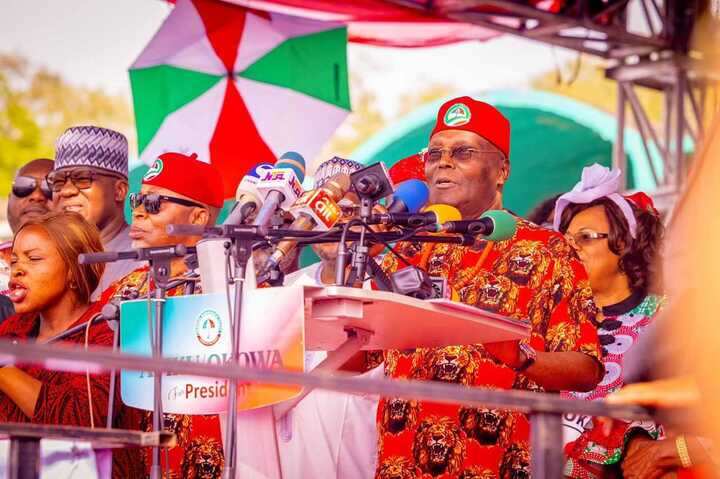 He thanked all Nigerians for a successful campaign rally noting that everywhere he went he was accepted by thousands of people.
According to hi, this is an indication Nigerians have accepted the PDP.
He consequently charged Adamawa voters not to disappoint Nigerians who have accepted his candidature. He urged them to vote for all PDP candidates from State Assembly.
Atiku said:
"Today is the final day of our campaign. I want to thank all Nigerians for showing solidarity. I want to assure all Nigerians that will not disappoint u. We will make sure we have a peaceful country, a buoyant economy, and good education and devolve power to the states. I want to reiterate those 5 key points. In Adamawa, it is a golden opportunity for you to elect me."
"Make sure you vote for me. Don't be misled by any propaganda. I want to appeal to you to vote for all PDP candidates from the state assembly. The combination of myself and Fintiri will be awesome. please return PDP in the state and vote for PDP in the Presidency. Please, don't disappoint the rest of Nigerians, go all to tour local govt, units, and households. Let's record the highest votes in this state."
Igbo group excited by Atiku, Northern elders' promise to release Kanu, investigate 'Python Dance
Meanwhile, Kenneth Uzumaki Austin has urged the south-east to accept the olive branch offered to the region by Atiku Abubakar, candidate of the Peoples Democratic Party (PDP).
The leader of the South East Grand Cohesion Alliance for Atiku also revealed that some notably reliable Northern leaders have also made the promise.
According to him, he was privy to a meeting held in the residence of a Rtd military general and onetime minister of defence in Abuja, at which part of the deal was concluded and ratified.
Source: Legit.ng