Fresh Twist as FG Asks Supreme Court to Dismiss Northern States' Suit on Old Naira Notes Deadline
The federal government, through AGF Abubakar Malami, has asked the Supreme Court to dismiss the suit filed by state governments challenging the CBN's naira redesign policy
Three northern states, Kaduna, Kogi and Zamfara states, had sued the FG over the naira redesign policy
However, Malami on Wednesday, February 8, asked the apex court to dismiss the suit on the ground that it lacks jurisdiction to hear it
FCT, Abuja - The federal government on Wednesday, February 8, called on the Supreme Court to dismiss the suit challenging the naira redesign policy of the Central Bank of Nigeria (CBN).
The suit, filed by three state governments (Kaduna, Kogi and Zamfara) is challenging the February 10 deadline set by the CBN to end the legal tender status of the old versions of some newly designed currency notes.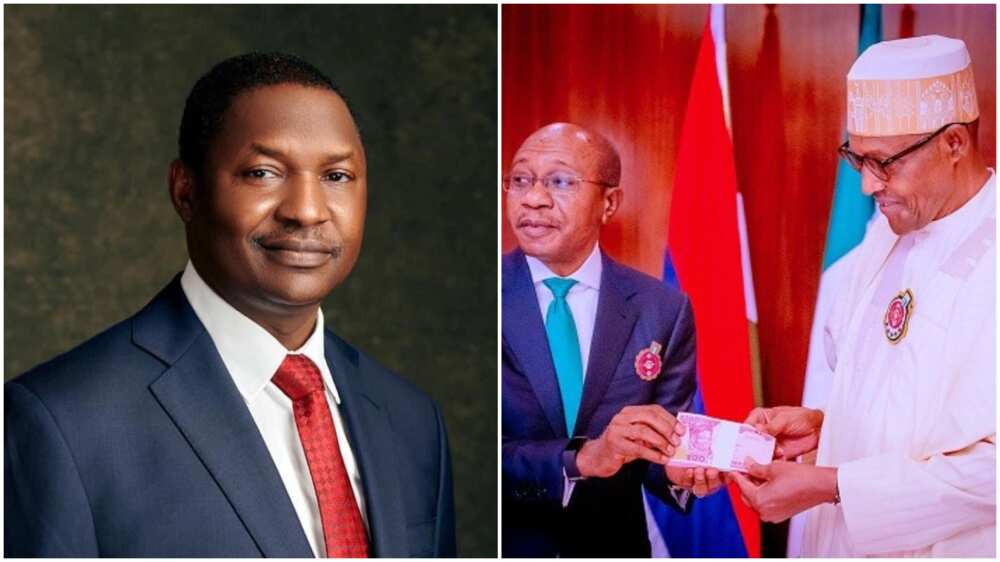 The states prayed for an order restraining the CBN from ending the use of the old currency notes on February 10 as previously announced by the bank.
They cited the sufferings the scarcity of the newly redesigned N200, N500, and N1,000 bank notes had brought upon many Nigerians.
However, the Attorney-General of the Federation (AGF), Abubakar Malami, argued that the Supreme Court lacks jurisdiction to hear the suit, Premium Times reported.
Naira redesign: How the suit by the state governments should have been filed
Malami maintained that the case is not a dispute between the federation and the state governments, but merely an issue about CBN's policy.
He said the suit is, therefore, not qualified to be taken directly to the Supreme Court for adjudication.
"This suit has disclosed no dispute that invokes this (Supreme) Court's original jurisdiction as constitutionally defined," Malami said.
According to the AGF, the suit ought to have been commenced at the Federal High Court, Channels TV also reported.
Legit.ng gathered that Malami filed his opposition to the suit as a preliminary objection against it at the Supreme Court on Wednesday.
Nigerians react
Austine Otsai commented on Facebook:
"On this currency issues as it relates to the re-design of the Naira, it falls on the exclusive list. The FG is right on this."
Ejike Ogbonna said:
"Let them allow CBN to do their job, I hope that something good will come out of it."
Nnaji Ben said:
"Now you understand when Buhari said I belong to all and belong to none! Buhari and Emefiele, like father like son."
Emma Ugwu said:
"Cashless policy without stable network is a threat to the Nigeria economy."
Chukwudi Ezennia said:
"Federal Government should ensure that Nothing derails this policy! The Citizens though suffering now know that the suffering Will be shortlived!
"Those state Governments crying more than the bereaved don't have the interest of the Masses at heart! This policy is indeed Buhari's Legacy to Nigeria and Nigerians!"
Supreme Court stops old naira notes deadline implementation
Meanwhile, the AGF's filings came hours after the Supreme Court granted a request by the three state governments for an order temporarily halting the CBN's plan to end the use of the old currency notes.
A seven-member panel of the court issued an order of interim injunction halting the plan by the CBN to end the use of the old naira notes as scheduled.
The court then adjourned the hearing of the main case until Wednesday, February 15.
Source: Legit.ng