Naira Swap Crisis: APC Governors Move Against CBN, Godwin Emefiele, Give Reasons
The February 10 deadline given by the Central Bank of Nigeria for swapping old notes for new notes has been rejected
The CBN deadline was rejected by governors of the ruling All Progressives Congress on Thursday, February 2
According to the APC governors, the new policy by the CBN has done nothing but brought hardship to Nigerians
With the crisis that has erupted following the swap of the old naira notes with the new ones, governors of the All Progressives Congress (APC) have made their stance known on the deadline extended by the Central Bank of Nigeria.
Out of 36 state governors, 21 of them were elected under the platform of the APC.
Daily Trust reports that the governors elected under the platform of the ruling party have rejected the February 10 deadline announced by the CBN's boss, Godwin Emefiele.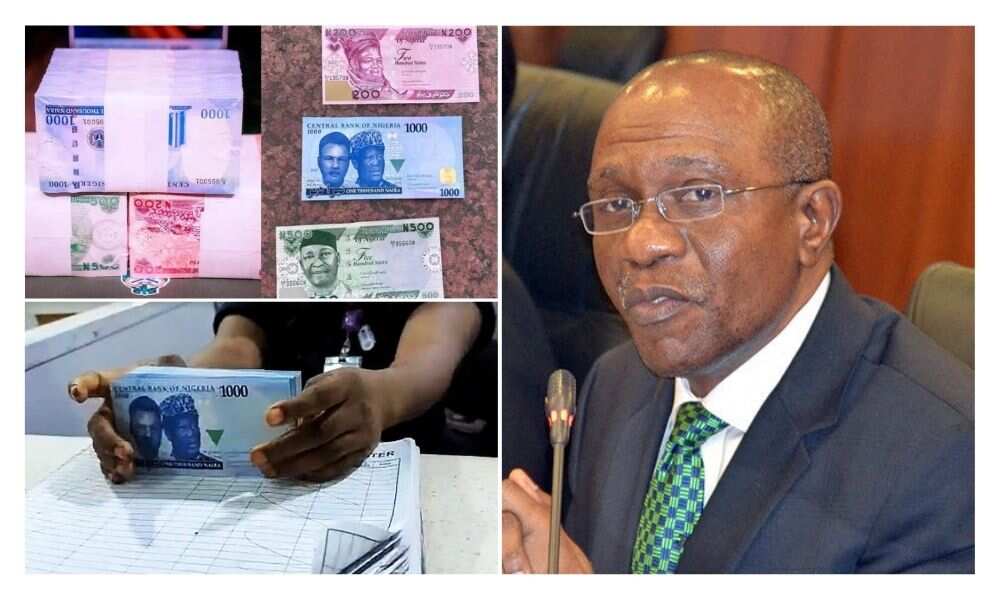 Sources close to the state governors said they were worried that millions of Nigerians are suffering from accessing the new naira notes.
The source added that the governors warned that Nigerians have been having a difficult time living a normal life in the past few days due to the scarcity of funds.
They also agreed that the new CBN policy is not only hurting the nation's economy but also the well-being and security of the people and Nigeria as a whole.
He added that the governors, before reaching the decision to have a meeting with President Muhamamdu Buhari, nominated some of their members to meet with the CBN governor, Godwin Emefiele.
During the meeting, the governors expressed their displeasure over the "hasty nature" of the cashless policy and its management by the apex bank.
His words:
"But Emefiele told them that there was actually no ill-feeling while taking the decision to change the naira notes; and that it was not his unilateral decision.
"He told them the president has to be in the picture."
New naira notes: Reps minority caucus hails CBN extension of deadline, gives reasons
The minority caucus in the House of Representatives has applauded the Central Bank of Nigeria (CBN) for listening to Nigerians and extending the deadline for swapping the old naira notes for new ones by 10 days.
In a statement signed by the leader of the caucus, Ndudi Elumelu, commended the 10 days extension of the deadline by CBN.
Elumelu described the apex bank's decision as a welcome development which will ease the suffering as well as social and economic discomfort being faced by many Nigerians in accessing the new naira notes within the earlier stipulated deadline.
New naira notes: Finally Buhari explains how CBN, Emefiele is working to ensure Nigerians don't suffer
President Muhammadu Buhari said that the Central Bank of Nigeria (CBN) led by Godwin Emefiele, is working to ensure a wide distribution of the new redesign naira notes.
A statement signed by Garba Shehu, the presidential spokesperson on Saturday, January 28, said that there is ongoing improvement in the process of distributing the new notes by the apex bank.
President Buhari said the CBN is working to assure a hitch-free distribution of the new naira notes. Shehu said that the decision to redesign the naira notes was aimed at addressing the hoarding of illicit funds across the country.
Source: Legit.ng