Marketers Finally Give Real Reason for Fuel Scarcity, Disclose When Price Rise Will End
Oil marketers have insisted that the scarcity of Premium Motor Spirit may persist till June if care is not taken
According to the marketers, there are so many factors working against the availability of petrol in Nigeria
They said one of the factors is that the current government will soon leave power and many marketers will desire to recover their money
A message has been sent to Nigerians by oil marketers. According to them, the supply hitches associated with the distribution of petrol may persist till June this year.
Recall that Nigeria's downstream oil sector has been grappling with cases of incessant petrol scarcity since last year.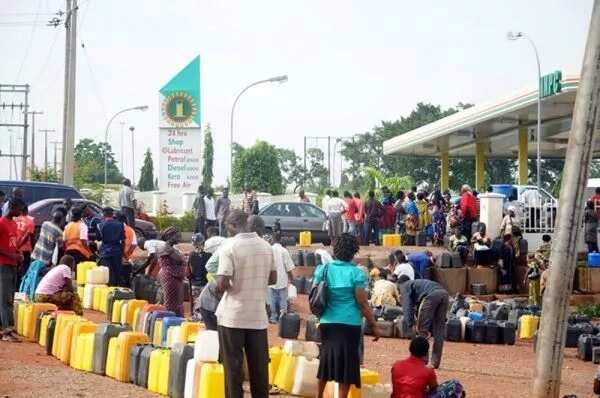 Punch Newspaper reports that oil marketers stated that the scarcity of the product is based on the government's plan to end the petrol subsidy.
Speaking on the development, the national public relations officer, the Independent Petroleum Marketers Association of Nigeria, Chief Ukadike, said fuel imports and subsidy were making Nigerians suffer.
He gives the reasons for it as follows.
Subsidy and importation
"This issue of subsidy and the importation of petroleum products are the major reasons why we are suffering like this and having epileptic supply of PMS. This may drag till the current administration leaves in May or till June this year."
Exchange rate
"The exchange rate is affecting fuel imports, which is also why the cost of petroleum products are high. We use too much naira to chase the few dollars that are available. So the solution is for us to refine our crude here and get our depots working."
End of Buhari's administration
"Also, we should note that most times when an administration is leaving, there is usually scarcity of products. It happened during the time of former President Goodluck Jonathan.
"This is because suppliers will be very weary of selling petroleum products so that their debts will not be carried over to the next administration. Successive governments have suffered this epileptic distribution of petroleum products during transition to a new government."
Top 10 Nigerian states where petrol was sold for the cheapest in November 2022
In a related development, Legit.ng reported that Ekiti, Akwa Ibom and Delta emerged as the states where Premium Motor Spirit, better known as petrol was sold for the cheapest prices across Nigeria.
This is according to the Premium Motor Spirit (Petrol) Price Watch for November 2022, recently released by the National Bureau of Statistics. The report which is collated by hundreds of NBS staff across all the 774 local governments across all states and the FCT from over 10,000 respondents and locations reflects actual prices households stated they actually bought those fuels together with the prices reportedly sold by the fuel suppliers.
According to the report, in Ekiti, Akwa Ibom and Delta states, petrol was sold at the lowest average retail prices of N189.06, N189.33 and N190.00, respectively. On the other hand, Kwara, Enugu and Gombe states emerged states where the product was sold for the highest average retail price at N217.14, N215.71 and N215.00, respectively.
In terms of the zone, the North-Central zone had the highest average retail price of N207.35, while the South-South zone had the lowest price of N194.58.
Source: Legit.ng