FG Lifts COVID-19 Restrictions, Suspends COVID-19 Travel Testing, Facemask, Others
The President Buhari administration has approved the immediate relaxation of the safety measures and travel advisory
Chairman of the Presidential Steering Committee on COVID-19, Boss Mustapha, disclosed this to newsmen
Meanwhile, the committee also appealed to Nigerians to ensure that they take their COVID-19 vaccinations as well as booster doses
Finally, the federal government has lifted the ban on some ways of doing things which were imposed following the outbreak of the coronavirus pandemic in 2020.
The ban was lifted following the recommendation of the Presidential Steering Committee (PSC) on COVID-19 headed by Boss Mustapha, Vanguard Newspaper reports.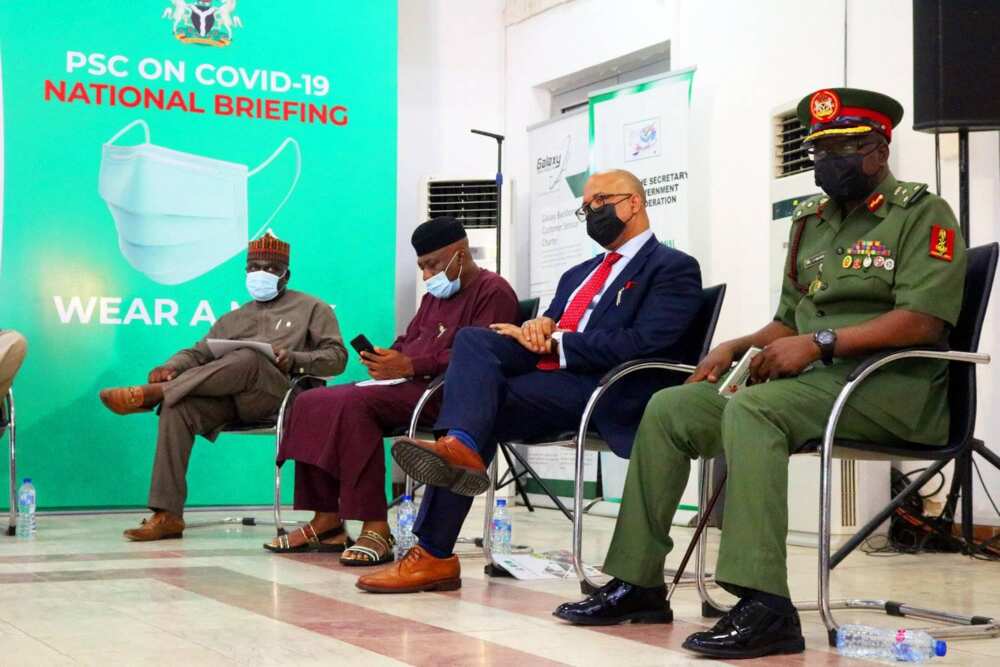 According to the newly reviewed guidelines, the use of face masks for indoor use is no longer compulsory, The Cable added.
Here are details about the new guidelines.
Gathering limitations in Public Places
All restrictions with regard to gathering in public places have been lifted.
Use of Face Mask
The use of facemasks is at the individual's discretion for outdoor and indoor events. However, the elderly, immunocompromised and those with co-morbidities are advised to use facemasks.
COVID-19 travel testing
All pre-departure and post-arrival PCR test requirements for all persons who are not fully vaccinated have been suspended.
Health Declaration Form
A simplified Health Declaration (non-covid-19 specific) shall be completed by all passengers arriving in Nigeria on the Nigeria International Travel Portal (NITP).
Osinbajo speaks on how to manage Nigeria's foreign exchange rate
Meanwhile, as the Buhari administration takes stock of its achievements over the years, VP Osinbajo has listed interventions made by the government in various sectors.
The vice president made the comment at the opening of the 3rd ministerial performance review retreat in Abuja.
He also spoke on the need to ensure synergy between fiscal and monetary policy to manage the economy and exchange rate concerns better.
Obi, Atiku reveal plans to save Naira as one dollar exchanges for N800 in black market
In another report, two of the three expected front runners to replace President Muhammdu Buhari, Atiku Abubakar and Peter Obi have outlined what they will do differently to save the Naira.
At the Lagos Business School's 26th alumni day on Tuesday, November 15, 2022, the candidates proposed various actions to restore the Nigerian currency's lost value.
Source: Legit.ng