Atiku in Big Trouble As Kwankwaso Vows Not To Step Down for Him
Senator Rabiu Kwankwaso, presidential candidate of the New Nigeria Peoples Party (NNPP), has vowed not to step down for Atiku
The former governor said that there was the need to renegotiate Nigeria's huge debt with the view of moving the country forward
Going further, he said that if elected, his government would be open to the yearnings of the people on constitutional review
Rabiu Musa Kwankwaso, presidential candidate of New Nigerian Peoples Party (NNPP) has vowed not to step down for Atiku Abubakar for the forthcoming presidential election.
Kwankwaso made this known while speaking at a meeting with the Nigeria Guild of Editors (NGE), which took place at Ikeja area of the state, Tribune Newspaper reports.
He said:
"Now, people are concocting the story that I am going to step down for them or that I am going to withdraw for them. Why did they allow me to go? What happened at that time or was it still an issue in the party?"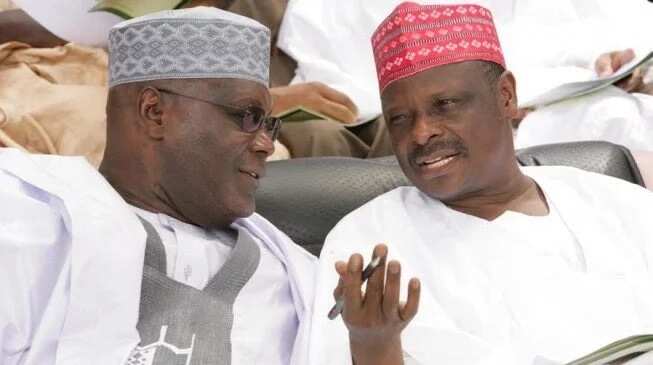 The former governor of Kano state acknowledged that there was the need to renegotiate Nigeria's huge debt with the view of moving the country forward.
He said:
"We have to sit down in negotiations and whatever it is, we have to have fresh air so that we can even pay them. These are things I believe that are necessary to do whatever we can to handle the debt issues."
On constitution review, the former Kano governor said his government would be open to the yearnings of the people.
"We will be very happy to follow our process to get it done."
"But the fact remain that from my own experience in the last two decades; the problem has not mainly be that of constitution but the operators, which we believe by 2023 we will have the right people to handle the Constitution."
2023 presidency: Kwankwaso warns Nigerians not to repeat Yar'adua's mistake
Legit.ng also reported that the Presidential candidate of New Nigerian Peoples Party (NNPP), Rabiu Musa Kwankwaso, has told Nigerians not to repeat late president Yar'adua's mistake.
Going further, he says anyone who says 2023 is his turn is making a mistake.
Although Kwankwaso did not mention the name of any candidate, the context indicates that he made a veiled reference to Asiwaju Bola Tinubu, Presidential Candidate of the All Progressives Congress (APC).
Source: Legit.ng