Its Official: Acting CJN, Justice Ariwoola Takes Oath of Office
President Muhammadu Buhari has sworn-in Justice Olukayode Ariwoola to the role of Chief Justice of Nigeria (CJN)
The 62-year-old was sworn-in following the resignation of Justice Tanko Muhammad who was said to have left his role on health-grounds
Meanwhile, Justice Ariwoola will be functioning on an acting basis pending when he will be confirmed by the national judicial council (NJC)
FCT, Abuja - Emerging reports have confirmed the swear-in of Justice Olukayode Ariwoola of the Supreme Court as the acting Chief Justice of Nigeria (CJN).
According to Channel TV, Justice Ariwoola took the oath of office administered by President Muhammadu Buhari at the Council Chamber of the Presidential Villa in Abuja on Monday, June 27.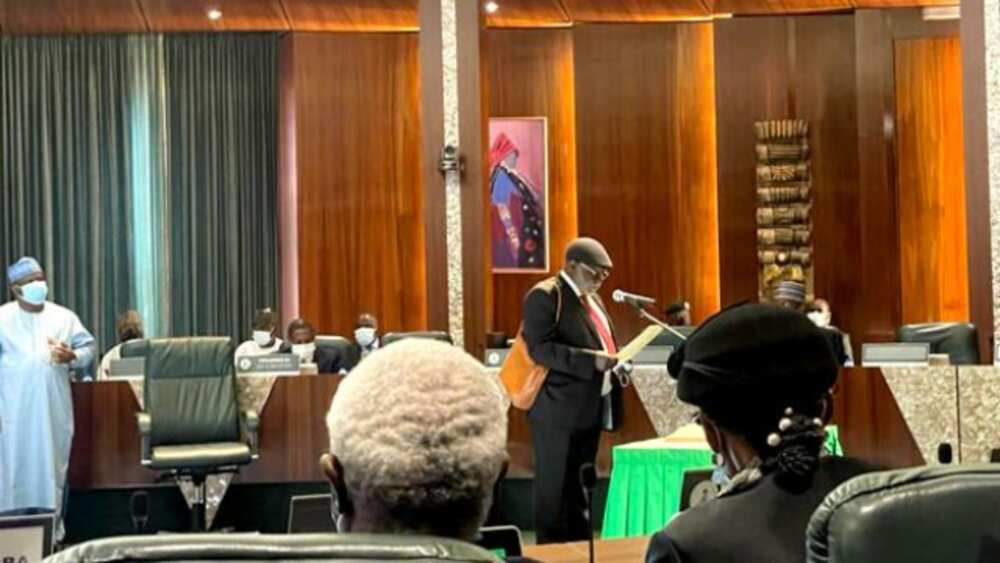 Justice Ariwoola becomes the 22nd Chief Justice of Nigeria (CJN) since the beginning of the colonial era as well as the 17th since the post-colonial era.
As gathered by Legit.ng, the 62-year-old judge will take over from the outgone CJN, Justice Tanko Muhammad on an acting basis until the National Judicial Council (NJC) confirms him on a permanent basis.
While taking the judicial oath, he swore to be faithful and bear true allegiance to the Federal Government of Nigeria, as well as defend the Constitution of the Federal Republic of Nigeria.
Ex-CJN Muhammad resigned on health grounds - Reports
It was further gathered that the ex-CJN, Justice Muhammad quit his role on Sunday, June 26 on the premise of ill-health.
Legit recalled that prior to his resignation, some aggrieved justices wrote to him seeking a reform in the affairs of the Supreme Court.
It was further gathered that the justices alleged that the then-CJN failed to address the issues raised despite drawing his attention to them.
They had complained of a lack of residential accommodation and vehicles at the court, alleging that the former CJN was gallivanting with his 'spouse, children and personal staff' while not allowing them to travel with an assistant on foreign trips.
But these allegations were denied by an aide to the former CJN.
CJN 'queries' three judges over conflicting court orders
In another development, Legit.ng reports that Tanko Muhammad has grilled the chief judges of six states and the Federal Capital Territory (FCT).
According to reports, this is over the conflicting court orders that recently emanated from their courts.
Muhammad consequently threatened that three of the judges who issued the controversial order would be made scapegoats.
Supreme Court Justices blast CJN over violation of rights
The Supreme Court justices have demanded responses from the chief justice of Nigeria (CJN), Ibrahim Muhammad, from questions on the deteriorating state of affairs in the apex court.
According to TheCable, 14 justices of the supreme court alleged in a letter to the CJN that he had abandoned his responsibilities as the leader of the court.
The report stated that some of the issues raised in the letter included vehicles, accommodation, diesel supply, electricity tariff, internet services to justices' residences, training for justices and epileptic power supply to the courts.
Source: Legit.ng