Supreme Court Strikes Out Buhari, Malami's Suit Against New Electoral Act
Nigeria's Supreme Court has struck out a suit by President Muhammadu Buhari and the Attorney General of the Federation (AGF), Abubakar Malami.
The rejected suit by the apex court is seeking to void the provision of Section 84(12) of the Electoral Act 2022
Supreme court upheld all the grounds of objection raised by the National Assembly, through its lawyer, Dr. Olukayode Ajulo
A suit filed by President Muhammad Buhari and the Attorney-General of the Federation (AGF), Abubakar Malami (SAN), has been struck out by the Supreme Court.
The suit was filed by the due challenging Section 84(12) of the Electoral Act.
A seven-member panel of justices of the apex court, led by Musa Dattijo-Muhammad, unanimously struck out the suit for being an abuse of court process, Premium Times reports.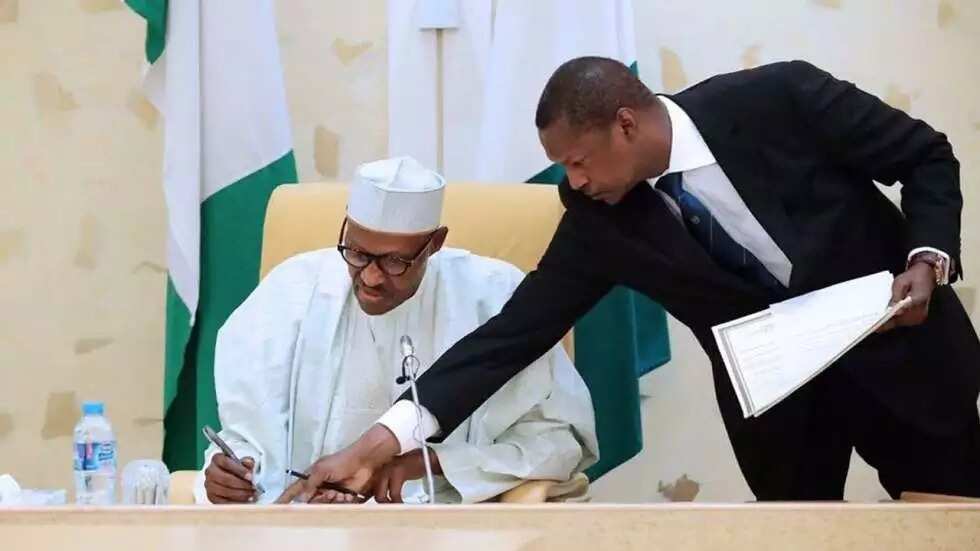 Justice Aokmaye Agim, who delivered the lead judgement, held that Buhari, having earlier assented to Section 84 (12) of the Electoral Act 2022, cannot turn around to approach the court to strike it down.
According to the judgement:
"There is no provision in the constitution that vests the president the power to challenge the constitutionality or desirability of a legislation after he has assented or denied his assent" and added that, the president has given his assent to the Act.
"The president has no power to request or compel the national assembly to amend any part of the Act of the National Assembly in which he has participated in its making.
Hijab ruling: Photos emerge as lawyer wears native doctor's attire to Supreme Court
Meanwhile, there was a mild drama at the Supreme Court on Thursday, June 23, when a human rights lawyer, Malcolm Omoirhobo, showed up in a special mode of dressing.
Photos circulated on social media showed Omoirhobo dressed in a lawyer's robe mixed with other materials that made him look like an African native doctor. The lawyer also had a gourd with cowries around his neck and a feather on his wig.
Speaking on the development, Omoirhobo said wore the attire to show gratitude to the Supreme Court which had, on Friday, June 17, granted the use of hijab by female Muslim students in government-owned schools in Lago
Source: Legit.ng