Online loan apps: List of crimes committed against Nigerians by Sokoloan, LCredit, others
After years of lamentations, the federal government has finally heard the cries of Nigerians. Hence, the crackdown against loan sharks has commenced.
The Federal Competition Consumer Protection Commission, in collaboration with the Independent Corrupt Practices and other Related Offences Commission, National Information Technology Development Agency, and the Nigerian Police Force, on Friday, raided some illegal financial institutions operating on Opebi Road, Ikeja, Lagos.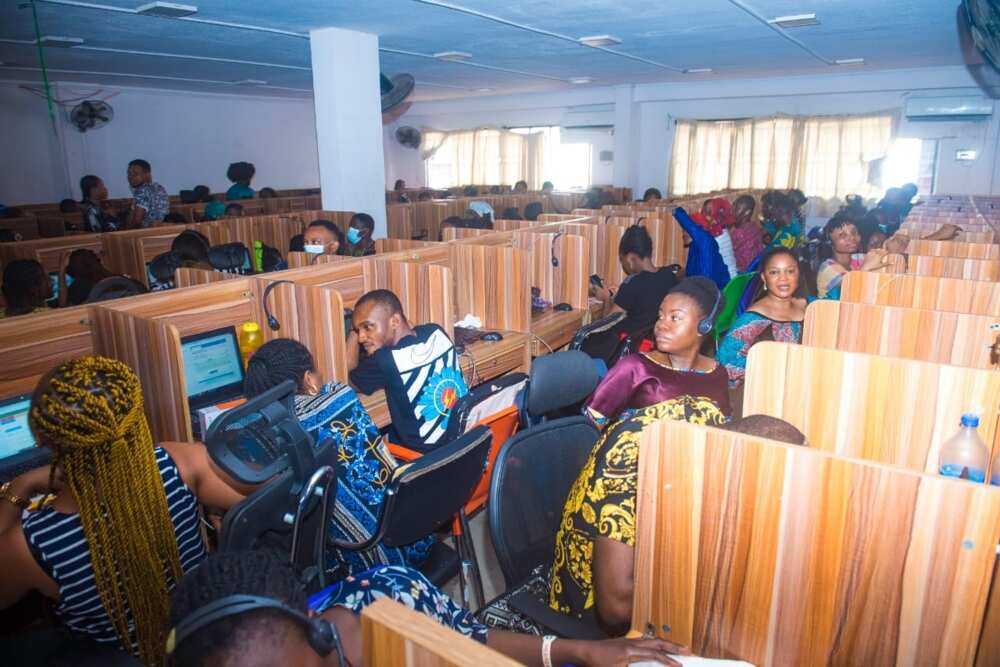 Some of the affected loan sharks are: GoCash, Okash, EasyCredit, Kashkash, Speedy Choice, Easy Moni.
However, some Nigerians are unaware of the crimes being perpetuated by these loan sharks against their fellow country people.
To make it easier for these set of Nigerians to understand the situation better, Legit.ng lists some of the crimes and atrocities being committed by these loan sharks.
PAY ATTENTION: Install our latest app for Android, read best news on Nigeria's #1 news app
Most of them are not registered and are not Nigerian companies
According to the federal government through the the Federal Competition Consumer Protection Commission, most of the loan sharks operating in the country are not registered with the appropriate bodies.
Babatunde Irukera, the executive vice-chairman/chief executive officer of FCCPC said:
"Investigations have shown that majority of the so called loan app are operating illegally in the country. some of them have no known address."
2. Their interest rates violates ethics of lending
According to the federal government, loan sharks interest rates violates the ethics of lending in the country. Some of the online loan companies charge as much as 50% for a loan of N10,000 which is expected to be paid within 7 days.
Godwin Emefiele, governor of the Central Bank of Nigeria (CBN) said:
""We found out that those that are vulnerable are households who need money to do their businesses but they can't access bank finance and as a result go to loan sharks who charge them way above or two times higher than the amount borrowed and expected to pay back in 90 days and if that doesn't happen, they seize your house or bikes."
3. Invasion of privacy, naming and shaming/placing obituary of their customers/declaring them wanted criminals
The loan sharks have also been accused of invasion of privacy in their quest to recover their money.
In fact, the government said complaints about the violation of private data and loan recovery methods prompted an investigation into the online lenders in 2020.
According to a victim of the loan sharks:
"Sometimes, we the victims are not the ones who applied for loans from them and the next thing they will just invade our phones and start reporting people we don't even know," Adeyemi said. "When you want to ask questions, you realize it's a recorded call. You cannot even ask questions, you cannot even say anything."
4. Impersonation of security agencies/media outlets
Another crime being committed against Nigeria is that the online sharks in efforts to recover their money, impersonate security agencies. Thy most time parade themselves as operatives of the Nigeria police or the Economic and Financial Crimes Commission.
They have also been accused of impersonating Punch Newspaper. In fact, the newspaper recently placed brought it to the notice of Nigerians, insisting that they are not in anyway associated with online loan sharks.
Online loan apps: List of two actions FG has taken against Sokoloan, NowCash, others
Recall that Legit.ng had earlier reported that the federal government of Nigeria has finally commenced crackdown on online loan apps parading as lenders in Nigeria.
According to the government, the online loan companies have caused a lot of damages in the country through invasion of peoples privacy, breaching Nigeria's data laws among others.
As a result of this, the federal government, in other to protect the interest of Nigerians from these online loan apps and their illegal practices, has listed two important things it is set in motion against them.
Exposed: Faces of some online loan apps agents terrorising and defaming Nigerians
Legit.ng had also reported that many Nigerians are reportedly battling high blood pressure as a result of the activities of unscrupulous online loan sharks taking advantage of the economic situation of the country.
These criminal loan sharks that parade google playstore have become experts in blackmail and blatant invasion of peoples privacy. They have been accused of employing different types of mannerless and uncultured characters as workers.
The federal government have also insisted that most of them are illegally operating in Nigeria. And in efforts to regulate them, the FG through an Inter-Agency Joint Regulatory & Enforcement Task Force of FCCPC, NITDA, ICPC raided some of the loan sharks offices in Lagos state.
Source: Legit.ng