Sofiat's Murder: We Got Money Rituals' Guidelines From Facebook, Arrested Ogun Teenagers Reveal
The arrested Ogun teenagers have revealed that the guideline which they wanted to use on murdered Sofiat was sourced from Facebook
Recall that the ritualists were arrested in Ogun state while burning the head of their victim, Sofiat Kehinde
They are Wariz Oladeinde, Abdulgafar Lukman, Mustekeem Balogun and Soliu Majekodunmi, who was said to be the boyfriend of the girl
As Nigerians continue to lament the killing of Sofiat Kehinde for alleged money rituals, the culprits have revealed that they were inspired by the guidelines they read on Facebook.
They disclosed this when the police paraded them at the State Headquarters, Eleweran, Abeokuta, on Monday, January 31.
Recall that Legit.ng reported that the suspects were arrested while burning the head of the victim, said to be in a relationship with one of them.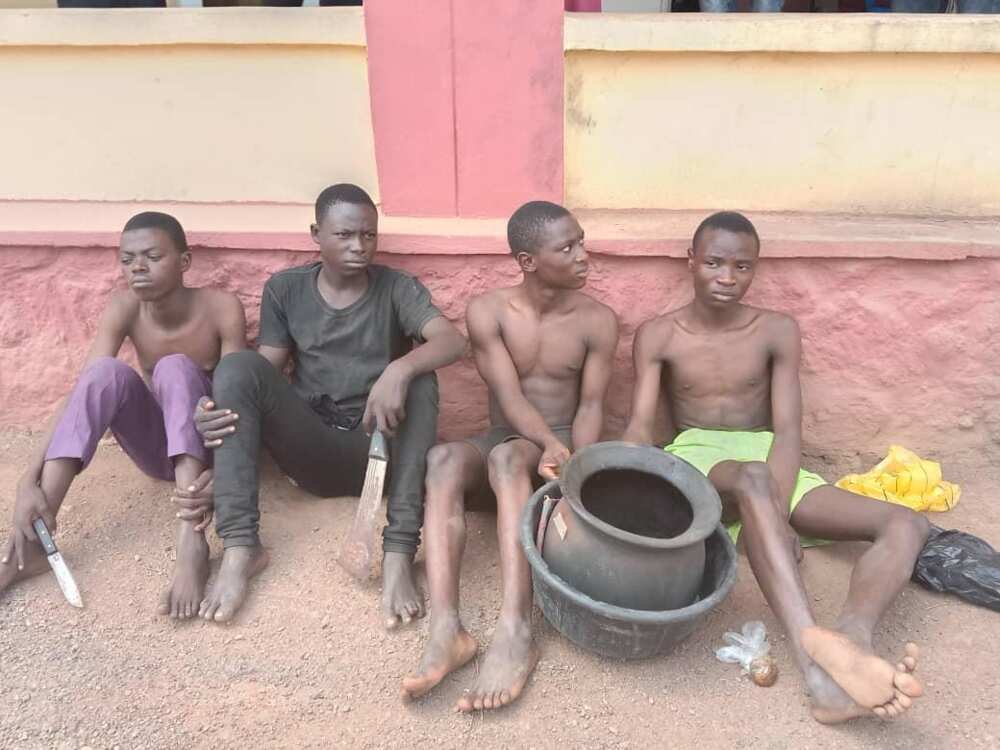 The four suspects are: Wariz Oladeinde, Abdulgafar Lukman, Mustekeem Balogun and Soliu Majekodunmi, who was said to be the boyfriend of the girl, Daily Trust reports.
PAY ATTENTION: Install our latest app for Android, read best news on Nigeria's #1 news app
According to Majekodunmi, he strangulated her and removed her head immediately with support from other accomplices.
He said:
"Last year December, Mustekeem gave me her number that I should be dating her. The first time Sofiat came to my house, I informed Mustekeem that she was around and that she had agreed to my proposal for a relationship.
"Also the second time Sofiat came I told Mustekeem, but he told that Sofiat is not a good girl and advised that we should use her (for money rituals). Mustekeem said he saw a guideline for Oshole (Money rituals) on Facebook and he had a screenshot of it.
"Since then, he has been disturbing me that we should use Sofiat for the rituals, but I didn't agree with him. In fact, on many occasions, I lied to Sofiat that I am not at home just to dissuade her from coming.
"During the process, Mustekeem had ensured that we all make contributions towards other ingredients needed for the rituals. So, eventually, Sofiat came to my house on Friday. I was inside my room with her while Mustekeem was outside. Later Mustekeem told me that we should go ahead and use her, after all, other ingredients for the rituals are ready."
"I have regrets. If I knew it would end up like this, I would not have gotten myself involved the act. My advice to those who don't want to wait for their time is that, they should please wait for their time."
Police arrest suspected ritual kingpin
In another report, the police in Zone 13, Anambra state arrested a middle-aged man suspected to be the ring-leader of a gang that specialises in assaulting and using teenagers for rituals.
Legit.ng gathered that the police confirmed the suspect from Ovoko, Nsukka in Enugu state was nabbed with the help of some military men while he concluded plans to flee to Ivory Coast.
The suspect who lives at Obosi, Anambra state was allegedly involved in luring unsuspecting university teenagers in eastern states to hotels where they are assaulted have their blood taken for ritual.
Source: Legit.ng