Price of Rice to Fall as President Buhari Unveils Abuja's Pyramids
Plans have been concluded to launch the one million bags of rice paddy stacked as pyramids in Abuja
Shehu Muazu, chairman of the Pyramid Sub Committee, RIFAN, said the rice pyramids show that local production of food is possible
The rice pyramids were built with one million bags of rice paddy planted and harvested from states across the country under the CBN Anchor Borrowers' Programme
Abuja - Amid the rising cost of food stuffs in the country, the price of rice is set to fall after the launch of the one million bags of rice paddy stacked as pyramids in Abuja.
Premium Times reports that the Rice Farmers Association of Nigeria (RIFAN) made this known after President Muhammadu Buhari unveiled the rice pyramids on Tuesday, January 18.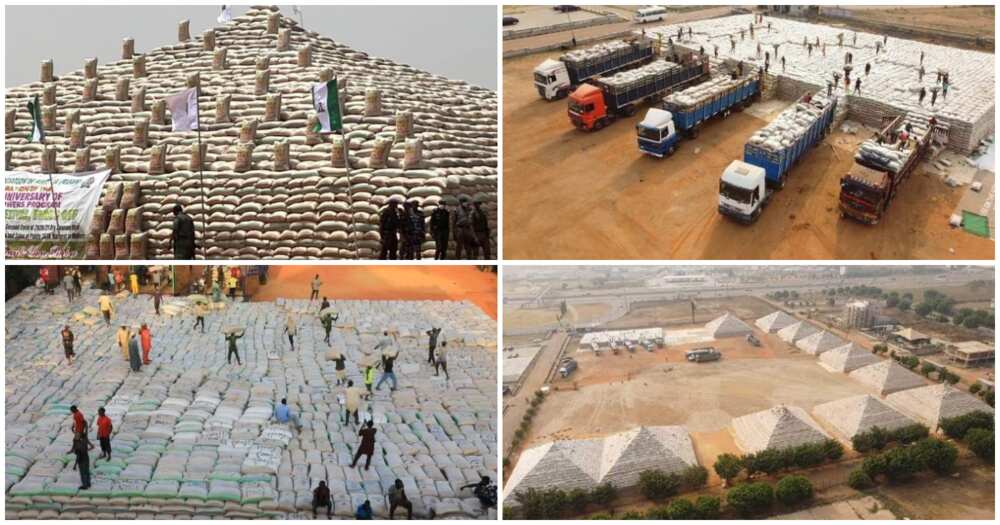 Shehu Muazu, the chairman Pyramid Sub Committee, RIFAN, noted that the rice pyramids show that local production of food is possible.
The rice pyramids were built with one million bags of rice paddy planted and harvested from states across the country under the Central Bank of Nigeria (CBN) Anchor Borrowers' Programme, Leadership added.
Muazu explained that immediately after the unveiling of the pyramids, CBN and RIFAN will allocate the rice to processors.
RIFAN in collaboration with the Rice Millers Association of Nigeria will process the rice and sell at a discounted price.
He went on to note that this will lead to drastic reduction in price once it starts rolling into the market.
2million metric tones of rice smuggled into Nigeria annually
Legit.ng previously reported that despite heightened security by the Nigerian Customs at the nation's land borders, the activities of smuggling lingers.
The Senate committee on agriculture said two million metric tonnes of rice are smuggled into the country annually.
Speaking at a stakeholders' meeting in Abuja on Wednesday, December 1, 2021, Muhammad Enagi, vice-chairman of the committee, said the smuggled rice is part of the 6.7 million metric tonnes consumed annually in the country.
Dollar rise to blame for the high cost of rice
Meanwhile, the president of Nigerian Rice Farmers Association, Aminu Goronyo, blamed the rise in dollar and weakened naira for the high cost of locally produced rice.
Goronyo said as the dollar rate keeps rising over the years, farmers have had to spend more on fertilizers, and as the cost of production increases, the cost of rice is expected to go up as well.
In 2015, a bag of rice was about N7,500, but five years later, the cost of the grain has risen to about N30,000 in 2021 - rising by 300% within the period.
Source: Legit.ng