100+ happy Saturday quotes and sayings about the best day of the week
The first day of the weekend is usually magical; it marks the beginning of a period of rest and is followed by Sunday, another day where most people still do not have to go to work. It is one of the days when there is no rush for anything, and one can stay in bed a little longer. Here is a look at some delightful Saturday quotes to go with the carefree mood associated with weekends.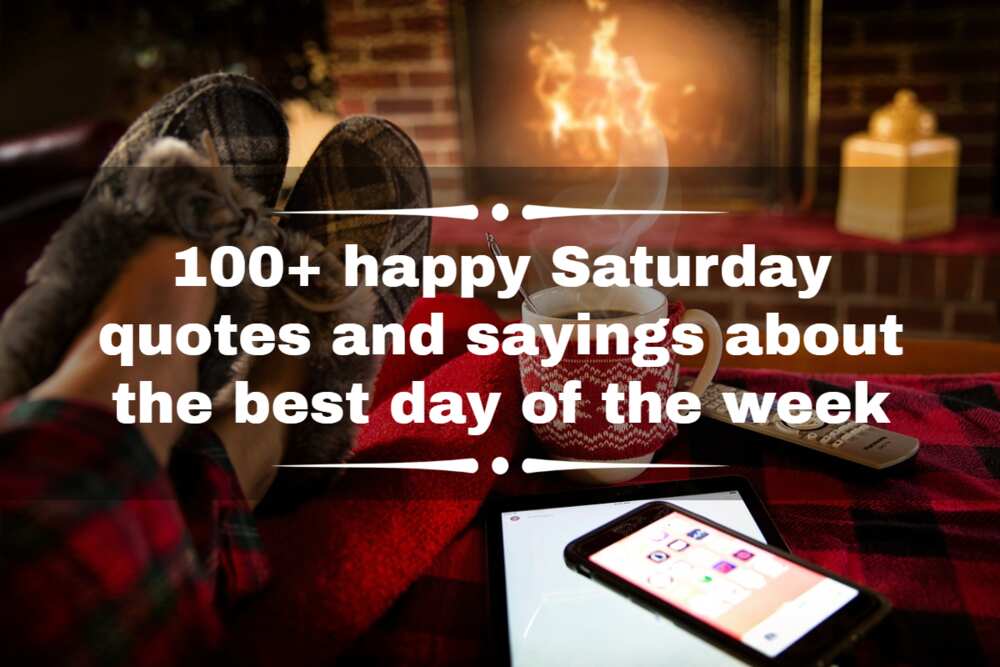 Here are some nice quotes you can send to friends and family when the weekend kicks in.
The best Saturday quotes
Here is a collection of more than 100 Saturday quotes to help you start the weekend the best way possible.
Short Saturday quotes
Here is a look at some short and sweet Saturday quotes to brighten your weekend.
Do you have a groundbreaking story you would like us to publish? Please reach us through info@corp.legit.ng!
A weekend does not count unless you spend it doing something entirely pointless.
Imagine if you lived a life where every day was Saturday. That would be immense fun, wouldn't it?
Another beautiful Saturday morning is here, and all the world looks bright and fresh.
This weekend, muster the courage to do one thing that really scares you.
The weekend is finally here with us; give it a warm welcome by allowing yourself a beautiful day of rest.
Happy weekend, my friend! Study nature, love nature and stay close to it. It will never fail you.
Every man has a right to experience an amazing Saturday night bath.
I love weekend nights with my close friends and big bowls of pasta.
If only it were possible to have seven Saturdays per week.
It is the weekend finally. I plan on doing nothing and plenty of it.
It is the little things that make big days. Happy weekend!
The only happy end that I know of is the weekend.
I hope that all the parties that we are going to go to this weekend will bring good memories.
My Saturday was going on well until I realized it was Sunday
Take a rest this weekend; a field that has rested often gives a bountiful crop.
I love a good morning without an alarm.
Happiness is not having to set the alarm for the next morning.
If you see me on Friday, you will see an entirely different me on Saturday night.
I want to be known more for the work I have done instead of where I go on weekend nights.
Spend today doing nothing: Let your mind wander; let nature entertain you; Let the stress go.
The word Saturday has the word 'sat' in it, so make sure you take the time to sit and relax this day.
Strength for Saturday inspirational quotes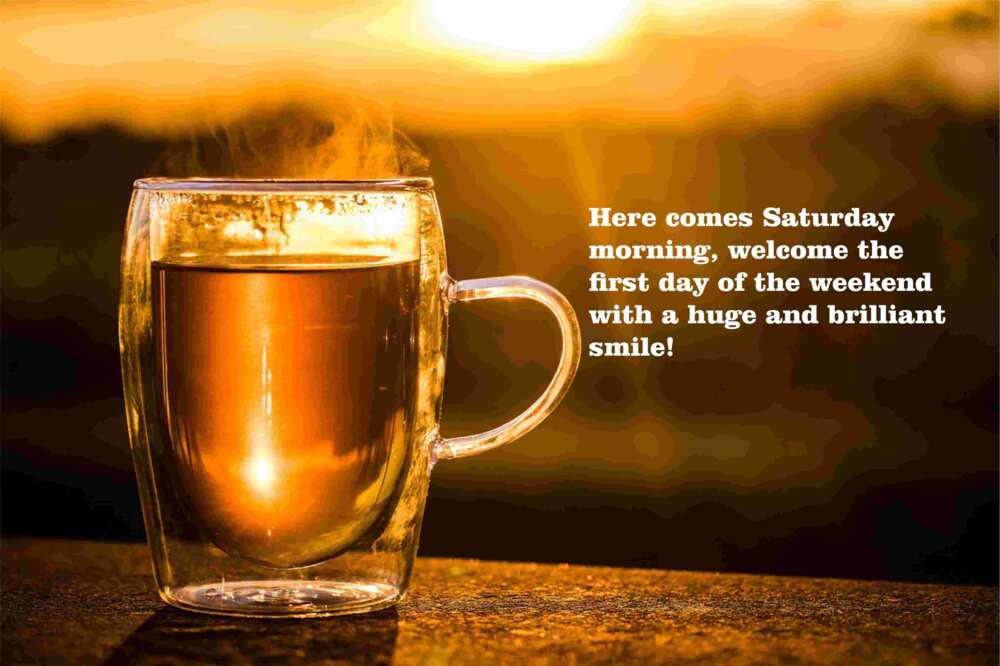 Here is a collection of profound and inspirational Saturday morning quotes.
On a beautiful weekend morning, when you are lying in bed, drifting in and out of sleep, there is a space where fantasy and reality become one and everything in life seems possible.
Here comes Saturday morning. Let us welcome the first day of the weekend with a huge and massive smile. Happy weekend everyone!
You are alive today and should give thanks to the one who has kept you alive. I wish you a prosperous life ahead, a home full of joy, peace and mutual understanding, and an amazing weekend ahead.
We often like to think of the weekend as a time when we are free of any responsibilities. However, the reality is that we can never fully escape our duties. Luckily, there are weekend duties that are fun and interesting.
Your body constantly tells you what it needs, and if you wake up early on a Saturday morning, it is because the world is calling you to do something fun.
Train your mind to see the good in everything this weekend. Positivity is a choice. The happiness of your life depends on the quality of your thoughts.
Let us welcome the weekend with hope and anticipation. Believe that whatever your mind and heart set out to do can be achieved.
Saturday, for me, is a day to relish, enjoy and celebrate the joy that I have been blessed with. I will sit back and listen to my soul guiding me towards happiness.
No matter how bad things are, you can at least be happy that you woke up this morning
There is something so uniquely beautiful about Saturday mid-mornings. It might be the hope or belief that the weekend is here, and everything our minds conceive can be achieved.
Sometimes, the biggest step you can take is to stop procrastinating. Rise and take that tiny first step towards your goal this weekend.
The workweek is often filled with routine activities that can easily get us into a rut. Luckily, we have Saturdays to break out of the routine and do exactly what our hearts desire.
It is not that we spend five days looking forward to just two. It is just that most people do what they enjoy most on those two days.
Happy Saturday morning quotes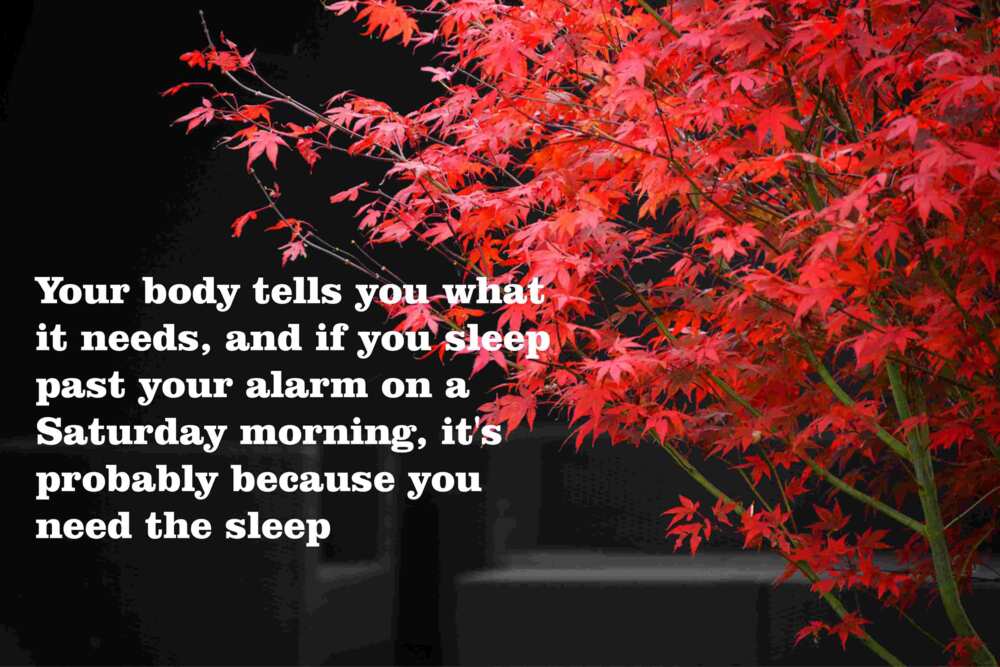 The beginning of the weekend is undoubtedly one of the happiest moments of the week. Here are some happy Saturday quotes to kick off the weekend on a high.
This Saturday morning, may you experience a flow of love. Let there be the light of happiness to guide you in every direction.
Good morning and happy weekend! May your day be filled with immeasurable blessings today. I pray that you will find it in you to believe that something wonderful is about to happen.
Every day is a new beginning. Take a deep breath, smile, and start again. Good Morning!
This is a brand new day, and I want you to rise up with the belief that you can touch the sky, and nothing can stop you. Have a great morning!
I hope you woke up with a smile this morning. You have 24 hours before you, and I pray that you vow to live through each of them fully.
There was never a night or a problem that could defeat sunrise or hope. Good morning my friend!
When you wake up in the morning, give thanks for the light, for your life, for your strength. Give thanks for the food on your table and for the sheer joy of living.
Another beautiful day is here with us. I hope that you will go confidently in the direction of your dreams and take a step towards living the life you have imagined.
When you wake up in the morning, think of what a precious privilege it is to be alive—to love, to enjoy, to think, to breathe.
Smile in the mirror. Do that every morning and you'll start to see a big difference in your life.
Today has a lot of good things for all who are alive in it. Wake up and pursue life with courage and hope, and I can assure you that happiness will locate you. Good morning, my dear.
Good morning! May today bring you the joys of yesterday's hopes.
Waking up to a new day is like getting an extra present at Christmas, worthwhile and full of possibilities! Here is to you and your beautiful morning!
Good morning! Here is a little smile to help you go that extra mile!
Different cocktails for different Saturday nights. – Drew Barrymore
I hope you wake up feeling exceptional. You are important, needed, and unique.
Saturday night is perfect for writers because other people have plans. – Mike Birbiglia
Long inspirational Saturday quotes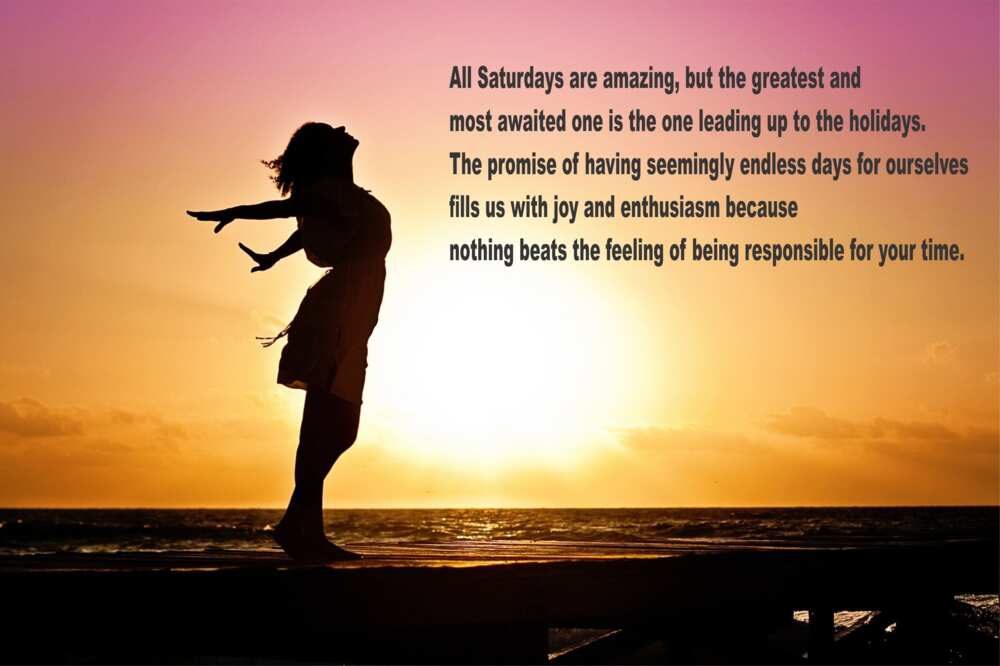 If you need a Saturday quote that is generous with words, here is a collection of lengthy Saturday inspirational quotes.
If you look to others for fulfilment, you will never be fulfilled. If your happiness depends on money, you will never be happy with yourself. Be content with what you have; rejoice in the way things are. When you realize there is nothing lacking, the world belongs to you.
We have three roles here on earth: to learn, to love, and to live. When we stop learning, we start to stagnate and die. When we stop loving, we lose our sense of purpose and become self-centred. When we limit our living, we deny the world the benefits of our talents.
Your work is going to fill a large part of your life, and the only way to be truly satisfied is to do what you believe is great work. And the only way to do great work is to love what you do. If you haven't found it yet, keep looking. Do not settle.
Good morning, happy weekend! May your day be filled with blessings like the sun lights the sky, and may you always have the courage to spread your wings.
I always did something I was a little uncertain about. I think that is how one grows. When there is that moment of uncertainty and you push through those moments, that is when you get a breakthrough.
Take up one idea. Make that one idea your life–think of it, dream of it, live on that idea. Let the brain, muscles, nerves, every part of your body, be full of that idea, and just leave every other idea alone. This is the way to success.
Even when life gets hard, just remember that after the tiring week, Saturday comes as a blessing along with Sunday so that you can have the time of your life.
The best remedy for those who are afraid, lonely or unhappy is to go outside, somewhere where they can be quiet, alone with the heavens, nature and God. As long as this exists, and it certainly always will, then there will be comfort for every sorrow, whatever the circumstances may be.
You - yourself, not someone else - need to determine where you want to go and what you want to do in your life. And once you make that decision, you can begin mapping a plan to get there and focusing on that objective every single day.
Do not settle for average. Bring your best to the moment. Then, whether it fails or succeeds, at least you know you gave it all you had.
It is not true that people stop pursuing dreams because they grow old. They grow old because they stop pursuing dreams. Happy weekend my friend!
Happiness is a butterfly, which when pursued, is always beyond your grasp, but which, if you will sit down quietly, may alight upon you.
We often avoid the things that we are afraid of because we think there will be dire consequences if we confront them. But the truly dire consequences in our lives come from avoiding things that we need to learn about or discover.
There are two types of people who will tell you that you cannot make a difference in this world: those who are afraid to try and those who are afraid you will succeed.
This weekend, you have to dance like there is nobody watching, love like you will never be hurt, sing like there is nobody listening, and live like it is heaven on earth.
If you are going to achieve excellence in big things, you develop the habit in little matters. Excellence is not an exception, it is a prevailing attitude.
Enter every activity without giving mental recognition to the possibility of defeat. Concentrate on your strengths, instead of your weaknesses. Focus more on your powers instead of your problems.
The quality of a person's life is in direct proportion to their commitment to excellence, regardless of their chosen field of endeavour.
Everyone has inside them a piece of good news. The good news is that you do not know how great you can be, how much you can love, what you can accomplish, and what your potential is.
An invincible determination can accomplish almost anything, and in this lies the great distinction between great men and little men.
Do not quit yet, the worst moments are usually followed by the most beautiful silver linings. You have to stay strong, remember to keep your head up and remain hopeful. Happy Saturday!
Funny Saturday quotes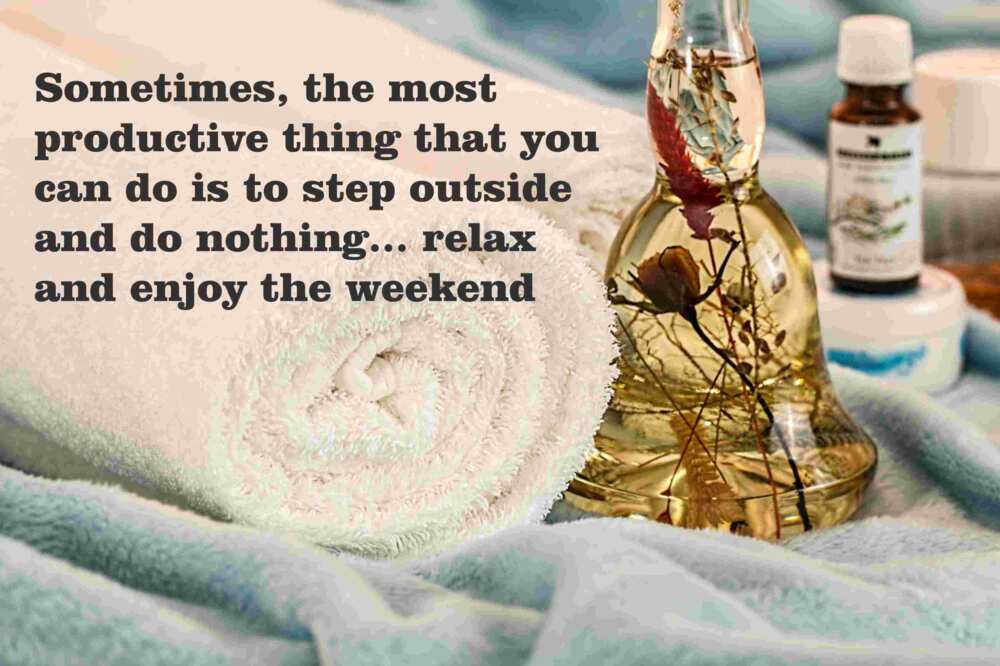 The weekend is largely associated with fun, relaxation, smiles, and laughter. Here are some hilarious good morning Saturday quotes to bring out that smile.
Today is Saturday. Share it with all your friends, and within seven days, you will get another Saturday. Ignore this, and you will get Monday in the next two days.
The only reason we ask other people how their weekend was is to tell them about our own weekend.
Weekend forecast: mild cocktails, cool parties, and silly decisions. Have a great one!
Saturday and Sunday were sworn enemies until one day when they both decided to sit down and talk, and happy weekends were born.
It is the weekend. The toughest decision you will have to make is whether to have wine by the bottle or by the glass.
Middle age is when you're sitting at home on a Saturday night and the telephone rings and you hope it isn't for you. – Ogden Nash
Saturday night is often seen as a time to try new things. Maybe that explains why so many people from the older generation lived for weekend nights.
I believe that it should be a mandatory law of the universe for everyone to do something fun on Saturdays.
It is the weekend. Sit back and relax. Even Robinson Crusoe had everything done by Friday!
Weekends and rainbows are alike in a way; they both look good from a distance but disappear when you get up close to them.
Nothing fades faster than the false hope that the weekend will not end fast.
I have this one theory about Saturday. If you do not wake up, eat, then go back to sleep, you are starting the weekend very wrongly.
Dear Saturday, what is it like knowing every other day of the week wishes it was you?
If you work eight-hour days, from Monday to Friday, then you have to keep the weekend sacred.
Better days are coming. They are called Saturday and Sunday.
There are not enough days in a weekend.
Beer, boxers, and batteries for the remote control; that is all a man needs to get through Saturday.
I imagine if the weekend was a snack, it would taste like salted caramel and chocolate.
When you are unemployed, weekends are seven days long.
Why is Monday so far away from the weekend and Saturday so close to Monday?
If you give a man a fish, he will have food for a day; If you teach the same man how to fish, you can get rid of him for the entire weekend.
Sometimes I sit back and wonder why the weekend was not made longer than the rest of the week.
Make a habit of getting up early on weekends. Why would you want to waste such precious time lying in bed?
The weekend is finally here, and you deserve a gift for getting through this week. May your weekend feel longer than the working days.
I am always eager to meet my best friend, and my best friend is the weekend.
Man, if only we had a day between Saturday and Sunday.
When you are young and energetic, make a point to live out every weekend. Even if you look like a scarecrow, just up and go!
The weekend is here! Not just for you, but for your shoes, suits, and computer as well. So, be kind and give yourself and those things some rest. Have a great weekend.
There is something about waking up on Saturday and realizing that you will not be going to work that day and the one after it. Something that gives you a sense of freedom, until you realize that it's as short-lived as a lightning bolt.
Saturday quotes images
Here are some images with Saturday blessings quotes.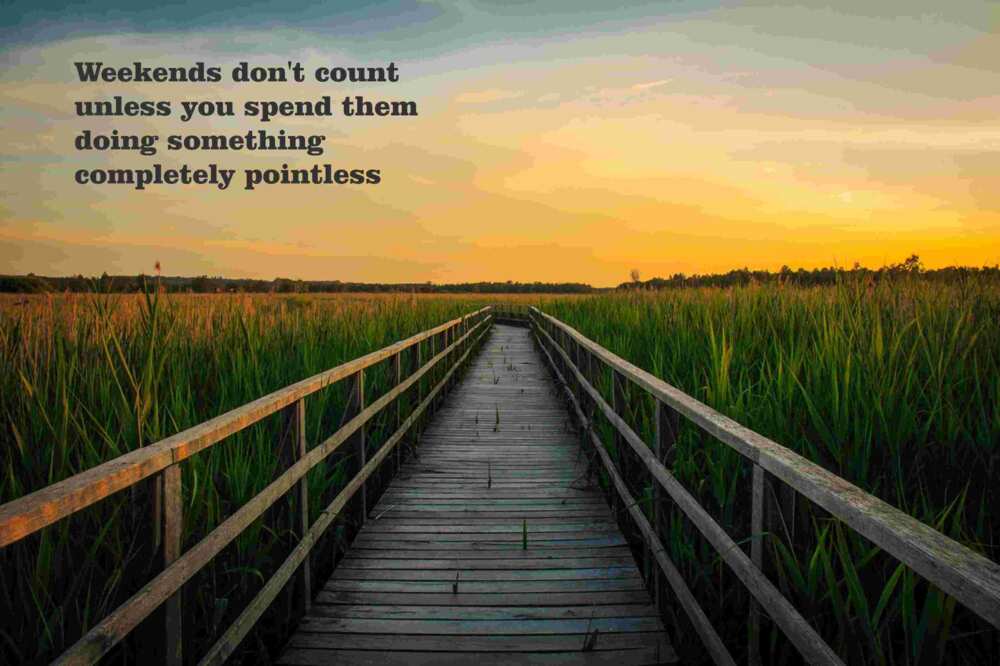 Here is another one of motivational Saturday inspirational quotes.
There are numerous Saturday quotes ranging from the profound, the motivational, to the downright hilarious. All these are meant to help one kick off their weekend the best way possible, and why not? Saturday is, after all, the best day of the week for many people.
READ ALSO: 50 best Uchiha Itachi quotes about life and love that hit hard
Legit.ng recently looked at the best quotes ever said by Uchiha Itachi, one of the best-known characters on the anime series Naruto. Itachi is known as the face behind the massacre of his entire clan, save for his brother, Sasuke.
Because of the atrocities he committed, Itachi is largely viewed as a villain who deserves no mercy. Still, some of the words he says point towards a different picture, that of a person with the best interests of others at heart.
Source: Legit.ng