50+ happy Saturday quotes and sayings about the best day of the week
Saturdays are when most people get to do whatever they want to do. For most of us, it is a day off work, so most of us are usually excited to see this day. To make this day of the week even more exciting, you can send happy Saturday quotes and sayings to your loved ones.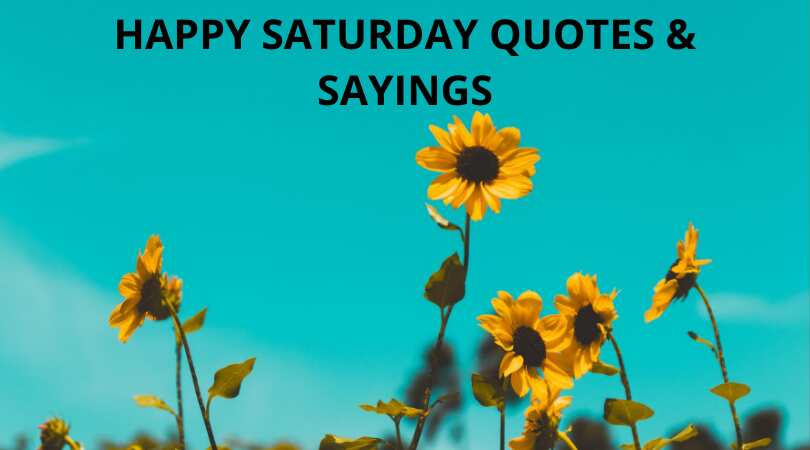 Did you know that sending and receiving happy Saturday quotes and sayings can make your weekends much better? They give you more reasons to celebrate the past week and to look forward to the week ahead.
Top happy Saturday quotes
Everybody deserves a great weekend after working hard for five days. It is the perfect time to celebrate the company of friends and rejuvenate your energy, or do even more exciting things.
These 50+ happy, funny, and positive Saturday quotes are just perfect for you to feel great.
Short Saturday quotes
Here are some short sayings about the day we all love and look forward to every week:
Happy Saturday! Study nature, love nature, stay close to nature. It will never fail you. - Frank Lloyd Wright
Saturday is what gives us a weekend of enjoyment. - Anthony T. Hincks
Enjoy your weekend. I hope that it was worth the wait!
It's not Saturday, it's Satur-yay!
The weekend is here; give it a warm welcome by allowing yourself a lovely day of rest.
Hip hip hurray! It's the weekend! Have a good weekend.
Better days are coming. They are called Saturday and Sunday. Have a lovely weekend.
I told myself that I was going to live the rest of my life as if it were Saturday. - Chip Gaines
It's the weekend. I plan on doing nothing and plenty of it.
Nothing will be wrong; everything will be right. The weekend will remind that to you.
Good morning Saturday quotes and sayings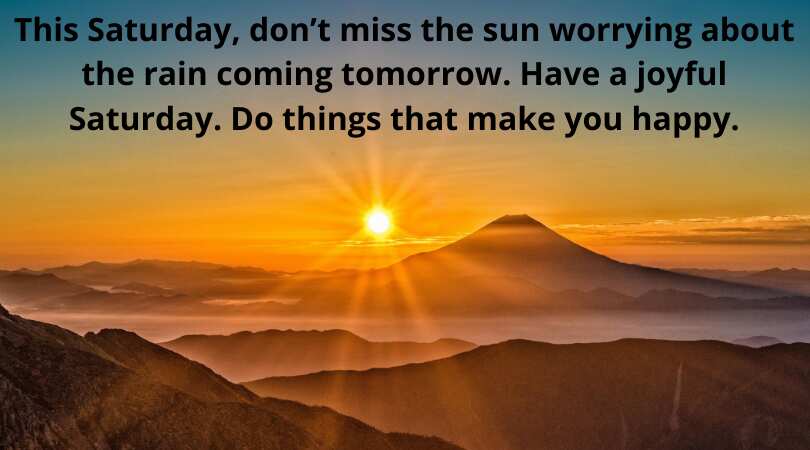 A good Saturday morning is the dream of most human beings. To start off the weekend on a high note, you can send one of these good morning happy Saturday quotes and sayings to those you love:
Happy weekend! When you rise in the morning, give thanks for the light, for your life, for your strength. Give thanks for your food and for the joy of living. If you see no reason to give thanks, the fault lies in yourself. - Tecumseh
Welcome this morning with a smile! Happy weekend! If you don't have a smile, I'll give you one of mine.
This weekend, spend a day doing nothing. Let your mind wander; let nature entertain you; let stress go. Have a great weekend!
Have a superb and wonderful weekend, say goodbye to stress and work until next week. You have the full right to enjoy this day because you have really worked the past days.
Saturday is a day to which many people enjoy life in saying thanks to God for making this day for them. Good morning.
Don't miss the sun worrying about the rain coming tomorrow. Have a joyful weekend. Do things that make you happy.
Happiness is not having to set the alarm for the next day. That's why I love the weekend. I hope you do too.
Happy Saturday funny quotes and sayings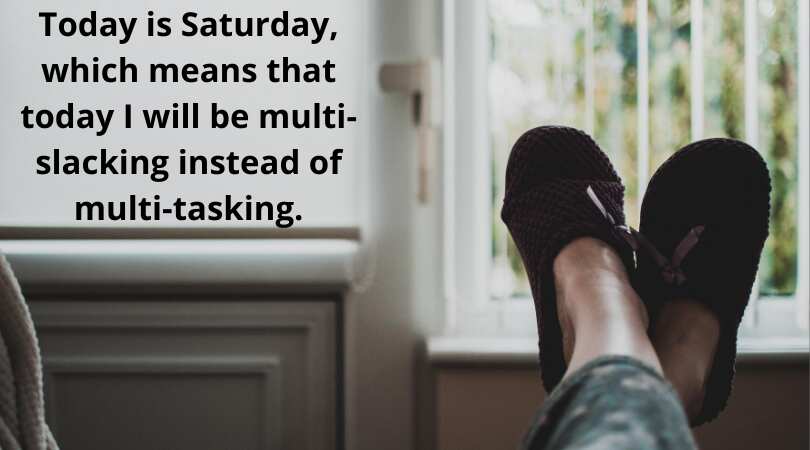 Funny Saturday quotes can add some cheer to your weekend. Check out these hilarious sayings and quotes to send to your family, friends and even colleagues:
Weekends are a bit like rainbows; they look good from a distance but disappear when you get up close to them. - John Shirley
Every man has a right to a Saturday night bath. - Lyndon B. Johnson
On the sixth day, God created man, the sort of result you often get when you go in to work on a Saturday. - Robert Brault
Today is Saturday, which means that today I will be multi-slacking instead of multi-tasking.
Saturday mornings, I've learned, are a great opportunity for kids to sneak into your bed, fall back asleep, and kick you in the face. Have a good one!
Oh, my sweet Saturday, I have been waiting for you for six long days. - Charmaine J. Forde
Today is Saturday, which means that the only decision that you should be making is whether to have a bottle or a glass of wine. Have a good one!
It's the weekend! Movement is optional. Enjoys yours, my dear friend.
Middle age is when you're sitting at home on a Saturday night and the telephone rings and you hope it isn't for you. - Ogden Nash
Blessed Saturday quotes and sayings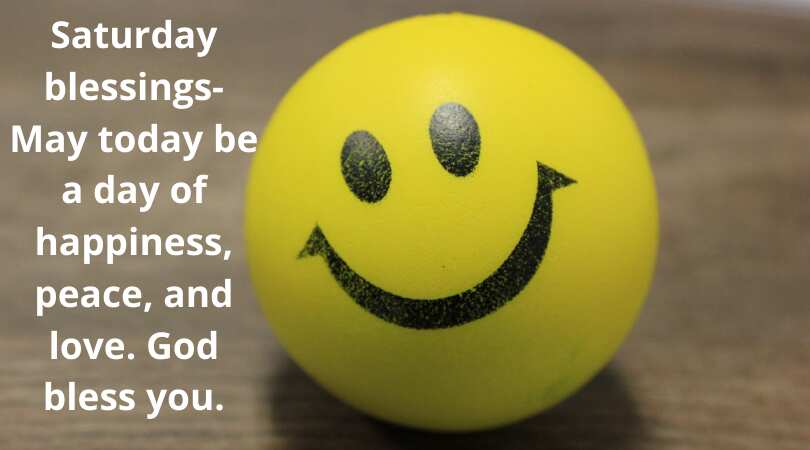 A blessed weekend is one that is filled with peace, love and joy as evidenced in these sayings and quotes:
Saturday – a day to sleep in past my normal waking hour. A day to relish, enjoy and celebrate the goodness that I have been blessed with.
You are alive today; please give thanks to the One who brought you back alive. I wish you a prosperous life ahead, a home full of joy, peace, and mutual understanding. You are so special and as such, I say, have a great weekend!
Blessings to you for the choices you make this weekend. May wisdom and happiness follow you throughout the day!
Good morning! Today is a beautiful day. Wake up every morning thankful for the wonderful life that you have been given. Have a great Saturday.
Weekend blessings- May today be a day of happiness, peace, and love. God bless you.
The earth is filled with God's glory and the splendor of all he created. Have a blessed weekend.
May this weekend be free of worry, and may you be blessed with happiness this wonderful morning.
This Saturday morning blessing is sent with love, with a prayer to God above that your morning will be filled with cheer because you are special to us my dear.
Wake up! It is a new day to be and do. We bless you and pray that nothing makes you blue. Let this morning be a time that allows for much-deserved downtime.
For most people, weekends are days to relax. Today is a day not to watch the time and not keep track. I send this blessing of relaxation to you. We love and appreciate all you do.
Inspirational Saturday morning quotes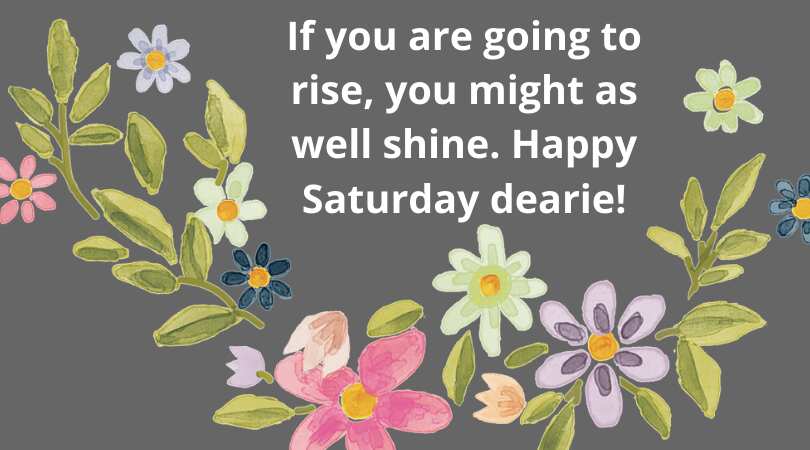 We all need inspiration and motivation, even over the weekend.
Most people are in a factory from nine till five. Their job may be to turn out 263 little circles. At the end of the week, they're three short and somebody has a go at them. On Saturday afternoons they deserve something to go and shout about. - Rodney Marsh
My Saturday morning attitude is a reflection of the rest of the week gone by. That's why I always aim to end my week on a high note of accomplishment, a goal reached, or, a person encouraged.
Have a simple and happy weekend. Be yourself in a world that asks you to just be like everyone else, and you will already have accomplished a lot with your day.
I've taken Saturdays to be the day I pull back completely. I do things that are more creative, and I've actually found that helps me when I get back into work to be more thoughtful. - Padmasree Warrior
During this weekend, remember that you are the master of your fate and the captain of your soul. You can stay at home and do nothing.
If you are going to rise, you might as well shine. Happy weekend dearie!
Everything we want is on the other side of fear. Have a lovely morning!
A beautiful life does not just happen, it is built daily by prayer, humility, sacrifices, and love. May that beautiful life be yours. Wishing you a happy and joyous weekend!
Find your spirit, and no challenge will keep you from achieving your goals. Good morning and happy weekend!
Excellence is possible without perfection. Have a blessed weekend.
Cute Saturday quotes for a special person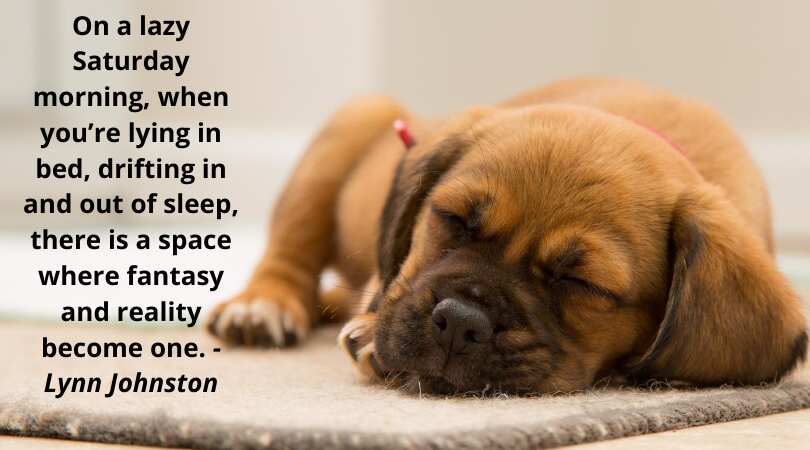 Do you have a special person in your life? Send them these cute messages to make their weekend better:
A sunbeam to warm you, A moonbeam to charm you, A sheltering angel, so nothing can harm you. Have a great and fun-filled weekend!
Saturday. There's nothing the bed can't fix.
Let's crawl under a big blanket and watch movies. Let this Saturday be a lazy one.
On a lazy Saturday morning, when you're lying in bed, drifting in and out of sleep, there is a space where fantasy and reality become one. - Lynn Johnston
Love me like Saturday night, like three glasses of champagne, like the room is spinning, like you're drunk on my love. - Drew Barrymore
I love Saturday nights with my best friend and a big bowl of pasta, wanting a good scare, something that will say, 'Listen, your life is not as bad as this. Your life can be so much worse'. - Vera Farmiga
Happy Saturday quotes and sayings remind us to enjoy the most loved day of the week because we are free to do whatever we love the most.
READ ALSO: 50+ awesome flower puns that will most definitely grow on you
As reported by Legit.ng, an awesome collection of flower puns is exactly what you need to keep yourself occupied and happy.
Warning, you may laugh at these puns for a couple of hours. Enjoy and remember to share the puns with those around you.
Source: Legit.ng