Security Operatives Disperse Residents Protesting Banditry, Kidnapping In Katsina
Officials of the State Security Services and the Nigeria Police Force have dispersed some protesters in Katsina state
The protesters had hit the streets in the city of Katsina over the spate of killings, banditry and kidnapping in the state
Led by Bishir Daudu, the national president of Voice of the Masses, the protesters called for an end to bloodshed in the state
Some protesters who hit the streets of Katsina state over the growing activities of bandits and kidnappers in the state have been dispersed by officials of the State Security Services (SSS) and the Police.
Daily Trust reports that the protesters who carried various placards converged at the Kofar Soro roundabout, close to the Emir's palace.
Some of the placards carried by the protesters read, "No More Bloodshed", "We Want The Killings and Banditary Stopped" among many others written in Hausa.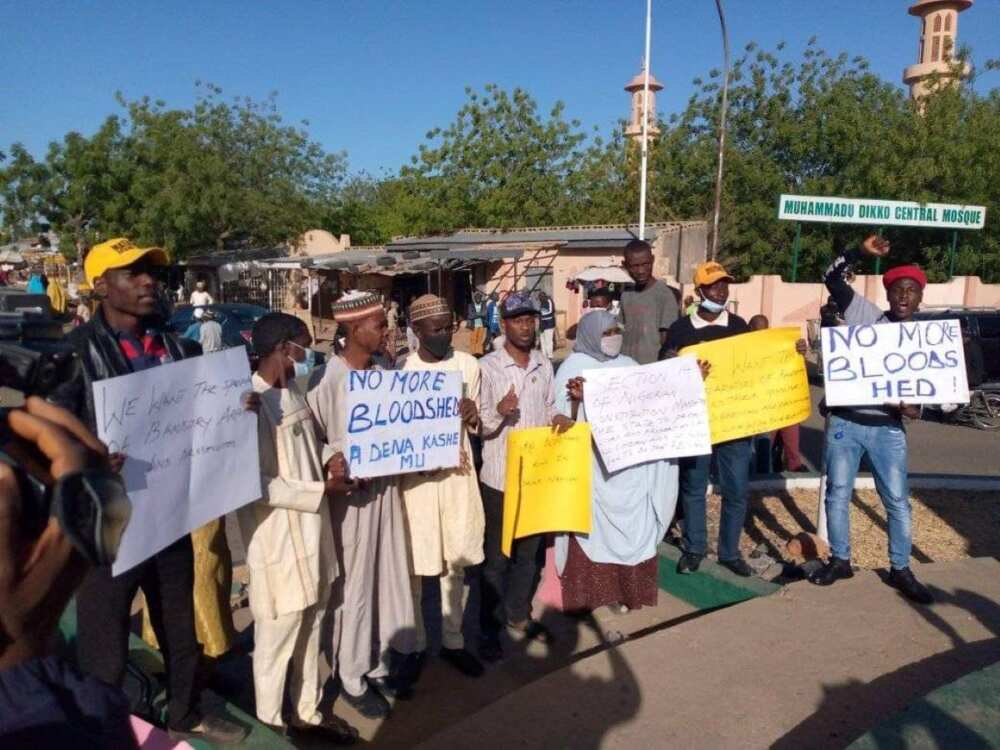 Before the arrival of the security operatives who dispersed the protesters, the national secretary of Muyar Talaka (Voice of the Masses), Bishir Daudu, said the protest became necessary considering the incessant killings in the state.
Daudu said the protest is aimed at drawing the attention of the government at the state and federal level towards to right steps to take in order to end the menace.
He said:
"Today nobody is safe, even those living in the cities. We are all aware of the gruesome murder of the Katsina state Commissioner of Science and Technology, Dr Rabe Nasir, which shows that even those living in the cities are not safe."
Also, Sahara Reporters in its report said Daudu who led the protesting youths said many people have continued to remain in captivity in the den of kidnappers and bandits with the government doing little or nothing to secure their rescue.
He also said that some major roads in the state and across the country have become death traps either by banditry's killing on the spot or kidnapping for ransom.
Daudu said:
"Today, we even have parallel government run by bandits' warlords in some parts of the country. So we want to draw the attention of the governments to do the needful as we join our brothers and sisters protesting all over the country."
He further called on various security agencies to fashion out strategies that could end the activities of criminals in the state and the country as a whole.
Details of how Katsina commissioner Rabe Nasir was killed emerge
Meanwhile, Legit.ng previously reported that residents of Fatima Shema Quarters have continued to live in fear following the killing of a Katsina state commissioner.
Rabe Nasir was said to have been killed on Wednesday, December 8, but his lifeless body was found locked inside his toilet on Thursday, December 9.
The late commissioner was also said to have tried to escape from his assailants but was overpowered.
President Muhammadu Buhari sends delegation to Sokoto, Katsina over insecurity
A delegation has been sent to Sokoto and Katsina state by President Muhammadu Buhari over the growing insecurity in these areas.
The delegation is expected to get first-hand details of true situation of things and report back with the view of preferring necessary actions to be taken
The delegation to the two states is led by the National Security Adviser, Major General Babagana Munguno (Rtd).
Source: Legit.ng