Robert Azibaola's Zeetin Engineering to Produce Electric Cars, Heavy-Duty Equipment in Nigeria
Robert Azibaola., lawyer and entrepreneur, who has passion for science and precision engineering is working to produce electric cars in Nigeria
Beyond producing electric cars, his engineering outfit is also aiming at producing dozers, excavators, hydraulic parts, tanks e.t.c
To celebrate his achievements, the Nigerian Society of Engineers will recognise him with an honourary investiture in December 2021
FCT, Abuja - Nigerian lawyer, Robert Azibaola, has set up a multi-billion naira factory in the Idu Industrial area of the Federal Capital Territory (FCT) to produce electric cars.
Azibaola, the owner of construction giant, Kakatar Group, has now set up Zeetin Engineering, a precision engineering outfit that focuses on all types of metal works of high-end engineering.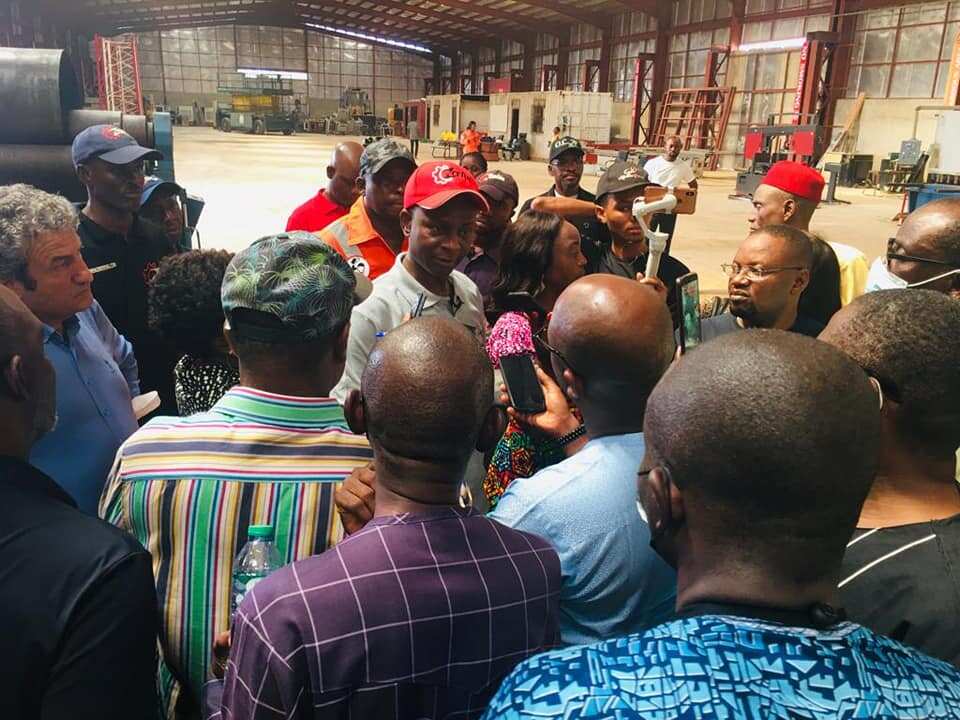 It has acquired and installed the most sophisticated production machines (CNCs, Plasmas, 5Axis Milling, Lathes, etc) in the metal works industry in Nigeria.
Speaking to journalists on Thursday, November 26 at the facility, Azibaola, said:
PAY ATTENTION: Install our latest app for Android, read best news on Nigeria's #1 news app
"We are expecting our partners from Turkey who are coming in soon. We have been designing electric cars and the prototype has been produced in Turkey and driven. Once they come in, we will be able to look at the machines and see how we can produce them here.
"So, we are looking at an electric car. But, as I told you, we are doing heavy-duty industry. We should be able to produce dozers, excavators, hydraulic parts, tanks. All these things we will be able to do."
He also said he has been able to invest his personal funds totaling about N3.5 billion in setting up the place.
His words:
"So far, I have done N3.5billion or more. Some of the machines were bought before the exchange rate skyrocketed. I don't want to out it at the exchange rate of today. The land belongs to us, it was not allocated to us. We bought it from a third party and we are developing it.
"We have got offers from the Bank of Industry. Thye have given us an offer to give us N2.5billiobn. Also, Nexim Bank is also working on an application for N2.5billion. The banks are ready to partner with us, but we have not received any cash from any bank so far."
In terms of creating jobs, he said:
"It will be an incubator for harnessing talents for youths. We have a partner called Solid Works which is one of the biggest 3D software manufacturers.
"They are going to partner with us for the training of youths to be able to design their own products. Once a youth is able to design the product, we will bring it to reality.
"Other industries will come out from this industry. For instance, we are not going to supply metals to ourselves. People have to be producing the metals. We don't have to have a warehouse, that itself is a burden.
"Big factories in the world don't keep inventories. They produce and you take. So, if you go to Toyota, they don't produce a car and keep, their dealers take the products. But, their warehouses are spread across the globe.
"So, we are not going to be supplying most of our raw materials. We will not be doing things like bolt and nut, spanners and all. We are going to focus on the big tickets. The ripple effect is so enormous.
"We are also talking about inspiring people. Once we are able to achieve something and do it, and it is progressive, there is going to be that inspiration that we catalyse other people to also start."
Nigeria Keying Into Electric, Gas-Powered Vehicle Manufacturing, Says Jelani Aliyu
During the COP26 UN Climate Change Conference in Glasgow, Scotland, the director-general, National Automotive Design and Development Council (NADDC), Jelani Aliyu, told the world that Nigeria was advancing towards actualizing the manufacturing of electric and gas-powered vehicles.
According to the NADDC director-general, the recent assembly of Electric Vehicles by the Hyundai Kona EV and the assembly of AutoGas powered OMAA CNG Minibus by a division of KOJO Motors are all testimonies to the effort the country is making in that direction.
Aliyu also stressed that Nigeria could not afford to be left behind as nations around the world advance technologically.
Nigerian Auto Companies to Start Exporting Vehicles to Africa, Says NADDC Boss
Recall that Aliyu recently disclosed that various automotive companies in Nigeria are already producing/assembling world-class vehicles for exportation to African countries.
He made the disclosure while speaking at a panel discussion, moderated by CNN's Eleni Giokos, at the just-concluded Intra-Africa Trade Fair, IATF, in Durban, South Africa.
The NADDC director-general reiterated Nigeria's commitment to electric vehicles and general increase in local vehicle production for both the nation itself and exports to other African countries.
Source: Legit.ng