Tears as New Converts Stab RCCG Pastor to Death Inside Church in Lagos Week after Giving their Lives to Jesus
A pastor of Redeemed Christian Church of God (RCCG) identified as Babatunde Dada has been murdered
Pastor Dada was reportedly stabbed to death on Tuesday, December 2, by two new converts his church had accommodated
A member of the deceased's family, Abolarinwa Olatunbosun, said the tragic incident has been reported to the police, adding that one of the suspects has been arrested
FESTAC, Lagos state - Two new converts have reportedly attacked and killed Babatunde Dada, a pastor of the Redeemed Christian Church of God (RCCG) in FESTAC Town, in the Amuwo Odofin local government area of Lagos state.
The Punch reported that that the victim was killed inside the RCCG Chapel of Resurrection on 13 Road, 6th Avenue, FESTAC Town, on Thursday, December 2.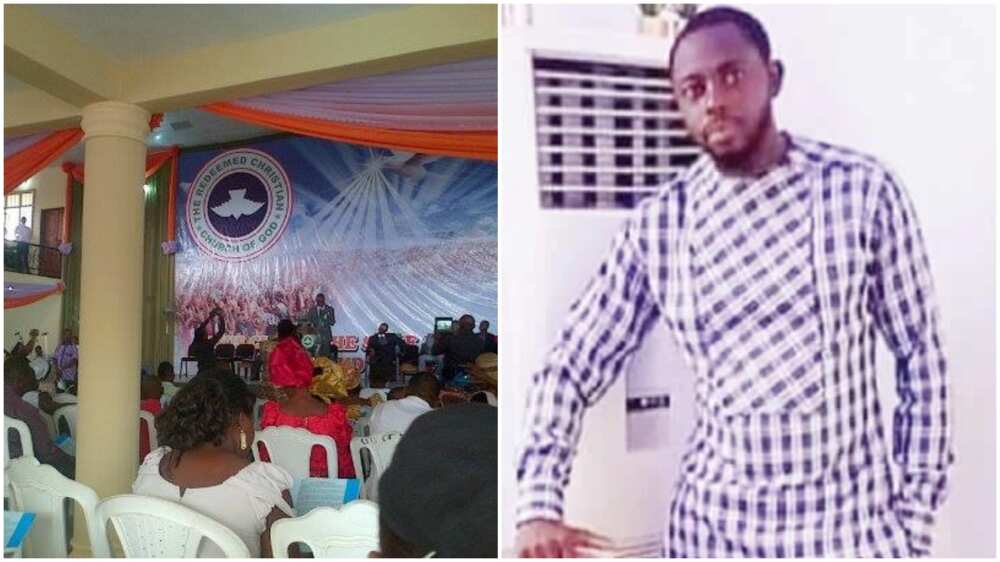 The two new converts allegedly responsible for the killing was said to have gone to the church for the first time a Sunday before the incident.
The two youths were said to have come out during an altar call and surrendered their lives to Jesus.
The church accommodated them on its premises after they claimed to be stranded. However, barely a week after they were accommodated, they reportedly stabbed the cleric to death.
Deceased pastor's wife speaks
Speaking about the tragic incident, the wife of the pastor, Bose, said she had called her husband on the day of the incident and he promised to come home to rest.
Her words:
"My husband was killed on December 2 at the church. He was the admin/accounts officer, as well as the parish pastor.
"I was not with him when he was killed, but I was told that they collected money from him. I heard that those who killed him were new converts."
Pastor Dada killed after withdrawing money from bank, one suspect arrested
Meanwhile, a family member, who is also a security expert, Abolarinwa Olatunbosun, was cited as saying that the pastor was killed after withdrawing money from a bank.
Olatunbosun noted that the matter has been reported to the police, adding that one of the suspects, who ran to Ilorin, has been arrested.
However, the spokesperson of the Lagos state police command, Adekunle Ajisebutu, said he had yet to be briefed about the case.
Nigerians react on Facebook
Izuchukwu Emmanuel said:
"Horrible things, sorrow, untimely death is now a routine in Nigeria ... oh God save your children."
Iyke Chyke said:
"Very sad. Did they profile these converts before allowing them to stay in the church compound? There are certain mistakes that we don't just make, simply because we are Christians. May God rest his soul "
Mopelola Fayose Alarapon said:
"What is wrong with our people? Why so much killing, hate , pain and wickedness in our society?
"I can't understand? God please have mercy on us ijn amen ."
Ahmed Oyiza Nafisah said:
"Poor man. They killed him for money. I wonder if that was their aim from the beginning."
Chukwu Lawrence said:
"Those ruthless murderers will never go unpunished, no matter how long they may run or hide from the public. They have committed a very heinous crime, a sacrilege for that matter!"
Gunmen kill worshipper during RCCG church service, police share details
In a related development, an Ilorin-based estate agent identified as Sina Babarinde has been killed by unknown gunmen.
Babarinde, a member of the RCCG, was shot dead during a church service at the Living Word Parish, Basin Road, Ilorin.
Confirming the incident on Monday, October 18, the spokesperson of the Kwara state police command, Okasanmi Ajayi, said it happened during the 7am church service of the RCCG.
Source: Legit.ng