Nnamdi Kanu: Why You Should Not Free IPOB Leader, Prominent Northern Group Tells Buhari
The Arewa Consultative Forum has advised President Buhari against granting the Igbo leaders' request to free IPOB leader, Nnamdi Kanu
Emmanuel Yawe, ACF's national publicity secretary, said the president should allow Kanu to have his day in court
The group added that Igbo leaders would accuse President Buhari of nepotism should he also decide to free herdsmen arrested for various crimes
The Arewa Consultative Forum has argued against granting amnesty to Nnamdi Kanu, the detained leader of the proscribed secessionist group, the Indigenous People of Biafra (IPOB).
The pan-Northern socio-political organisation said Kanu cannot be trusted and should not be granted amnesty.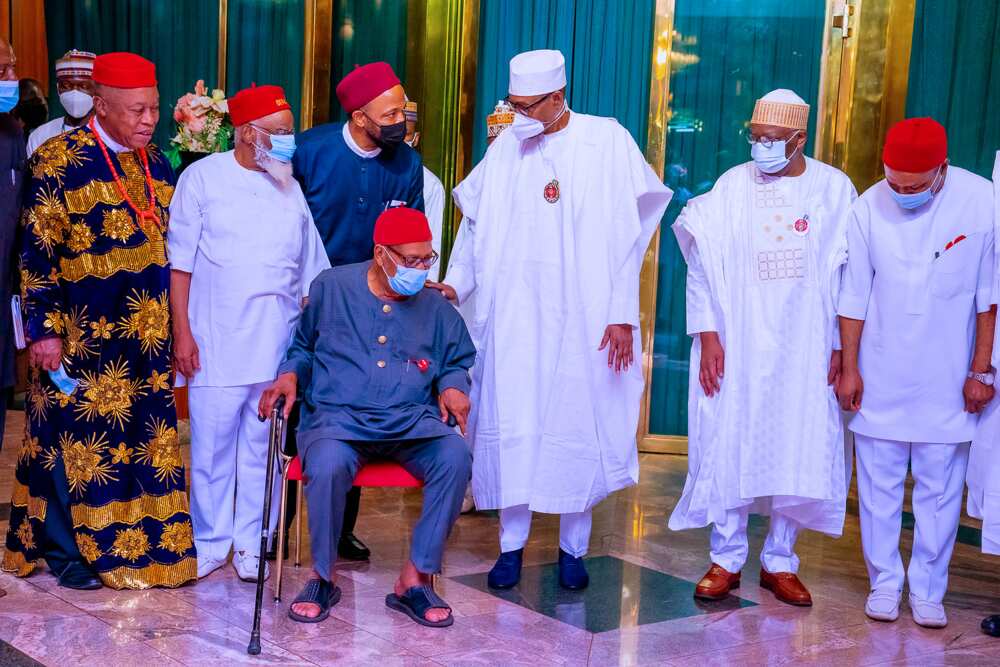 The ACF's national publicity secretary, Emmanuel Yawe, stated this in an interview with The Punch on Monday, November 22.
Legit.ng notes that Yawe's statement follows President Muhammadu Buhari's reaction to the request made by prominent Igbo leaders asking him to free the secessionist agitator who is facing terrorism-related charges.
The president had on Friday, November 19, described the request as extremely heavy but said he would consider it.
Follow the rule of law - ACF tells Buhari
Rather than free Kanu, the ACF has advised President Muhammadu Buhari to follow the rule of law and leave the IPOB leader to face trial for the charges brought against him.
Yawe said:
"What would happen to the case against him (Kanu)? The case would be thrown away? If he (Buhari) releases him that will be the end of the case. We have a democracy and there is due process of law; there is separation of power between the judiciary and the executive. If somebody is taken to court, it is now left for the judiciary to say the person is guilty or not.
"The president who is part of the executive cannot take a case to court and then adjudge it himself by releasing the person and say he (Kanu) should go free. We stand by the rule of law.
"When Kanu was re-arrested, we cautioned that he should not be given extrajudicial trial; we said he should be tried by the provisions of the law and now we find it strange that somebody who was accused would be released without trial."
Buhari will be accused of nepotism if he releases arrested herdsmen
The ACF scribe further said that Igbo leaders would accuse President Buhari of nepotism should he start releasing herdsmen nabbed for atrocious crimes.
He said:
"If Buhari starts releasing herdsmen who are caught harassing people, they would complain that he is doing it because he is a Fulani man but now they are putting pressure on him to release an Igbo man who has also been caught harassing other Nigerians. It is not right."
Yawe said the ACF as a group is "totally against any form of amnesty", regardless of anyone or group involved.
Nigerians disagree as Buhari speaks on Nnamdi Kanu's release
Earlier, Legit.ng reported that President Buhari's statement that he will consider the request to free Kanu created heated reactions on social media.
While some advised the president not to "interfere" by releasing Kanu, others believe releasing the Biafra secessionist agitator is a welcome development.
Reacting, Okehi Fatimah Zahara said:
"Better tell the president not to interfere on the work of the judiciary, let every organ of govt operate independently. He shouldn't give room for bad references after his tenure has elapsed. Buhari will exit presidency by God's grace 2023 and Nigeria as a country will continued to remain after his exit. People are watching, whatever he set down now, others are ready to make reference."
Source: Legit.ng