"Do Not Interfere", "Best Way to Go": Nigerians Disagree as Buhari Speaks on Nnamdi Kanu's Release
President Buhari on Friday, November 19, said he will consider the request by Igbo leaders to release Nnamdi Kanu
Chief Mbazulike Amaechi led a group of Igbo leaders to the State House to table the request which the president described as "extremely difficult"
Meanwhile, the president's statement is generating mixed and diverse reactions from Nigerians on social media
State House, Abuja - President Muhammadu Buhari stirred heated reactions on Friday, November 19, when he said he will consider the request to release Nnamdi Kanu, the leader of the Indigenous People of Biafra (IPOB).
The request was made by a group under the aegis of Highly Respected Igbo Greats, led by First Republic parliamentarian and minister of aviation, Chief Mbazulike Amaechi, at State House, Abuja, presidential spokesman Femi Adesina said.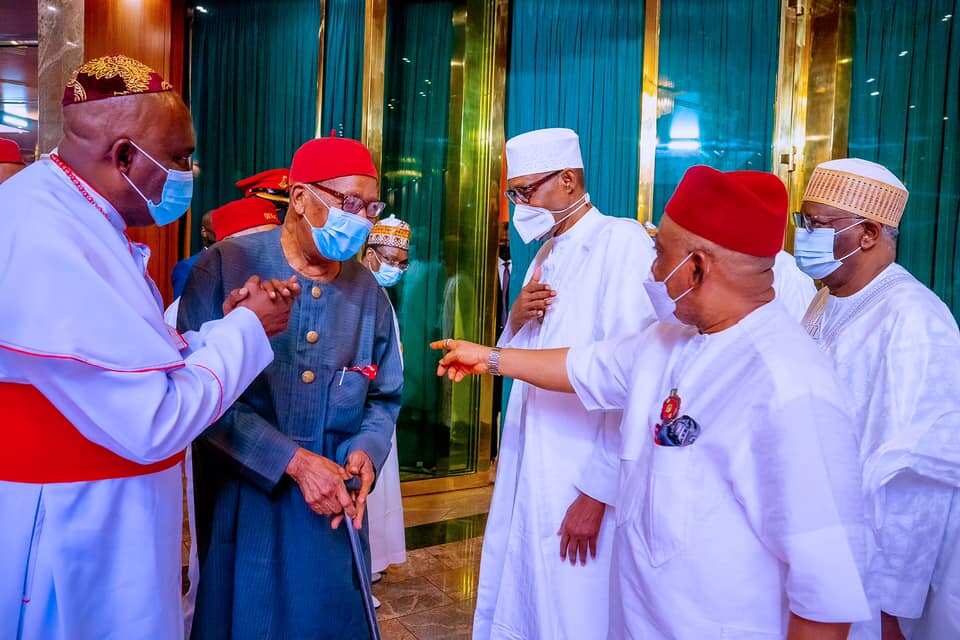 Reacting to the request, President Buhari told the 93-year-old statesman:
"You've made an extremely difficult demand on me as leader of this country. The implication of your request is very serious. In the last six years, since I became President, nobody would say I have confronted or interfered in the work of the Judiciary.
"God has spared you, and given you a clear head at this age, with very sharp memory. A lot of people half your age are confused already. But the demand you made is heavy. I will consider it."
President Buhari also recalled how Kanu who is facing charges bordering on treasonable felony jumped bail, got arrested and was brought back to the country.
Nigerians express mixed reactions
Meanwhile, the president's statement that he will consider the request has created heated reactions on social media.
While some advised the president not to "interfere" by releasing Kanu, others believe releasing the Biafra secessionist agitator is a welcome development.
Reacting to Adesina's statement on Facebook, Okehi Fatimah Zahara said:
"Better tell the president not to interfere on the work of the judiciary, let every organ of govt operate independently. He shouldn't give room for bad references after his tenure has elapsed.
"Buhari will exit presidency by God's grace 2023 and Nigeria as a country will continued to remain after his exit. People are watching, whatever he set down now, others are ready to make reference."
Rufai Aliyu also commented:
"Where were they when Nnamdi Kanu was making unguarded statement about Nigeria? Do they call him to order or cautioned him about the implication of his actions?
"You thought the fire he was burning will only consume Nigeria and now that it starts from your region you're pleading on his behalf. He should face trial and be punished according to Nigerian Law if found guilty of charges against him."
Ogbonna Christian said:
"Begging Buhari to release MNK is not right . He had no right according to constitution to obstruct judicial process. MNK is a free man."
Jonathan Agoon commented:
"I beg you in the name of God, Mr. President should not allow his integrity to be soiled. What happens to the jambalaya of security agents and civilians that were killed by Kanu and his boys?
"What political solution does he have for them and their bereaved families? Kanu should face his trial and heaven won't fall. If he is released and something worse happens, count me out o."
On the other hand, Ogundiran Funsho Williams believed releasing Kanu is a "welcome development".
He said:
"Release Nnamdi Kanu is welcome development. Peace better than war."
Ojo O. Mayowa also said:
"Best way to go, I will also enjoin Mr PRESIDENT to consider their plea for the sake of one indivisible Nigeria entity, may Peace reign supreme in Nigeria."
Mark Chibuzo Arisa said:
"Please PMB, find a place in your heart and for the sake of the Igbo elders forgive and release MNK.. You know I love you so much,I lend my voice in interceding on the release of MNK.
"Don't mind those that have been making empty noise on the social media without action...A father would always forgive his son.. Thank you PMB for granting my request....."
Emmanuel Kwakas said:
"This a welcome move. Our presido should make name for himself by releasing MNK. Let us give peace a chance."
Guilty or not? Nnamdi Kanu reacts to 7-count charge of terrorism
Earlier, Legit.ng reported that Kanu was re-arraigned at the Federal High Court in Abuja on treasonable felony and terrorism charges.
Recall that the federal government had recently amended the charges against him raising them to seven counts.
When the charges were read to Kanu in court on Thursday, October 21, the IPOB leader pleaded not guilty.
Source: Legit.ng