The Abnormal Has Become Normal in Nigeria, Adesina Declares
Akinwumi Adesina says the lack of reliable power supply as an obstacle to Nigeria's industrial growth
H lamented that Nigerians spend $14 billion yearly on generators and fuel, insisting that it is an abnormal situation
Adesina made this known at the 49th annual general meeting of the Manufacturers Association of Nigeria in Abuja
President of the African Development Bank, Akinwumi Adesina has faulted the lack of reliable power supply as an obstacle to Nigeria's industrial growth.
He said this on Tuesday at the 49th annual general meeting of the Manufacturers Association of Nigeria in Abuja.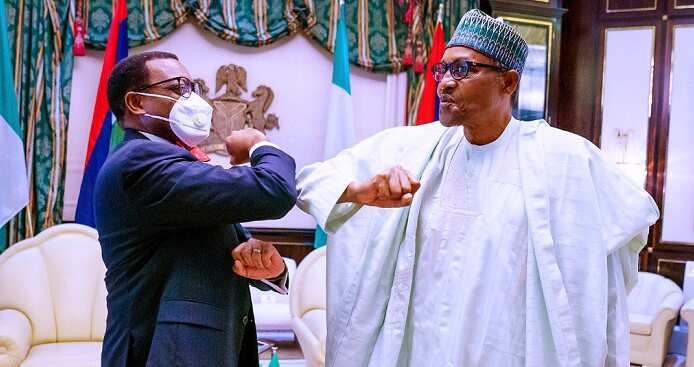 Adesina stated that Nigerians spend $14 billion yearly on generators and fuel. He also quoted a report by the International Monetary Fund which stated that Nigeria loses $29 billion annually, about 5.8 per cent of its Gross Domestic Product due to a lack of reliable power supply.
He said:
PAY ATTENTION: Install our latest app for Android, read best news on Nigeria's #1 news app
"Today, no business can survive in Nigeria without generators. Consequently, the abnormal has become normal.
"Traveling on a road one day in Lagos, I saw an advertisement on a billboard which caught my attention. It was advertising generators, with the bold statement "we are the nation's number one reliable power supplier!"
"To be a manufacturer in Nigeria is not an easy business. You succeed not because of the ease of doing business, but by surmounting several constraints that limit industrial manufacturing."
N30.67m to fuel Aso Rock generator, plant, N33.2m for new books
Meanwhile, more details from the 2022 proposed budget have shown that Nigeria would spend significantly to ensure that the seat of power does not experience any power outages.
Legit.ng's analysis of the 2022 appropriation bill proposal shows that out of the N16.39 trillion spending plan next year, N30.67 million will go into fueling statehouse generating set and plant.
To fight corruption within Aso Rock villa, Buhari plans to spend N7.34m as sewerage charges gulp N35.4m in 2022.
Also, the cost of cooking gas will gulp N22.07 million in 2022. A total of N66.49 million will be spent on the Aso Rock library.
Breakdown of Buhari, Osinbajo's spending on feeding, travels since 2016
Meanwhile, a report has highlighted how much has been budgeted for President Muhammadu Buhari and Vice President Osinbajo's feeding and travel since 2016.
This follows the presentation of the 2022 budget estimate to a joint session of the National Assembly on Thursday, October 7, by the president.
Source: Legit.ng