BBNaija All Stars: Uriel Slams Fans Claiming Ilebaye Used Pity to Win, Says "Allow the Girl Breathe"
BBNaija All Stars housemate, Ilebaye's win has drawn a reaction from her co-star, Uriel
Uriel took to social media to address claims from some netizens that Ilebaye won because she made people pity her
According to Uriel, BBNaija is a game and nobody can determine another person's method for winning
BBNaija All Stars ex-housemate, Uriel, has now reacted to trending claims that Ilebaye won by using pity.
Recall that Ilebaye beat other top contenders such as Mercy and CeeC to win the N120 million BBNaija All Stars grand prize.
After Ilebaye won, a series of claims started to trend on social media that she was only successful because she made people pity her.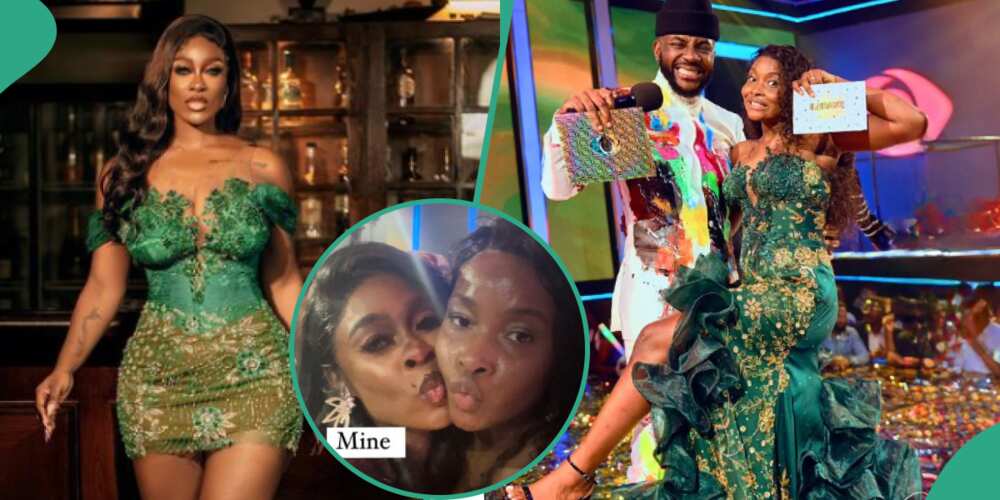 In a new development, Uriel took to Ilebaye's defence on her social media page. On her Instagram story, she shared a video where she made a case for Baye.
According to Uriel, people need to stop saying Ilebaye won by using pity. She noted that there is no one way to win a game show and some people win by forming ships, others by being powerful and more. Explaining further, she said it doesn't really matter how a person wins a game show.
In her words:
"I'm sorry to say this, can we just let this narrative go that Baye won out of pity? Let me ask you, is there a remedy or a type of way to win a show? A game show? Some people win by forming ships, some people win because they are looked upon as being powerful, some people win because certain things were done to them and they reacted. Does it really matter how a person won a game? It is a game. Yes she said that she wants to build her Gen Z empire, that could be so many different things but that is her brand, allow the girl to breathe abeg!"
See the video below:
Reactions as Uriel defends Ilebaye after winning BBNaija All Stars
Uriel's video where she defended Ilebaye's win soon spread on social media and many netizens shared their hot takes on it. Read some of their comments below:
balo_ng:
"When you people talk about this pity vote, you make me laugh. Like can't you see that the housemates handed Baye that strategy on a platter of gold? They started to bully her from week 2 and she made proper use of it! That's a smart move! When life gives you lemons, you make lemonades out of it! The girl is smart! Everyone went in their with winning mindset, no one is more deserving than the other! Plus Strategy is vision, a man without vision is planning to fail ."
annieejudgeez:
"The Game is the Game!! Whatever you have to do to win, do it!!"
endyukp:
"She won out of pity and thats facts but again there are no template on how u should play the game, if na pity be ur strategy then by all means use it to win, 120m no be beans."
adelakuntufayl:
"If you cannot clap with your two hands for others when they are successful, there's definitely something wrong somewhere! You cannot eat your cake and have it! You win some and lose some in life!"
your_smallbiz_bestie:
"Who asked uriel? Clout chaser . She just wants to always put her mouth. Every winner usually something that they say this is the reason they won. So that narrative will stick with baye forever. But that doesn't change the fact that she still won."
barbiesfy:
"Uriel rest she won cos of pity."
livingwith_myoma_gh:
"Pity is better than bad characters! Evil minded people who looks down on people. Wait oo.. but God said let the little children come to me and where is He?? IN GLORY!! BAYEEEEEEE THE WINNER ."
dopplegangerz:
"As long as ilebaye won All stars season! I do not care! Whatever narrative rocks their boat! It doesn't change anything at this point! Be happy for others when they win Biko nu."
itz.bibi_gram:
"If it's by cry and pity that she won…why didn't soma become winner too or 1st runner up."
misz_pea:
"Like say she stop the rest housemates from using strategy."
Ilebaye's mother kneels down to thank Nigerians
In other news, Legit.ng reported that BBNaija All Stars winner, Ilebaye's mother showed her heartfelt gratitude to Nigerians.
In a video making the rounds online, Ilebaye's mother was seen on her knees as she appreciated all the fans who made it possible for her daughter to win the grand prize. According to her, after God is Baye Tribe.
She recounted all the sleepless nights they had especially on Thursdays and Saturdays as they continued to vote for Ilebaye to remain on the show.
Source: Legit.ng