Yvonne Nelson's Daughter Asks Her 38th Birthday Wish In Video, Actress' Emotional Reply Causes Stir
Actress and movie producer Yvonne Nelson turned 38 years old on Sunday, November 12, 2023
Yvonne had a quiet celebration in the privacy of her home with her daughter, Ryn Roberts
Ryn got her mother emotional after she asked about her birthday wish leading to a talk about the actress' unknown father
Star actress Yvonne Nelson recently observed her 38th birthday on Sunday, November 12, 2023, and celebrated with her daughter, Ryn Robert.
In a low-key celebration that reflected her appreciation for privacy, Yvonne shared an emotional moment with Baby Ryn.
The actress, known for keeping her personal life away from the public eye, shared a glimpse of her birthday celebration in a video circulating on social media. In the footage, Yvonne Nelson was seen enjoying a quiet moment with her daughter.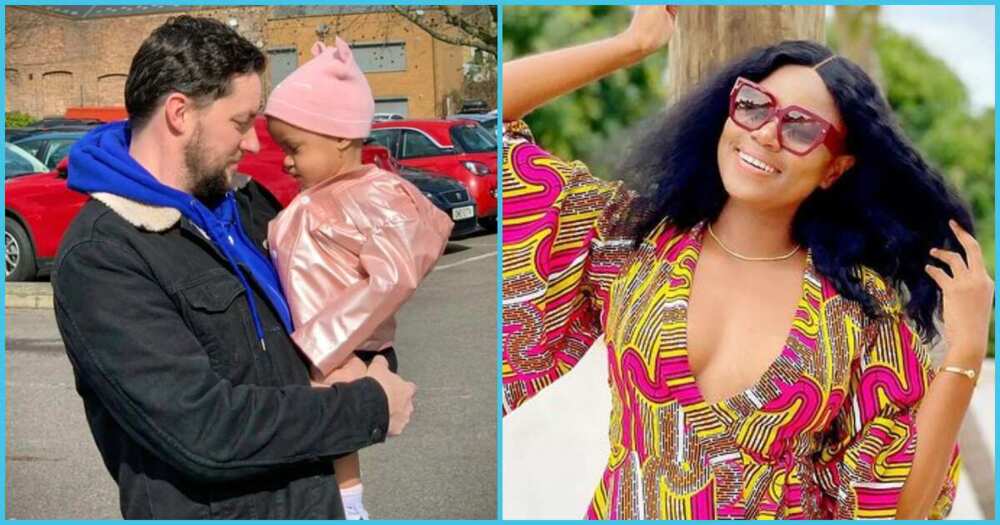 Yvonne Nelson's birthday wish
While having a chat, Yvonne's daughter asked her to make a birthday wish, and to the surprise of viewers, the wish took an emotional turn. Yvonne expressed her desire for her father to surprise her with a phone call one day. The moment stirred emotions as it highlighted Yvonne's longing for a connection with her father.
PAY ATTENTION: Share your outstanding story with our editors! Please reach us through info@corp.legit.ng!
In response, Ryn revealed that she, too, had not had the chance to meet her grandfather. The exchange, initially intended to be a joyful celebration, took an unexpected emotional turn.
The saga of Yvonne Nelson's biological father
The special birthday wish of Yvonne Nelson comes after the publication of her memoir, I Am Not Yvonne Nelson, in which she made explosive revelations about her mother and father.
At the time of publishing, Yvonne had disclosed that she did not know the identity of her real father because her mother had refused to tell her.
According to Yvonne, her mother, Margaret Gaddy, even deceived her into thinking that former Speaker of Parliament Peter Ala Adjetey was her father.
Ghanaians divided over Yvonne's birthday video with Ryn
The video has sparked concerns among some users about the potential impact of such discussions on the emotional well-being of baby Ryn. Viewers expressed worry about the emotional weight such conversations might carry for the young girl.
As the video continues to circulate, discussions on social media touch upon the complexities of maintaining privacy in the public eye and the unexpected emotional nuances that can arise during seemingly lighthearted moments.
myz_elly's profile picture said:
Very sad but I don't know why she is putting the child at the same position gradually
nanc_y6803's profile picture said:
For those giving birth outside wedlock hope y'all can see how stressful it's for your kids when they grow up? a lot of people are stuck in towns cant travel to the village cus they were birthed outside wedlock especially for those their parents have lost contact of each other…
kukies_jewelries said:
I was so emotional I pray her wish is granted
Yvonne Nelson starts a primary and Junior High School
Meanwhile, Yvonne Nelson has started a basic school after she opened a preschool some years back.
The proprietress of Just Like Mama Day Care shared an image of the school's fabric on her Instagram page.
The school is called Yvonne Nelson International School (YNIS), with the motto 'Quintessential education'.
Source: YEN.com.gh