Stream Farms: Repercussions of the Growing Trend in the Nigerian Music Industry
The heated exchange between BNXN 'Buju' and Ruger in 2022 brought up allegations about the use of streaming farms in the Nigerian music industry
Since then, there have been claims of singers making use of these farms to rake up fake streams on major streaming platforms
However, the repercussion of making use of streaming farms seems nearer than expected, as Spotify, a major digital service provider, recently shared a major update that could affect the illegal business of buying streams
During a chat with Legit.ng, Tommy Wales, a music producer, shared his take on the use of streaming farms by artistes
The struggle to make it to the top in the Nigerian music industry, crowded with talents, is not an easy feat to attain.
Before the days of social media and streaming platforms, big stars of that era relied on traditional media, shows and fans' love to promote their songs.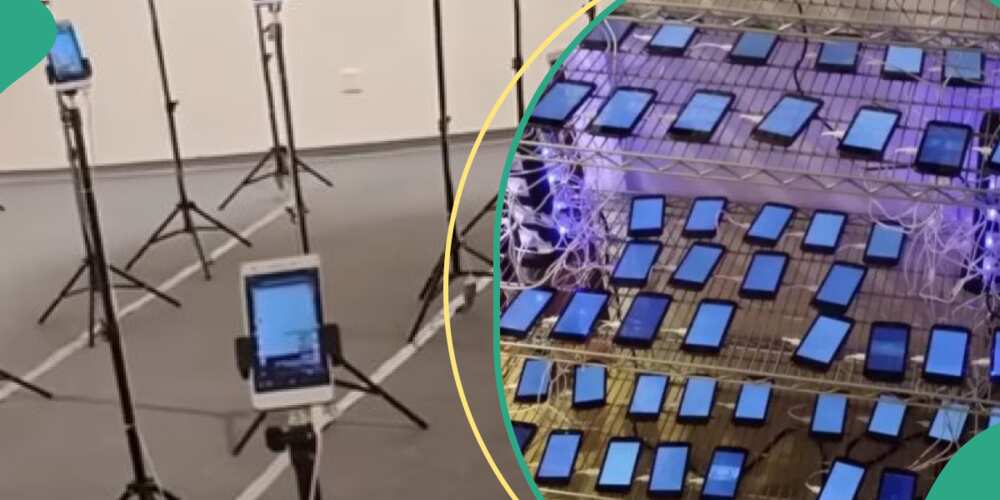 However, things have changed massively due to growth in the use of social media and the growing numbers of Nigerians using streaming platforms to access music.
Thanks to Digital Service Providers (DSPs), also known as streaming platforms like Spotify, Apple Music, Boomplay Music, and Audiomack, among others, Nigerian music is doing massive numbers in and outside the country. However, there have been claims that many of these numbers are fake.
The use of streaming farms in Nigerian music industry exposed
In 2022, singer Buju 'BNXN', whose real name is Daniel Benson, confirmed the presence of streaming farms in the Nigerian music industry.
BNXN, during a heated exchange with his colleague and Jonzing World star Ruger, accused the latter of buying streams to push his songs on streaming farms.
Ever since then, there has been scepticism among Nigerians when a new song unexpectedly tops the chat.
What are streaming farms?
It is an illegal business venture that uses bots, phones, computers and other methods to boost streaming numbers by creating multiple accounts on streaming platforms.
The main objective of a streaming farm is to make a song gain automated traffic and attract more listeners.
Below is what a typical streaming farm looks like:
Why Nigerian artistes make use of streaming farms
Thanks to fans who pitch artistes against each other, some singers rely on streaming farms to get high numbers in order to have bragging rights on how well their songs are doing against their rivals.
Also, they use these farms to gain revenue - more traffic means more cash.
The repercussions of streaming farms on the music industry
Artistes may begin to doubt their musical gifts when they see songs without depth doing numbers on streaming platforms.
Rapper Blaqbonez couldn't help but express his disappointment when he found out some colleagues patronised streaming farms.
There have been growing concerns about some music stars being unable to sell out tickets for shows despite raking millions of numbers on streaming platforms, which raised the question of "Who are the fans listening to their songs?"
Artistes without fan bases can rise to the top of music charts and make millions in revenue, which is a blow to record label owners and music distributors, among other stakeholders who spend heavily on marketing and promotion.
It creates an uneven playing field for upcoming artistes, whose talents and struggles may not be recognised.
Music lovers are also not left out, as streaming farms have made many doubt the talents of some artistes. Since they discover new songs via streaming platforms, fans may no longer trust the selection process.
The end of streaming farms appears to be coming closer than expected.
In November 2023, Spotify announced it would begin penalising labels and distributors when it found that more than 90% of streams on a song were fraudulent.
Other major streaming platforms are expected to devise solutions to discourage these farms' use.
Making use of streaming farms gives false impression - Tommy Wales
Tommy Wales in a chat with Legit.ng described the use of streaming farms by artistes as a snake eating its tail.
He stressed that artistes who build false impressions to promote their songs would fall off in the long run.
He said:
"If you build the illusion that your fanbase is organic and it isn't, you'll inevitably fall off. Even people with proper fan bases fall off, so who are you with your inflated numbers?"
How Carter Efe was accused of using streaming farms
In previous entertainment news, Legit.ng reported that music journalist Joey Akan made a bold claim against Carter Efe for using streaming farms to push one of his songs, Machala, to the top spot on streaming platforms.
Akan also revealed that the viral feud between Carter Efe and Berri Tiga was a stunt to deceive fans into not noticing he was using streaming farms.
Machala was a hit song by Carter Efe and Berri Tiga released in honour of music star Wizkid.
Source: Legit.ng