"Subtle Way of Initiating People Into Witchcraft": Reactions Trail Induction Photos of Theatre Arts Students
It is common practice for Theatre Arts students in different universities to get inducted into the department
Photos from a recent induction ceremony of students of Chukwuemeka Odumegwu Ojukwu University have gone viral and sparked reactions
While some netizens noted it's a common and harmless practice, others pointed out what the induction covers for
On Tuesday, April 25, students of Chukwuemeka Odumegwu Ojukwu University in Anambra, Theatre Arts Department, had their induction ceremony.
Photos from the event made the rounds on social media, with the students dressed in white outfits and scary markings depicting them as priests, priestesses, witches, and initiates.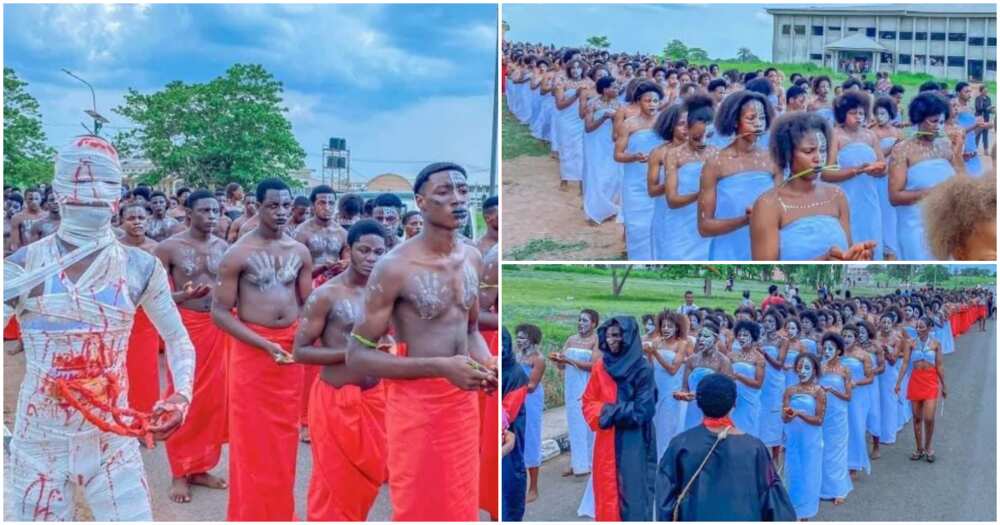 From indications, the students took the procession around the school, with girls carrying dishevelled hair and tieing white wrappers around the chest.
See the photos below:
Netizens react to the induction
The photos sparked mixed reactions online as some netizens said the attire was too much.
mrmacaroni1:
"Choboiiiiiiiiiii ."
cleaninginlagos:
"This feels like an initiation!"
the_augustgirl:
"This is beyond induction but nobody told them."
sir_maseraaati:
"Must dem dress like ishawuru before them know say na Theater act induction ? na so Generational curse take dey start unknowingly."
@DammyA4:
"What is the induction meant to serve? This is a subtle way of initiating people into witchcraft, ogbanje and marine kingdoms in the name of induction."
@vitalfortune_90:
"It's called "initiation" though it is a form of induction into the department and career as a Thespian.. every school does it though I think most schools aren't creative with theirs... My department in University of Ibadan is creative with theirs, every year has a different theme."
@Ucheanyanw:
"The person who brought this culture to that department must have a hidden history!"
@Adegoke35740893:
"It's like that in all Universities... I enjoyed that of my sch, so much drama and entertainment."
Meet cute 4-year-old rapper taking over the internet with dope bars and lyrics
Savannah McConneaughey, aka Van Van, is a cute four-year-old who raps about almost anything; all she needs is a beat.
Videos of the young girl rapping about her day at school, the things she likes to do, and her ABC's and 123's have taken over the internet.
The little girl's dad provides the beat in the background and also doubles as her hypeman as she delivers her rap.
Source: Legit.ng