Gen Z Baddie: Step Up Your Style Game in 8 Different Looks by All Stars Winner Ilebaye
Big Brother Naija All Stars winner Ilebaye was a sensation on the show as she created a world of her own and became the resident Gen Z Baddie.
The dark-skinned and daring reality star has quickly turned the title into a household name, such that she comes to mind when anyone mentions Gen Z.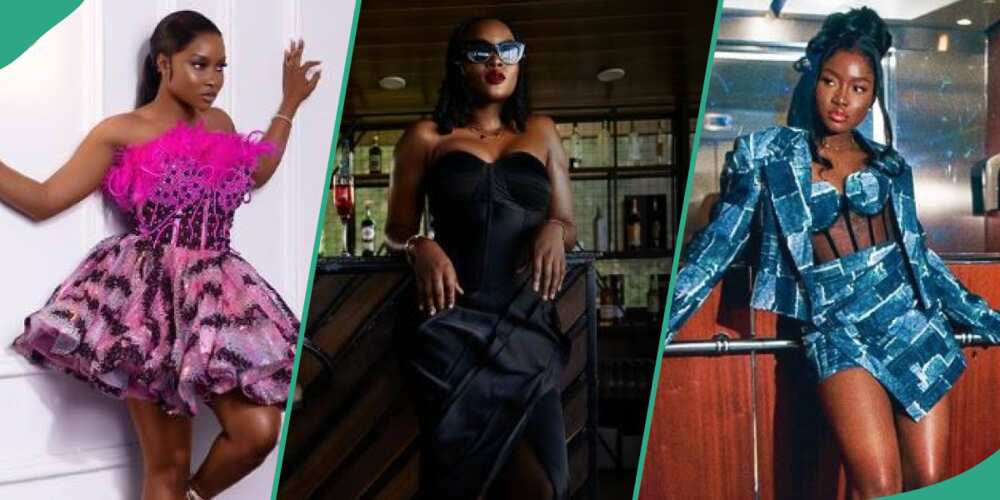 According to Wikipedia, the Merriam-Webster Online Dictionary defines Generation Z as "the generation of people born in the late 1990s and early 2000s, a category Ilebaye falls into.
Beyond their carefree attitude to life and their quick disposition to activism, the Gen Z kids have also created a fashion world of their own, a less conservative sense of style.
The BBNaija star has a compelling style, and the Baddie title fits perfectly with evidence of her different styles on her Instagram page.
Legit.ng has compiled some stunning photos of Ilebaye boldly embodying her Gen Z Baddie title.
1. The two-piece denim look
The BBNaija star turned heads in this patched denim two-piece. The outfit showed off her toned legs.
Ilebaye also incorporated the trending corset look, which elevated the style of the outfit.
A Gen Z Baddie does not show out more than this.
2. Ilebaye's daring two-way look
Only a Gen Z Baddie can pull off this chaotic fit and still look great while at it. The BBNaija All Stars winner rocked a two-piece with a detachable bottom.
She complemented the all-black look with knee-length boots, dark shades and minimal accessories.
3. Ilebaye in corporate aso-oke look
As mentioned earlier, Gen Z's are not afraid to show skin and even more skin.
Ilebaye pulled off this daring corporate aso-oke look, leaving nothing to imagine underneath.
A matching camisole would take the outfit up a notch and switch the reality star into a corporate baddie.
4. The Gen Z casual look
From indications, Ilebaye's greatest asset is her long and beautiful legs, and she does not hesitate to show them off.
Moving steps away from the usual way of wearing oversized tees, Ilebaye pulled off this look with really short shorts.
The knee-length boots gave the entire outfit a not-too-casual appearance.
5. The little black dress
Every woman should own a pretty black dress, but with this Gen Z Baddie, it is more than just a look.
Ilebaye showed off some skin in this bust-cut knee-length dress that flattered her chest.
A pair of heels and dark shades are all needed to pull this look off.
6. Ilebaye in red maxi-dress
For Gen Z, wearing a maxi dress is not dull; all it takes is to put some character into the style.
Instead of a full-on conservative style, Ilebaye pulled a one-shoulder cut that gracefully defined her chest area.
Wearing her braids in Bantu knots style, the Gen Z Baddie transformed into an African queen.
7. The aso-ebi inspired look
Not having enough fabric for that owambe is not an excuse not to attend; Gen Z will pull off a stunning style with just two yards.
The corset style in the mid-section elevated the dress from just a regular little dress.
Even though the outfit is off-shoulder, Ilebaye's chest is not left bare, and as usual, she showed off her legs.
8. The minimalist look by Ilebaye
Gen Z like to go all out with their outfits; they are less conservative and defy the norm.
Ilebaye left nothing to imagine in this long dress with a huge cut on her side and a string holding the fit together.
This is the reality star's most daring fit yet.
Ilebaye reveals why she took cowries on BBNaija show
Legit.ng earlier reported that Ilebaye spoke about the cowries she took into the house. She said they were not for fetish reasons as most people insinuated.
In an interview with colleague Christy O, the All Stars winner said the cowries belonged to her late brother and were a way to feel his presence.
Ilebaye was moved to tears as she tried to understand why Cee C or anyone would make the kind of assumptions she heard when the show ended.
Source: Legit.ng