Hairdresser Shaves Hair Off Client Who Refused to Pay for Her Braided Hairdo, Videos Trend
A lady has gone viral over her refusal to pay for a braided hairstyle at a salon in South Africa
Twitter user @AdvoBarryRoux, shared videos of the lady getting her hair shaved off by the angry hairstylist over her refusal to pay
According to the story, the client requested her hair be styled despite having no money to pay for the services
The videos which have trended online have sparked mixed reactions among netizens
In a digital age where viral moments can capture the attention of millions, one woman has become the centre of an online storm for her controversial actions at a salon in South Africa.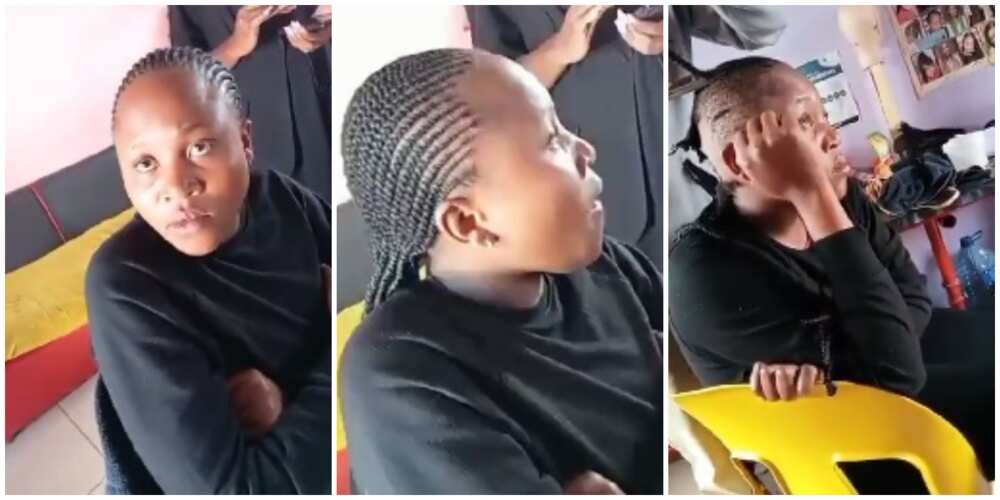 Lady gets hair shaved clean by hairstylist over inability to pay for hairdo
It all began when Twitter user @AdvoBarryRoux shared a series of videos showcasing a heated confrontation between a hairstylist and a customer.
The reason behind this explosive encounter was the customer's refusal to pay for a braided hairstyle she had requested despite having no money to cover the cost.
The video shows the hairstylist using what appears to be a razor blade to shave the lady's hair, achieving a shockingly bald look in the end.
Check out the post below:
Social media users react as stylist shaves off hair of client over refusal to pay for services
As the videos quickly spread across social media platforms, netizens from all corners of the internet found themselves caught in a whirlwind of diverse reactions and opinions.
Check out some comments below:
veseverah:
"This isnt nice but funny it pays to be straight forward sha dnt think lying to people or decceiving people makes you smart."
natura__essie:
"She should have taken the hair down or better still involve the police ... what right does she have to cut someone else's hair? Ha! And for all these people wey wan do some hair without money, what's your problem ? Who you dey try impress? If you don't have money, pack that hair shuku or something!"
thefoodnetworknig2:
"I pity people who offend that hairdresser… Her heart is made of steel."
egoumez:
Cried wa"tching the full video . Just imagine this dehumanisation. Yea she did wrong, but they could've loosened the hair and punished her."
wives_and_mothers:
"I'm not understanding. Why did she allow it? Things dey happen sha."
endylight1:
"Don't come here to support her, sometimes you just have to let go and probably treat people with love. I know she wasted her time but sh@ving her hair like this is absurd."
couplestherapies:
"Why did she allow this? What happened to loosening the hair or better still let her go."
callme_care_:
"Whyyy? Why would you do that? You could have just loosened the hair, seize some things she had on like her handbag or something. And why is the lady just sitting there like nothing's happening."
fredycj:
"Na only person way no well, go enter saloon when she no get money, then make her hair and na only person way no well, go still sit down make dem barb her molo because say she no get money. But in all of this, The hair dresser wicked shaaa. Thank God say Man no be God."
nkem_dilimm:
"This is a NO NO! What happened to loosing the hair she made for her or better still punish her in another way. There are ways to go about this nauu…than chopping off All her hairs! Hairs you didn't create. Even if say na Widow this hair dresser is just a Delilah. Just because she didn't pay? Omo you wekcked o."
Hairstyle hacks: Stylist uses fire to smooth lady's braided hairdo, netizens concerned
While protective styles are meant to keep one's natural hair from damaging, sometimes the method applied in making such hairstyles often defeats the purpose.
A case in point is a video currently trending on social media. In the video, the braider, who appears to have finished a 'shuku' braided hairstyle on the client's hair, is seen attempting to smoothen the hair.
While some braiders use scissors to trim off spiky extensions and hot water to lessen the strain, this braider, identified as @thacher1, opted for the fire method to burn excess extensions.
Source: Legit.ng