Dress Recreation: Tailor's Impressive Replication Skills Earns Her Applause Online
A Nigerian tailor recently left many social media users impressed with her tailoring skills
In a trending video, the clothier, identified as Rollex Couture, showed how she replicated a gorgeous lace dress
The final result, which was captured in the viral clip, has earned her applause on social media
Rollex Couture recently reminded fans that when it comes to dress recreation, some Nigerian tailors make sure to deliver.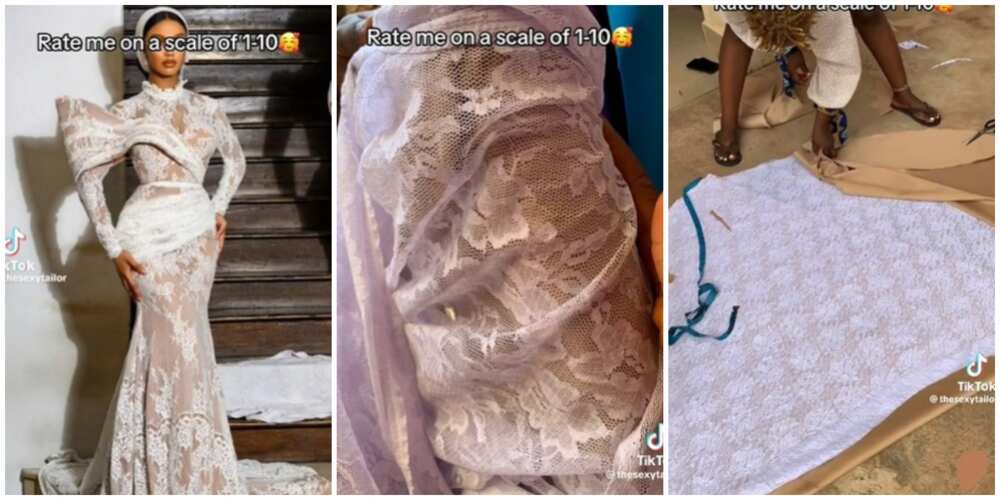 The Ilorin/Lagos fashion designer recently shared a video which showed her process of recreating a regal lace dress design for a client.
Starting off with fabric and lining shopping, the tailor who did a voiceover in Yoruba took viewers through the entire replication process.
The final look was a near-spitting image of the original design.
Watch the video below:
Fashion lovers applaud Nigerian tailor's dress recreation attempt
solapea:
"Excellent but use a more expensive material."
tej45:
"Lmfao. This babe doesn't look like someone you'll like to owe money."
stylemaniac_nasa:
"Some Lowkey tailors dey o .. 10/10 baby girl."
pee_porschee:
"Awwwwnn!!!!! I didn't see that perfection coming. I don too watch what you order VS what you get."
_therealuche:
"My own bi say , did you dry clean that dress after una spread for ground like that ? Good job."
joantiffanyorezi:
"I think what she got is more gorgeous than what she ordered."
its__ishmael:
"Wow this is a 100/10."
hiebywhumey:
"Wow! This is beautiful."
sinmie_:
"Thought she was gonna leave some crumbs but no, she ate that too."
tehmiee_:
"10/10 ♥️ Nigeria designers are really trying give us our flower."
"Tailors are not magicians": Reactions as lady shares video of dress she wanted and what she got
When it comes to dress recreation, not everyone gets it right, and sometimes, it could be the fault of the client as well.
Such is the case with a trending video first sighted on TikTok, which shows what a lady ordered and what she got.
In the video posted on TikTok by @glonkencho, the original design was shown. It featured a bedazzled, see-through strapless dress with ruffle detailing around the bust.
In the photo that followed, the recreated version was seen on the client and was a far cry from what she wanted.
Source: Legit.ng