Video of Man Installing Braided Wig Goes Viral, Internet Users Unimpressed with Outcome: "Wasting His Time"
One man has become an internet sensation after a video of him installing his wig went viral online
In the video, the man is seen showing how he glued the braided wig to his head, sparking mixed reactions
While this prompted some people to question his sexuality, others were simply unimpressed with the outcome
As the beauty industry continues to expand and evolve, wigs for men have emerged as a popular trend, offering a way for men to experiment with new hairstyles and looks.
While the trend has gained traction among some fashion enthusiasts, it has also faced criticism from others who view it as reinforcing harmful beauty standards.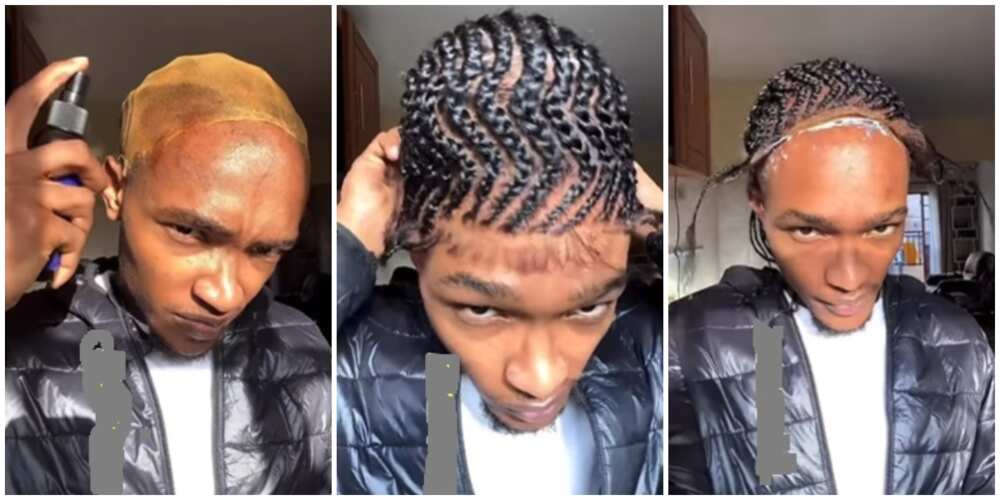 A video of a man installing his braided wig recently went viral on social media, sparking mixed reactions among style lovers.
In the video, the man is seen showing a step-by-step process of the installation which involved a wig cap, some glue and the braided wig.
Check the video out below:
Mixed reactions trail video of man installing braided wig
nimmy_____xx:
"What is this for God sake some man trying to hard to be eve."
percybobby4:
"Bro got all the time in the world to be doing this,I know he's wearing pampers."
temitope_xo:
"It's not even giving."
currency_____11:
"Who u wan impress like this?"
tinowave:
"Any guy that will be wasting his time doing hair, wearing wig is weak, not a real man."
b.l.a.c.k_godd:
"Me as a girl I no fit even wear wig well talk more of installing frontal."
ma_printglobal:
"Why some guys like to dy wahala themselves with all these responsibilities on man, u will still draw unnecessary trouble to ursef. GOD know why we are natural beautiful without needing make overs and making hair."
callme_ade_:
"So na packaging everybody just dey."
blacq_nelly:
"Wetin be this one …. Pwrson go the drag wig with ehn man."
Video of lady sporting blonde braided wig sparks mixed reactions: "Please return this hair"
Braided wigs are hot right now. However, not everyone has fully grasped what it takes to slay a perfect braided wig look.
One lady has sparked funny reactions online over the nature of her braided wig.
In the video, she is seen in what appears to be a vehicle, making cute faces at the camera while showing different angles of her blonde hair.
Source: Legit.ng