Designer Pays Homage to 'Teletubbies' With N1.1m Boots, Fashion Fans Divided over Design
Christian Cowan, a New York-based designer, launched a new collection featuring N1,150,850 Teletubbies boots
The boots have a unique and quirky design, drawing inspiration from the beloved children's show, which has divided opinions among fashion fans
Earlier this year, American art collective brand, MSCHF, released the now-trendy Big Red Boots, causing a buzz online
Fashion designer Christian Cowan sparked controversy with his latest collection, which features a pair of boots inspired by the popular children's show 'Teletubbies'.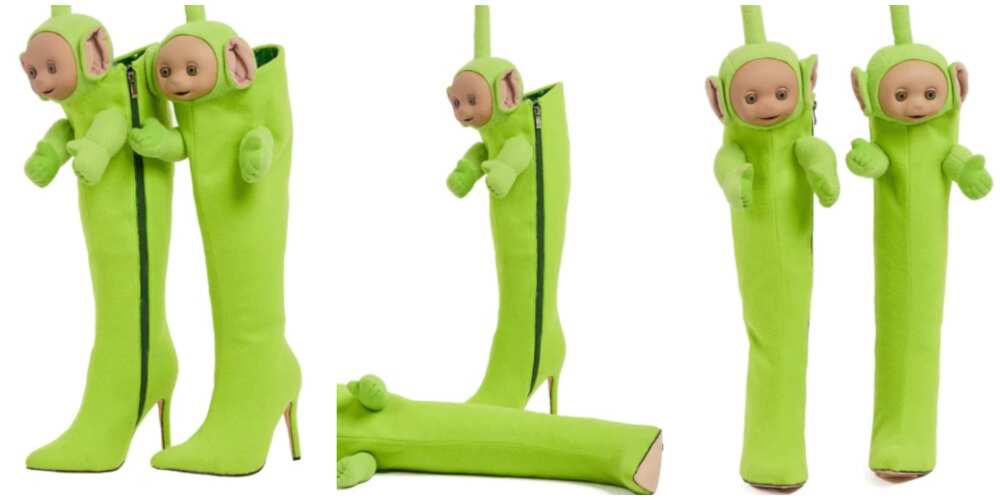 The whimsical design has divided opinions in the fashion world, with some lauding the designer's creativity while others are sceptical of the practicality and value of the boots.
Neon green knee-high boots that resemble Dipsy, a character from the children's TV show Teletubbies, are being sold for N1,150,850 ($2,500).
In a post, he explained what inspired him to design the boots.
"We were throwing around lots of pop culture icons, and then it struck us, let's do THE icons. We treated Dipsy, Laa-Laa, Po & Tinkey-Winkey (sic) like the legends they are," he said.
See the photos below:
Mixed reactions trail release of Teletubbies boots
jemaliq:
"Pls don't tell me people are actually gonna buy this."
jemaliq:
"Finally found some boots for my Halloween costume."
javana_b:
"What are ThooooOoose?!!! "
chill_nomad:
"Oh gosh, why.."
then_come_liberty:
lizenvacances:
"Honestly if anone buys these you are the one dentist out of 10 that wouldn't recommend sensodyne"nightmare fluel."
theseyet:
"But our knees already have little faces. Lol."
However, there are those who love the boots:
leah_theresa_:
"Love this but I'm loyal to my boy Po!"
kingprincess69:
"Never needed something more."
marissas_gram:
"Get ouutttt that's fantastic Um do these come in Po?? "
Fashion lovers react to gigantic red boots in trending photos
Earlier in February, MSCHF unveiled one of their footwear designs which went viral online.
The footwear tagged 'Astro Boots' is designed in a gigantic, clubbed shape and comes in red colour.
Photos of the boots heavily inspired by Disney's Astro Boy cartoon were spotted on a model. Some fashion lovers were not feeling the boots and have shared mixed reactions in the comments section.
Source: Legit.ng