"Let's Not Make it a Trend": Mixed Reactions as Lady Shapes Her Eyebrows in Octopus Style
A video featuring a woman's unique octopus-styled eyebrows has gone viral online, sparking a heated debate on social media
Despite the attention the trend has received, netizens are largely unimpressed with the unusual style, with many criticizing it as unappealing
In other fashion news, American brand, MSCHF is set to release a footwear design that can be worn backwards
Beauty trends come and go, but a recent viral video featuring a woman's octopus-styled eyebrows has left the internet divided over whether this new trend is a hit or miss.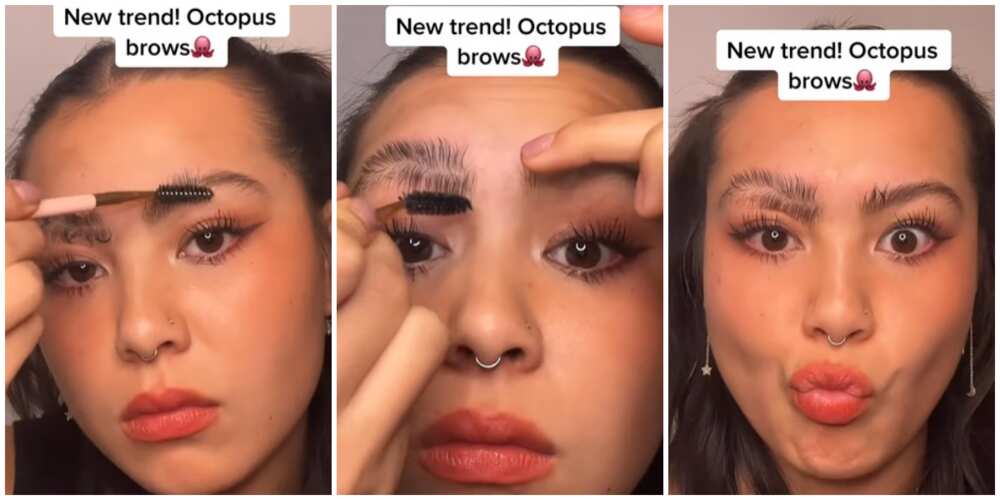 In the video, the lady is seen styling her eyebrows in what she tagged 'octopus brows' style.
She is seen parting her brow before curving them in curly ends. She applies the same method to the second brow as well.
Watch the viral video below:
Social media users react to video of eyebrow styling
The video of the eyebrow style has failed to impress and the online community has voted down the look.
Check out some comments below:
bees_exe:
"lets not make THAT a trend."
the_blue_rose17:
"If you were doing a super abstract look with face paint and stuff I think it could look super cool. Very strange on a more normal makeup look though."
mae_yonnaise30:
"What the point to do that brows LMAO."
badtacokitty:
"Hear me out, this LOWKEY kinda love this. I think this would look great as an illustration."
kadexolee:
"Immediately no."
evi_possum:
"my eyebrows ache just from watching this."
thezachmesquit:
"This is sending me into fight or flight."
sarahos1979:
"I really try and avoid using the word hate because it's a really strong word however i hate this "
MSCHF's jaw-dropping new shoe design will change the way you think about fashion forever!
Just when people thought things couldn't get any crazier in the fashion industry, MSCHF is set dropped yet another head-scratching design.
The brand is set to release a reimagined sneaker and sandal that works both ways.
The odd-yet-fascinating creation is open on both ends allowing it to be worn either way.⁠
Source: Legit.ng