African Baddie: 5 Looks to Show That Singer Yemi Alade Is the Queen of Afro Hairstyles
Nigerian Afropop diva Yemi Alade is known for her artistic display of African richness through audacious fashion and hairstyle
Today, we will be looking at how Yemi Alade promotes black beauty and culture through different poised hair appearances
The Mama Africa crooner has continued to leave her fans awestruck with her show-stopping Afrocentric hairdos
The importance of hair in African society cannot be overlooked. Hair played a huge role in the fight for our freedom from the western system.
It symbolised one's family background, social status, spirituality, tribe, and marital status.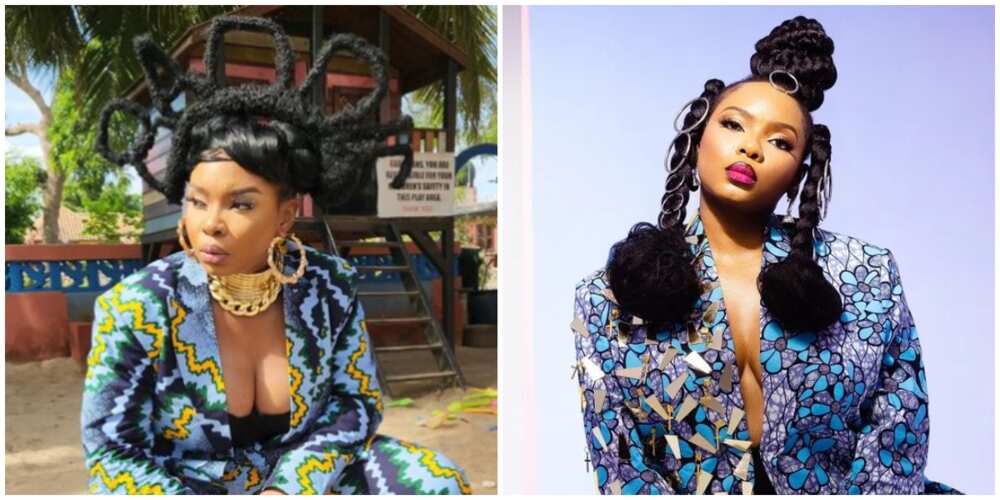 Yemi Alade is one of the few African celebrities consciously showing off the beauty of the continent's identity to the world.
Here are five distinct African hairstyles from the immense catalogue of Yemi Alade's hair photos to demonstrate her strong connection to her roots.
Look 1
Yemi Alade Charged up in her wrap-up music video from last year, 2022, to create a complementary African-inspired look with the title of her song Baddie.
Here, the artist blended her hairstyle with a fringe that almost wanted to curb the Afro vibes it's serving. But the defiance of the Baddie fleecy letters fixed on her head like a crown completely sold it .
Look 2
This is a modified Hausa hairstyle, but we love it because it showed how versatile Yemi can be, in displaying our identity.
This lovely hairstyle was used in her Extended Play African Baddie's cover art, released on December 2, 2022.
Look 3
Another enticing look from the Jhonny breakout star, was a black beaded shuku hairstyle.
Its side drop-downs made this hair very fanciful. Yemi wore this hairstyle to perform in Canada sometime last year, where she sang one of her 2016 hit tracks, Africa, from her critically acclaimed album Mama Africa.
Look 4
This thread twist with drop-down puffs is one of the go-to styles for the multilingual singer.
Something similar to this hair was what she wore during her performance with Grammy award-winning Beninese singer Angélique Kidjo, held in London last year.
Look 5
To round up the list, it gladdened our hearts to let our readers know that the African beauty, in all her numerous hairstyles, has rocked the famous Bantu knots belonging to the Zulu people of South Africa.
Yemi Alade made one of her appearance with Bantu Knots in the visuals for her single My Man, featuring the popular Jamaican reggae singer Kranium.
Yemi Alade Wows Fans with 'Pyramid' Hairstyle
Popular Nigerian singer Yemi Alade, took to her fans aback with pictures of her new look on social media.
The dancehall queen appeared to be on the set of another music video and sported a huge afro hairstyle.
Yemi made fun with her post when she set a 'fashion math' quiz for her followers to figure out.
Source: Legit.ng