Homeless Couture: Nigerians Drag Salamatu Gbajabiamila over N8.4m Designer Ensemble
Nigerians on social media have reacted with mixed feelings to the latest photos of Salamatu Gbajabiamila, the wife of Hon. Speaker, House of Representatives, Femi Gbajabiamila.
Three years after trending online not just about getting a N100 million G-wagon from her husband on her 50th birthday but also for her choice of outfit, she strikes again.
The 53-year-old fashion-forward lady is back in the news again, and her latest look is causing a lot of head-scratching on social media.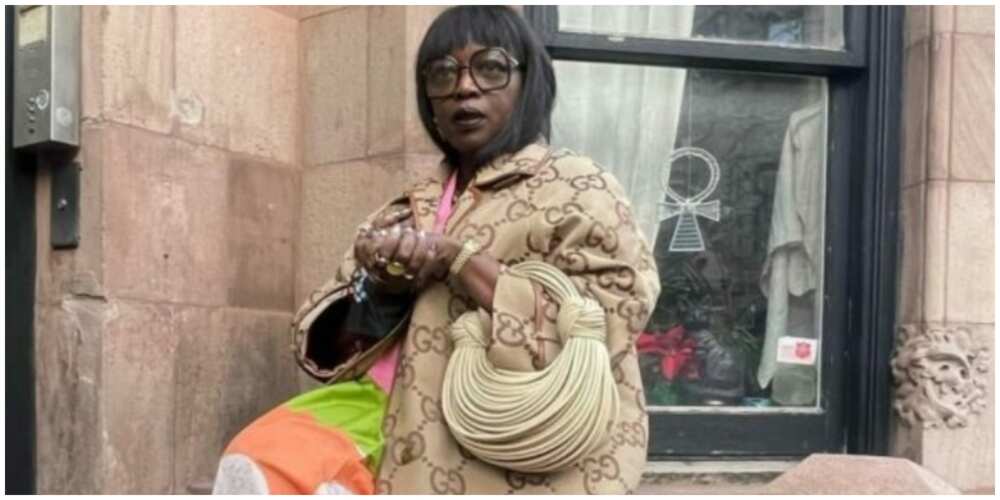 In photos that have since gone viral, Salamatu is seen dressed in quite a peculiar ensemble comprising of a Gucci coat, a colourful dress, a pair of high platform heels, a timepiece believed to be from Rolex and a double knot handbag from Bottega Veneta.
Breakdown of her ensemble
Salamatu's mini tubular handbag made by an Italian luxury fashion house, Bottega Veneta, does not come cheap. Made of lambskin, it has a single compartment, zip closure and nylon lining and is being sold for N1.1 million ($2,700) on the official website.
The Gucci Jumbo GG canvas coat is sold for N1.9 million ($4,800) on the official website of the brand.
While the exact model of the wristwatch Salamatu has on in the photo is unclear, reports claim it is a Rolex Datejust.
According to the shopping website, Farfetch, the Rolex wristwatches are available for between N4.5 million ($11,000) to N10.2 million ($25,000).
And as for Salamatu's platform shoe by Rick Owen, although the pink was unavailable on the website, the boots in a darker shade attracts a price tag of N900k ($2,210).
Altogether, the estimate for her outfit - going by the least cost of a Rolex Datejust - is N8.4 million.
See photos below:
Reactions
Not many people find her ostentatious display flattering. Check out some comments below:
anniemacqueen:
"Giving egungun be kiaful vibes …..#sighs Biko less is more "
sadeeequeen:
"Why is she looking like someone who escaped from y*****ba left? Who is her stylist?"
tessume:
"Looking like a masquerade with all that money."
tontolofabrics:
"All those expensive and ugly fashion."
declutter_sistah_ph:
"Homeless couture "
la_esperer:
"Nothing fashionable about that outfit, as a matter of facts she looks homeless See how she's crossing her legs and squandering money."
elovina_bespokeandaccessories:
"This is the punishment they get from God! Upon all the millions worn they can still be mistaken for a werey!… This picture is not it at all… Dear Lord don't give me money that will take my sense away.. and make me look awkward in the eyes of people"
uyee_bante:
"Fashion can be bought but style is inbuilt...this is a big no."
Expensive Bottega Veneta jewellery
Italian luxury fashion house, Bottega Veneta, is known for producing lines for men and women that include ready-to-wear, handbags, shoes, accessories and jewellery - some of which will have you scratching your head.
Just recently, photos of a bracelet created by the luxury brand popped up online and it is every bit buzzworthy.
The bracelet made in the shape of a telephone wire doesn't just give off a playful vibe, but undoubtedly takes one down memory lane to when one played with cords from broken landlines.
Source: Legit.ng